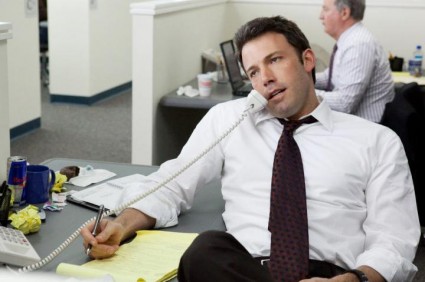 Sometime in the spring or summer of 2009, the little five-story building in Natick, Massachusetts I worked in got a little more exciting than it had any business being. Suddenly the parking lot was much fuller than usual, and the empty warehouse parking lot around the corner was bustling with activity, filled with trucks of all sizes. Those of us entering our building were greeted with a small sign on the door, telling us a movie was being filmed on the fourth floor. It turns out the film was The Company Men, and several scenes would be filmed there for the next week.
There was no way I was going to let a movie film upstairs in our rinky-dink building without my having a really good look at what was going on. I found my way up the back staircase where a spaghetti mess of cabling was running to the trucks outside. At the fourth floor was a door propped open for this cabling, so I opened it and stepped inside. The key here was that I made myself look like I belonged there. Never did I have a look of wonder on my face nor confusion. As far as those looking in my direction knew, I was another worker like the rest of them, and maybe my badge was in my pocket. In fact, one of the production assistants approached me and asked if there was anything they could get me — a drink or something to eat, perhaps? I almost took him up on it to seal the deal. It turned out I didn't have to.
For the next couple of days, I continued to go through that propped-open door and watch scenes being filmed. One of these scenes was that pictured above. Looking at it now, what's so surreal to me is that I was standing pretty much the pictured distance from Ben Affleck, right beside the camera, for what had to be ten or more takes.
What does all of that have to do with a review of the movie? Even with its impressive cast, it's the only reason I'd call the movie remarkable.
The Company Men debuted in April 2011, which I'd have to say is a little late for the subject matter it was trying to relate to; that subject matter being corporate downsizing. I'm not at all saying that's not going on to this day, but I do feel it's one of those things that was a hot topic quite some time ago, and not just something that's been in the forefront so much lately. Then again, tell the people I know at AOL that … but I digress.
The movie appears at first to have us follow Ben Affleck's character, Bobby Walker, as the sole protagonist of the film. In fact, we wind up seeing more into his superiors' lives as well, those being played by Tommy Lee Jones and Chris Cooper. The performances of Jones and Cooper are definitely high points of the film, but the motivations behind some of what they do is confusing, to say the least. For example, Cooper's character, Phil Woodward, eventually finds himself looking for a job just as Walker is, yet it's not clear why he's in a position to have to. A character in the film even asks why he doesn't just retire, but all we get in return is Woodward saying he can't. Why? Then he goes and does something crazy, and it's done with what I'd call insufficient recognition by the others.
Something else I didn't care for at all was the strange injection of Kevin Costner's character, Jack Dolan, the brother of Bobby Walker's wife (Rosemarie DeWitt). Walker decides to work for Dolan's small construction crew while he's unemployed, which seems to last maybe a few months at most. Eventually Walker gets a job offer to work for his old boss again, for a new company, so is obviously no longer doing hand-out construction for his brother-in-law. So what the hell was the reason we needed the Dolan construction storyline in the first place? Plot #367 would have had Walker deciding construction was his new calling, and things end happily ever after; the end. In this case, Walker just up and left for the new job — no lesson learned, no grand epiphany. It was a huge waste of time.
What I also didn't grasp was the part Walker's son (Anthony O'Leary) played. Sure, he was the Walkers' son, but what were we supposed to get from him selling his XBox, and the impromptu basketball game with his dad? It's said he sold his XBox because the family "couldn't afford it," but that makes no sense at all, unless you're trying to save electricity.
As for the DVD release, there's an alternate ending that's hardly alternate at all, though you'll quickly decide the one that made the cut was the right decision. There's also commentary by director John Wells, and I can't not mention that the picture on DVD cover is really, really strange. You'll have to take a look for yourself to see what I mean, but Ben Affleck looks like a wax figure of himself, clearly poorly Photoshopped, and Costner is wearing a suit. When the hell did he wear a suit in the movie? He was skimcoating drywall!
When I saw this movie wasn't getting a whole lot of press and public praise, I knew it didn't mean good things. With a cast like this, one would at least hope it has Oscar potential. At least I got to see Ben Affleck, Chris Cooper and director John Wells for a few days in the summer of 2010. Other than that, I might not want to tell people what movie it was. In ten years, I might not be able to remember it anyway.
The Company Men is available on DVD and Blu-ray starting tomorrow, June 7, 2011.
Photo Credit: The Weinstein Company