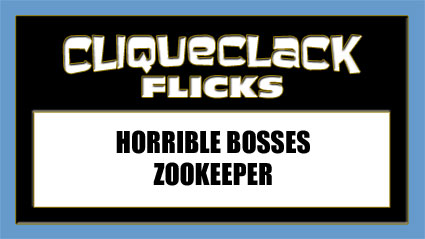 No real summer blockbusters are hitting screens this week as we recover from the holiday (here in the U.S.) and those Transformers continue their world domination. What we do have on tap is one highly anticipated comedy for adults and … one (possibly) sad attempt at movie stardom by catering to the family crowd, a la Eddie Murphy. So let's have a look at our two new movies opening on Friday, July 8th.
Horrible Bosses
Jason Bateman, Jason Sudeikis, Charlie Day
Rated R for crude and sexual content, pervasive language and some drug material
I hope this movie is as funny as I think it's going to be. I like both of the Jasons (not really sure who Charlie Day is … sorry!), it's been a while since I've seen Kevin Spacey in anything, and I'm liking the edgier Jennifer Aniston. Maybe this will help her break out of those hair-twirling, romantic comedy roles she's been saddled with. And Colin Farrell's "Fire Professor X" line kills me every time!
______________________________
Zookeeper
Kevin James, Rosario Dawson, Nick Nolte
Rated PG for some rude and suggestive humor, and language
Oh Kevin James. Has it really come to this? Yes, you had a hit TV show a few years ago, but there are some actors that really will never be the name above the movie title. You're a character actor, Kevin. You could carve out a great movie career playing the sidekick. Hollywood has a long history of go-to character actors and you could be one of them. I just don't think a talking animal movie is your stepping stone to movie stardom. Embrace your sidekickiness before it's too late. Look at Tim Allen! He did a talking dog movie and now he's trying to make a comeback on TV. But will the viewers embrace him again? (Lucky for Brendan Fraser that no one saw Furry Vengeance.) It's a risky move, to be sure. Going the character route will ensure you a long career in movies. Just a little friendly advice.
What do you think about this week's new releases?
Photo Credit: Chuck Duncan