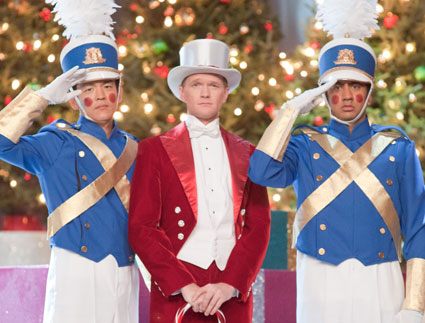 Christmas needs to be saved, and who better to do it than … Harold & Kumar? Yes, in their latest outing, A Very Harold & Kumar 3D Christmas, the two stoner friends do indeed need to save Christmas, at least for Harold's in-laws. Since we last saw Harold & Kumar, some things have changed in their lives. Harold (John Cho) is now a Wall Street banker faced with hiding from protesters (yes, the movie is that timely) while Kumar (Kal Penn) is … Kumar. Drummed out of medical school for flunking a drug test, Kumar spends his days scoring the best weed, then smoking it all. The two friends haven't even spoken to each other in a couple of years, so when a mysterious package arrives at Kumar's apartment addressed to Harold, he decides to deliver it himself. The gift turns out to be a giant doobie, which manages to set the live Christmas tree on fire (a tree that his father-in-law grew for eight years), forcing the two to embark on a journey around town to find an exact replica before the family returns home from midnight mass.
Before I go any further, let me just say that this film contains enough wrongness to offend several groups of people including: Child Protective Services, Russian mobsters, fans of A Christmas Story, the gay community, Hispanics, Christians, Jews, fans of stop motion holiday specials, and anyone who loves pancakes. I'm sure there are more possibilities, so if you're going to expect a lot of political correctness from this movie, you can forget it. Just move along, nothing to see here.
Now that I've gotten that out of the way, I have to say I have mixed feelings about the movie. Is it funny? Quite, in places. The problem is that by the third movie, Harold & Kumar are the least interesting characters, acting more like straight men for all of the hilarity going on around them. Thomas Lennon's over-protective father gets some laughs, but his young daughter in the film is a scream …. especially after she gets a contact high from Kumar's joint (that's just one of the many reasons CPS will be all over this movie). When she gets the giggles and then says, "I have the munchies," I could not help but laugh out loud. Yes, it's so wrong but it was funny. Even more wrong, and more funny, is when she gets all coked up and then takes some Ekstacy. I laughed and cringed at the same time.
Early in the movie, we see a TV commercial for some robotic gadget called Wafflebot, which is an automatic waffle maker and syrup warmer.  The "Has this ever happened to you?" commercial is spot on, and the Wafflebot itself is pretty cool (I want one!). It ends up playing a pivotal role in saving the lives of Harold & Kumar as they're about to die at the hands of a Russian gangster's henchmen, and then makes a disparaging remark about pancakes that will probably have gay rights groups in an uproar (remember all the fuss about that Vince Vaughn movie trailer a while back?).
And if the Wafflebot wasn't enough, Neil Patrick Harris returns as "Neil Patrick Harris." But, how, since he was shot dead in the last movie? There is an explanation, and yes, it will probably offend some folks. Personally, I think NPH's cameos in these movies are the best parts and he does not fail to deliver yet again. When the franchise was launched, NPH had not yet officially come out, so his role as a woman-chasing horn dog was just seen as NPH playing an outrageous version of himself. In the latest movie, NPH and his real-life husband, David Burtka, reveal the "truth" about their relationship. I'm not going to ruin the surprise, but I've gotta hand it to NPH for having the balls to even go there.
The movie is filled with a lot of self-reverential gags, jokes about 3D, and even a fourth movie. I thought a lot of those things that seemed like throwaways were actually pretty clever. And speaking of 3D, the director, Todd Strauss-Schulson, takes any and every opportunity to utilize the 3D process the way it was meant to be used — he throws anything and everything right in your face. I actually caught myself ducking a few times when traffic control barrels were flying off the screen. Yes, this is no shoddy 3D conversion; it is the real thing and definitely should be the way this movie is seen.
I loved Harold & Kumar Go To White Castle and I loathed Harold & Kumar Escape From Guantanamo Bay (which was only three years ago, while six have passed in movie time), so A Very Harold & Kumar 3D Christmas fits somewhere in between, but more towards the like side. Again, it could be a sign of fatigue in the franchise when the lead characters are the least interesting, but as long as what's going on around them is screamingly funny then you can't complain too much. A Very Harold & Kumar 3D Christmas may not put you in the proper Christmas spirit by the time the credits roll (and don't bother sticking around for any outtakes or extra scenes), but you will probably come away with more than a few laughs and some new quotable lines to use on your friends. It's not the best Christmas gift ever, but it's not a lump of coal either.
Photo Credit: New Line Cinema