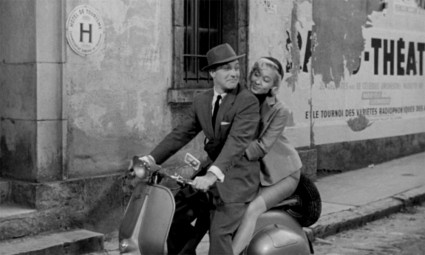 If you're a fan of classic movies, or have ever wondered whatever happened to a movie you saw at the movies or on TV when you were younger, you know that those older movies are really hard to find. There used to be a time when local TV stations had programs like The Four O'Clock Movie that played older films in the days before VHS, DVD or any of the other video formats we currently have today. If you wanted to catch an old favorite, or have a look at something you had only ever heard about from a friend, then you had to be in front of that TV at that specific time to see it or wait for it to come around again. (Yes, there really was a time before DVRs when you actually had to sit in front of the TV at a scheduled time.) To make matters worse, as those local movie shows were driven into extinction by afternoon talk shows and syndicated reruns of network programs, there was no way to see those older, less famous movies. At the start of the home video boom, Hollywood went with the big titles first and then worked their way into the catalog but some of the less well-known films still never got a video release. As VHS transitioned to DVD (and now Blu-ray), the real off-beat titles were still hard to find. I scoured the internet to track down a VHS copy of the 1979 comedy Americathon a couple of years ago, and have been wanting to upgrade my laserdisk copy of Blake Edwards' S.O.B. but there was no way to do that … until now!
Warner Brother launched the Warner Archives in 2009 as a way to get those long lost, unreleased films into the hands of the public. Knowing that shelf space was limited in stores, the program produces DVDs manufactured on demand (and offers digital downloads of some titles as well), so they produce them as they need them. To my great delight, I have found both Americathon and S.O.B. as part of their collection (other studios like Sony, Universal and MGM also offer MOD programs as well), as well as some other movies fondly remembered from my childhood that I'll be looking back on in this column. The great thing about the service is that you can also discover films that you may have never heard of and give them a look for curiosity's sake.
I came across one such film recently: The Happy Road directed by and starring the great Gene Kelly (who also stars in the recently new to Blu-ray Singin' in the Rain). I had read a brief description of this movie and thought it was something I just had to see. I was delighted to discover this strange (by Hollywood standards) little film that Kelly took on between musicals Invitation to the Dance and Les Girls. The story is fairly simple: Kelly plays Michael Andrews, an American in Paris (no, not THAT American in Paris!) trying to get a new business off the ground. His young son is stashed away in a Swiss boarding school, but he decides that life with his father in Paris is better than school, so he sneaks out in the middle of the night … only to be followed by a young girl who has a major crush on him. She convinces him that he needs her — she speaks French — and off the two go on the 400 mile trip. Andrews and the girl's mother, Suzanne Duval (Barbara Laake), are notified of the children's "escape" and reluctantly team up to find them, with the requisite romantic complications (she's about to get married in Monte Carlo).
The film starts out charmingly enough with the children making a break for it, and then you begin to realize that a majority of the film is in French … with no subtitles, so either the girl, Janine (Brigitte Fosse), or Suzanne are almost always translating for Danny (Bobby Clark) or Michael. For a film made by a major studio with one of its biggest stars at the helm, this is quite a novel idea, and it also puts the non-French speaking viewer on about the same playing field as Danny and Michael (who is the epitome of the "ugly American" who is so focused on himself that he can't be bothered to even learn the language, much less enjoy what Paris has to offer). I can't imagine how audiences in 1957 took to this film. But even if you're put off by the language barrier, the performances will win you over. Kelly is dashing as usual, and can turn on the charm to melt even the iciest of blondes without resorting to his usual song and dance (this film is not a musical in any way). Clark really embodies Kelly with his mannerisms and dialogue delivery, and really makes you believe that he could be Kelly's son. Laake is beautiful and manages to deliver just the right amount of contempt for Michael at first that turns into consternation when she realizes he's not as bad as she first thought, and then has to question if her impending marriage is the right thing to do. Fosse can sometimes be annoying with her constant whining, but she still manages to be a good companion for Clark. The only other "name" in the cast is Michael Redgrave, playing a British general in France for military exercises who is drawn into the search for the children (in one of the film's more "screwball" moments).
The Happy Road may not be a great film, but it is a great curio presented in a nicely produced DVD from the Warner Archives. The print, according to the website, has been remastered and for the most part it looks terrific. There are some scratches during the film's opening titles and a few more here and there, but for the most part, it's a beautiful presentation with a crisp, mono soundtrack (but the constant use of blaring horns in the musical score gets to be a bit much after a while). The only extra included on the DVD is a jaunty trailer. The film is presented in its original 1.66:1 aspect ratio, while the trailer is cropped to 1.37:1. If you're a real film buff, a Gene Kelly fan, or just someone curious about older movies, check out The Happy Road.
This review is based on a retail version of the DVD provided by the Warner Archives. The DVD is available now through the WB Shop, and is scheduled for general release on August 16 from Amazon.com.
Photo Credit: Warner Brothers