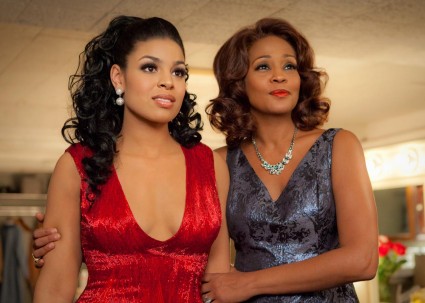 I have to say that, for the moment, I have no point of reference on which to judge Sparkle, not having seen the original (yet). Perhaps coming into the film fresh is better than watching and comparing it to the original which has a very devoted following. But from reading the plot synopsis of the 1976 classic, there has been quite a bit of reworking done to the plot which is still set in the same time period of the early 1960s. In the new version, we meet Sparkle (Jordin Sparks) and her sister Sister (Carmen Ejogo) – not her real name – at a nightclub where Sister has been cajoled by Sparkle into performing one of her original songs. Stix (Derek Luke) is taken by Sparkle, tracks her down and offers to help them and a third sister, Dolores (Tika Sumpter), form a girl group that he would manage (his cousin Levi is also smitten with Sister). In the original, Stix and Levi form a quintet with the girls, but Levi leaves the group to work with gangster Satin (Mike Epps). In the new version, Satin (a comedian who tells racist jokes for white audiences) also has eyes for Sister and becomes a romantic rival, ultimately stealing Sister away with his wealth (and, of course, there is no fairy tale ending for them). Ultimately, Sparkle has to take her life into her own hands, much to the disappointment of her mother Emma (Whitney Houston), a single mother and survivor of her own failed musical career, to pursue her dreams.
The new Sparkle is pleasant enough, but unfortunately, I think what it will be remembered for the most is Whitney Houston's final screen performance and, sadly, she only gets to belt out one song in the movie, the gospel classic "His Eye Is On the Sparrow" (she and Sparks have a duet of the new song "Celebrate" over the end credits), that had many people at my screening whooping, crying and clapping. You can still hear the old Whitney in there, even with some of her cracked vocals, but it is sure to be one of her crowning moments. I was surprised she wasn't in the film more, but she does have a few terrific scenes, particularly one at a Sunday dinner when she is first introduced to Satin. To say that it doesn't go well is an understatement. The character in the original, named Effie, was a maid, so Houston's Emma has definitely been altered to be the voice of experience for Sparkle … and could also have been based a bit on Houston's own tumultuous life. It was a nice comeback performance, and it just gives the film a touch of sadness that she's not with us anymore to build on that.
Jordin Sparks does an admirable job really carrying the film (save for one really clunky moment of drama) as the wide-eyed, ambitious young girl who only wants to use her God-given talents as she believes God wants her to … why else would He have given her the writing and singing skills to her in the first place? We all know she can sing, but for the bulk of the film she's actually singing backup with Dolores for Sister. She has one quiet solo early in the film, but it isn't until she finally takes to the stage on her own that we really get to hear her belt it, and she does. Ejogo also has a lovely voice, and her harmonies with Sparks and Sumpter really do take you back to the 60s girl groups (and any resemblance to The Supremes is purely coincidental … uh huh). Derek Luke, Mike Epps, and Omari Hardwick lend able support and really invest themselves into making their characters believable. Epps' Satin is the film's stereotypical villain, but his comeuppance had the crowd gasping and cheering, proving that he'd done his job well.
The music, which includes several songs from the original film ("Something He Can Feel" and "Hooked On Your Love" among them), is terrific and has that great old Motown sound, and while the movie itself may turn out to be something enjoyed and quickly forgotten, the music will remain quite memorable. Compared to the film version of Dreamgirls, I really enjoyed Sparkle more. American Idol alum Sparks is no Jennifer Hudson, but she does a fine job with the support of her terrific co-stars. The film's "dramatic" moments are all a bit cliché by now, but the music – and Whitney Houston – are reason enough to see it.
[easyazon-image align="none" asin="B008A5H9HE" locale="us" height="160″ src="http://ecx.images-amazon.com/images/I/51RqT8brz%2BL._SL160_.jpg" width="160″] [easyazon-image align="none" asin="B001HADE0K" locale="us" height="159″ src="http://ecx.images-amazon.com/images/I/51YezmE441L._SL160_.jpg" width="160″] [easyazon-image align="none" asin="B000JLTRH2″ locale="us" height="160″ src="http://ecx.images-amazon.com/images/I/51PAw5VwYyL._SL160_.jpg" width="112″]
Photo Credit: Tri-Star Pictures