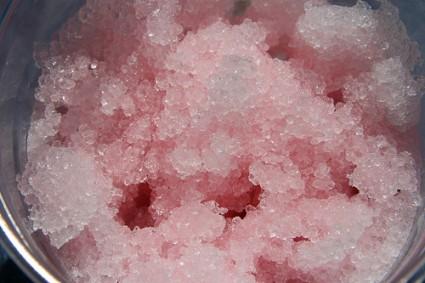 I really don't want to get into the global warming thing with all of you, but suffice it to say that I sit here, at the end of April in New England, sweating brain cells out of my pores. It's in the 90s and since it's normally in the 60s right about now, air conditioners weren't really on our minds, pools aren't opened and I look really dorky running under the sprinkler with my four-year-old.
I'm hot.
So I did what any self-respecting adult would do: I made a snow cone. I'm not talking about one of the sicky-sweet syrupy snow cones that cause a sugar rush akin to 15 four-year-olds pumped full of birthday cake. My tongue didn't even turn a strange shade of blue (or red, or green…) after enjoying my snow cone.
Healthy Snow Cone
Ingredients:
ice (about 6-8 cubes)
1 tablespoon frozen orange juice concentrate
about 4 tablespoons of water
Toss all ingredients into your Vita-Mix (or blender if your a plebe) and grind away until you've got orange snow. Easy, healthy and cooling, definitely cooling.
Now I'm contemplating the adult version of this Shirley Temple Snow Cone… what would you say to adding a splash of champagne? The Mimosa Snow Cone. A little vodka? The Screwdriver Snow Cone. What are the ingredients ina Cosmopolitan again? Oh yeah, I'm lovin' this….
Photo Credit: quinn.anya / Flickr