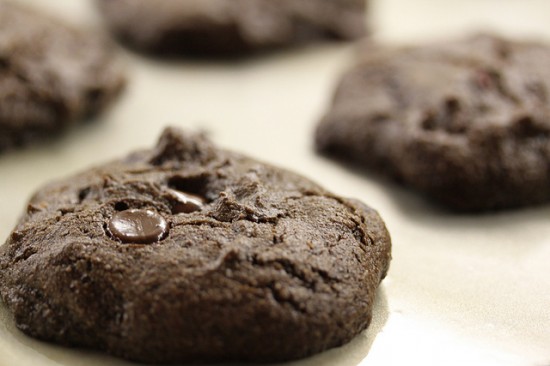 I'm definitely not into the vegan thing. Eggs are a gift from the food gods not to be squandered. But I will say those feisty vegan bakers and their recipes saved me when my kid was allergic to eggs in the first three years of his life. in fact, almost any recipe by Isa was a big hit in our house with anyone … not just the eggless. And I have a really mean extended family who's not afraid to tell me when my cooking sucks.
One of our favorites is Isa'a chewy chocolate chocolate chip cookie recipe. I have a cousin who has specifically requested these cookies, so that's very telling. For years, it was revered and I wouldn't mess with it even a little bit (I'm such a liar … I never use canola oil, so I'd use butter, rice bran oil, or coconut oil). Lately, though, I've started messing for a couple of reasons.
I'm sort of off chocolate, in theory. I'll eat a chocolate dessert now and then, but I'm proud to say I no longer hoarf down a handful of chocolate chips every time I pass the pantry closet. Yeah, I'm prouder than the mom of a round-headed newborn.
I really don't like the kid to have too much chocolate either since caffeine and the under-6 crowd of bad sleepers really don't mix. We'll try anything, even tricking him.
And now we're back at the messing. A couple of weeks ago, I made Isa's recipe with half cocoa powder and half carob powder. No one could tell, so I started getting crazy. I added, substituted and made the recipe mine, all mine. And in my house, anyway, we think it's better.
It's healthier, super-delicious but still "normal." I held myself back from adding pureed spinach, but used the most nutritious unrefined sugar I could find, used coconut milk instead of soy milk and some of the oil and this and that until it fit my specs for healthy. Try it and see what you think.
Carob Chocolate Chip Cookies with Coconut and Cranberries

Print This Recipe
Ingredients:
1/2 cup rice bran oil + 1/4 cup coconut milk
1 1/2 cups palm sugar
2 teaspoons vanilla
1 tablespoon + 1 teaspoon whole flax seeds
1/2 cup coconut milk
2 cups whole spelt flour
3/4 cup unsweetened carob powder
1 teaspoon baking soda
1/2 teaspoon salt
3/4 cup grain-sweetened chocolate chips
1/2 cup fruit-sweetened dried cranberries
1/2 cup unsweetened coconut flakes (optional)
Grind the flax seeds in a blender until they become a powder, then add the 1/2 cup of coconut milk and blend more, until the mixture thickens a bit and gets gooey.
Meanwhile, mix flour, carob powder, baking soda and salt together in a separate bowl.
Using a mixer (yes, Isa, I'm willing to lose the punk points), cream together the oil + coconut milk and the palm sugar, then add the flax mixture and vanilla and keep on mixing until mixture is almost fluffy.
Slowly add the dry ingredients while mixer is set to low speed. Blend well then stir in chocolate chips, cranberries and coconut.
Plop onto greased cookie sheets and make semi-pretty circles almost 2 inches around, slightly flattened in the middle. These do rise and expand, so leave at least an inch between cookies.
Bake for 10 minutes, let cool for 10 minutes on the pan and then cool the rest of the way on wire racks.
Photo Credit: Debbie McDuffee