Win passes to see At Middleton in Baltimore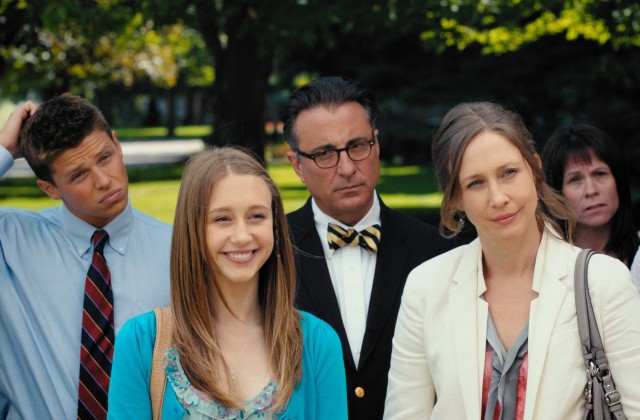 Baltimore native Adam Rodgers brings his new film 'At Middleton' home for a special screening, and we have free passes! Read on to find out how you can get a pair.
This offer has expired. Please follow @CliqueClack on Twitter for alerts on contests, news and reviews.
CliqueClack has partnered with Anchor Bay Entertainment and Allied Integrated Marketing to offer readers in the Baltimore area an opportunity to attend an advance screening of the new film At Middleton, starring Andy Garcia, Vera Farmiga, Taissa Farmiga, Spencer Lofranco, Peter Riegert and Tom Skerritt. Academy Award nominees Garcia and Farmiga star as straight-laced George and eccentric Edith, two strangers who meet on their children's campus tour at the idyllic Middleton College. Failing comically to connect with their kids, George and Edith play hooky together, ditching the official tour for a carefree adventure reminiscent of their own college years. But what begins as an afternoon of fun soon becomes a revealing and enlightening experience that will change their lives forever. A light-hearted romance for adults on the surface, At Middleton is a deeply moving portrait of roads not taken and the timelessness of youth.
The screening will take place on Thursday, January 23, 7:00 PM at the Rotunda Cinemas. We have a limited amount of passes available on a first come, first served basis. Simply leave a comment on this post letting us know that you want to see this movie and you will receive a pass via email. Please make sure your email address is entered correctly in the appropriate box. Double check your spelling!
Please note that passes do not guarantee seats at the screening. CliqueClack has no control over the total number of passes distributed, and is not responsible for seating at the theater. Seating is first come, first served so plan to arrive early.
Have a look at the film's trailer, and then let us know if you'd like to see the movie. At Middleton is scheduled to open in Baltimore on January 31. The film is directed by Adam Rodgers and produced by Sig Libowitz, both hailing from Baltimore!
Photo Credit: Anchor Bay Entertainment