Brave, Lawrence of Arabia and more cinematic gems come home this week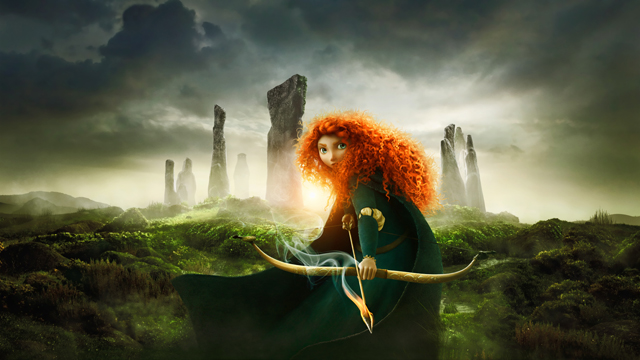 Movies on home video November 13 include 'Brave,' 'Savages,' 'The Watch,' 'Queen of Versailles,' '2 Days in New York,' 'Lawrence of Arabia,' 'Empire of the Sun,' 'Bill & Ted's Excellent Adventure,' and collections from Otto Preminger, David O. Selznick, and Sergei Eisenstein.
Two heroes come to home video this week with the release of Disney/Pixar's Brave, and the newly remastered 50th anniversary edition of Lawrence of Arabia (which I hear looks absolutely stunning). Newer releases Savages and The Watch — both reviewed here at CliqueClack — are also out this week, along with both parts of Harry Potter and the Deathly Hallows in a single video edition. With the release of Spielberg's Lincoln, his earlier Empire of the Sun (starring a very young Christian Bale) gets the Blu-ray treatment this week as well. Director Otto Preminger and producer David O. Selznick also get attention with new DVD collections. And for Bill & Ted fans, there has been talk of a new sequel, so what better time to get re-familiarized (or familiarized if you are too young to even know who Bill & Ted are) with the guys with the new Blu-ray release of their Excellent Adventure! These films and more will be available on November 13th, and you can take a look at the new release guide below to see more and to make a purchase. Just click on a link and we'll whisk you over to Amazon.com.
[easyazon-image align="none" asin="B005LAII08″ locale="us" height="160″ src="http://ecx.images-amazon.com/images/I/51CC8wUHDAL._SL160_.jpg" width="127″]
Brave
DVD
Blu-ray/DVD Combo
BD 3D/Blu-ray/DVD
DVD (Spanish)
Digital Download
[easyazon-image align="none" asin="B0091NWBC2″ locale="us" height="160″ src="http://ecx.images-amazon.com/images/I/51CJbYiPYTL._SL160_.jpg" width="126″]
Pixar Short Films
Collection 2
DVD
Blu-ray
[easyazon-image align="none" asin="B005LAII9O" locale="us" height="160″ src="http://ecx.images-amazon.com/images/I/51hHb8DoyfL._SL160_.jpg" width="150″]
Savages
DVD
Blu-ray + DVD
Digital Download
[easyazon-image align="none" asin="B005LAII30″ locale="us" height="160″ src="http://ecx.images-amazon.com/images/I/51nAyowHOnL._SL160_.jpg" width="140″]
The Watch
DVD
Blu-ray/DVD Combo
Digital Download
[easyazon-image align="none" asin="B009H42GWU" locale="us" height="160″ src="http://ecx.images-amazon.com/images/I/51xhrYNf6aL._SL160_.jpg" width="126″]
Harry Potter & The
Deathly Hallows: Part 1 & 2
Blu-ray
[easyazon-image align="none" asin="B0097RU2LO" locale="us" height="160″ src="http://ecx.images-amazon.com/images/I/51df%2BJ987LL._SL160_.jpg" width="140″]
Queen of Versailles
DVD
Blu-ray
[easyazon-image align="none" asin="B0090EDE00″ locale="us" height="160″ src="http://ecx.images-amazon.com/images/I/513lcuWxQbL._SL160_.jpg" width="124″]
Vamps
DVD
Blu-ray
Digital Download
[easyazon-image align="none" asin="B00930LILS" locale="us" height="160″ src="http://ecx.images-amazon.com/images/I/51RchaDaAfL._SL160_.jpg" width="124″]
Nitro Circus: The Movie
DVD
BD 3D/Blu-ray/DVD
[easyazon-image align="none" asin="B008PZ69OS" locale="us" height="160″ src="http://ecx.images-amazon.com/images/I/51BewQ4LDWL._SL160_.jpg" width="140″]
2 Days in New York
DVD
Blu-ray
Digital Download
[easyazon-image align="none" asin="B008ZQ4W5U" locale="us" height="160″ src="http://ecx.images-amazon.com/images/I/51VTP2med3L._SL160_.jpg" width="135″]
Dark Horse
DVD
Blu-ray
Digital Download
[easyazon-image align="none" asin="B0096ED4UE" locale="us" height="160″ src="http://ecx.images-amazon.com/images/I/51LC3mA%2B4AL._SL160_.jpg" width="113″]
The Definitive
Document Of The Dead
DVD
[easyazon-image align="none" asin="B0096UG7VQ" locale="us" height="160″ src="http://ecx.images-amazon.com/images/I/51fyC561AJL._SL160_.jpg" width="113″]
The Doctor's Wife
DVD
[easyazon-image align="none" asin="B008RN5RY6″ locale="us" height="160″ src="http://ecx.images-amazon.com/images/I/51thTds-hHL._SL160_.jpg" width="128″]
Natural Selection
DVD
Blu-ray
[easyazon-image align="none" asin="B008Y1YK0I" locale="us" height="160″ src="http://ecx.images-amazon.com/images/I/51mGsGdN5lL._SL160_.jpg" width="123″]
Lawrence of Arabia
(Restored Version)
Blu-ray
[easyazon-image align="none" asin="B0017O1MIM" locale="us" height="160″ src="http://ecx.images-amazon.com/images/I/51npT5PcHTL._SL160_.jpg" width="160″]
Lawrence of Arabia
(50th Anniversary Collector's
Edition)
Blu-ray box set
[easyazon-image align="none" asin="B007KW5N9Y" locale="us" height="145″ src="http://ecx.images-amazon.com/images/I/51WYZTlYeiL._SL160_.jpg" width="160″]
Empire of the Sun
Blu-ray
[easyazon-image align="none" asin="B0093LE2OC" locale="us" height="160″ src="http://ecx.images-amazon.com/images/I/61FIKhoQUKL._SL160_.jpg" width="128″]
Bill & Ted's Excellent
Adventure
Blu-ray
[easyazon-image align="none" asin="B008EXAJM4″ locale="us" height="160″ src="http://ecx.images-amazon.com/images/I/61ucXYLAmsL._SL160_.jpg" width="126″]
Teenage Mutant Ninja
Turtles Triple Feature
Blu-ray
[easyazon-image align="none" asin="B008MIMWOO" locale="us" height="160″ src="http://ecx.images-amazon.com/images/I/618G3r9sk4L._SL160_.jpg" width="126″]
Austin Powers
Triple Feature
Blu-ray
[easyazon-image align="none" asin="B008SAPCPW" locale="us" height="160″ src="http://ecx.images-amazon.com/images/I/61xKglarDlL._SL160_.jpg" width="126″]
Twilight's Last Gleaming
DVD
Blu-ray
[easyazon-image align="none" asin="B008PJZE0E" locale="us" height="160″ src="http://ecx.images-amazon.com/images/I/51Mgcj8e7rL._SL160_.jpg" width="126″]
The Postman Always
Rings Twice
Blu-ray
[easyazon-image align="none" asin="B008V5UQZK" locale="us" height="160″ src="http://ecx.images-amazon.com/images/I/51JVKImU4bL._SL160_.jpg" width="118″]
My Big Fat Greek Wedding:
10th Anniversary Edition
Blu-ray
[easyazon-image align="none" asin="B0093ICOE0″ locale="us" height="111″ src="http://ecx.images-amazon.com/images/I/51ZVm4%2B90BL._SL160_.jpg" width="160″]
Watchmen Collector's Edition:
Ultimate Cut + Graphic Novel
Blu-ray
[easyazon-image align="none" asin="B0080GEV0G" locale="us" height="160″ src="http://ecx.images-amazon.com/images/I/519KqX3SWuL._SL160_.jpg" width="140″]
The Big Trail
Blu-ray
[easyazon-image align="none" asin="B009A881OA" locale="us" height="160″ src="http://ecx.images-amazon.com/images/I/51Xp8O2DlQL._SL160_.jpg" width="125″]
The Barbarian &
The Geisha
Blu-ray
[easyazon-image align="none" asin="B00917IQ8Q" locale="us" height="160″ src="http://ecx.images-amazon.com/images/I/5145eMcMR9L._SL160_.jpg" width="132″]
D.W. Griffith's
Abraham Lincoln
Blu-ray
[easyazon-image align="none" asin="B008VR7U0M" locale="us" height="160″ src="http://ecx.images-amazon.com/images/I/51IrUxblfWL._SL160_.jpg" width="138″]
Zorro
Blu-ray
[easyazon-image align="none" asin="B0091C22FO" locale="us" height="143″ src="http://ecx.images-amazon.com/images/I/51iv2FIcKbL._SL160_.jpg" width="160″]
The Otto Preminger
Collection
Blu-ray
[easyazon-image align="none" asin="B00917IQBI" locale="us" height="160″ src="http://ecx.images-amazon.com/images/I/51WwF2r6wdL._SL160_.jpg" width="127″]
Kino Classics'
The Selznick Collection
DVD
Blu-ray
[easyazon-image align="none" asin="B00917IPXW" locale="us" height="160″ src="http://ecx.images-amazon.com/images/I/516LRr0NS4L._SL160_.jpg" width="126″]
Sergei Eisenstein:
Double Feature
Blu-ray
[easyazon-image align="none" asin="B008Y5OWKW" locale="us" height="160″ src="http://ecx.images-amazon.com/images/I/51WGRdNipDL._SL160_.jpg" width="125″]
Trilogy of Life
(Criterion Collection)
DVD
Blu-ray
[easyazon-image align="none" asin="B008Y5OW70″ locale="us" height="160″ src="http://ecx.images-amazon.com/images/I/512ViPLCYUL._SL160_.jpg" width="129″]
Weekend
(Criterion Collection)
DVD
Blu-ray
Photo Credit: Disney/Pixar