Forgotten Four asks more questions than it answers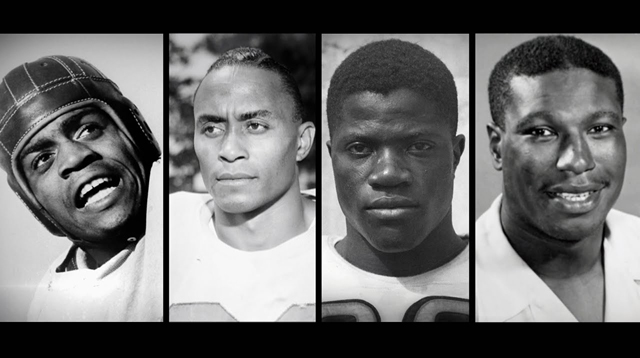 'Forgotten Four' tells the story of four men who broke the color barrier in the NFL, but ends with unanswered questions.
The following is a Guest Review written by Monique Mercer.
Mr. Wesley E. Smith, Executive producer of Forgotten Four, started his journey making this movie about four magnificent men when he met Bill Willis about 8 years ago. He was quite fascinated by all the stories. So was I.
Forgotten Four is about four young men who broke the color barrier in pro football: Marion Motley, Woody Strode, Bill Willis, and Kenny Washington. The movie chronicled the humble beginnings of each man and how they fit into the evolution of pro football. During the 1920's football was integrated. In 1921 Black players Fitz Pollard and Bobby Marshall played in the National Football League. After the Great Depression football was closed off to Blacks.
In 1933 George Preston Marshall held an owner's meeting and demanded that Blacks not be allowed to play pro football. Blacks were not allowed to play in the NFL again until 1946 when the Cleveland Browns signed Marion Motley and Bill Willis. Later that year the LA Rams owner was pressured in to signing Woody Strode and Kenny Washington.
After the Great Depression football was closed off to Blacks.
On the East Coast Paul Brown was a strict but fair coach, then owner. He knew the formula to win. He required all his players to work as a team on and off the field. This was an advantage for Marion Motley and Bill Willis for their team mates stood up for them when other teams would hurt or attack them. On the other hand Woody Strode and Kenny Washington were not so lucky. Dan Reeves the owner of their team, the LA Rams, hated Blacks. He was pressured into signing the two men in order to have a place for his team to play at the Los Angeles Coliseum. These two men had to defend themselves not only against other teams and fans but their own team members as well. They were kicked, punched, and hit before and after plays and even their hands were stepped on when they were on the ground.
Dan Reeves was pressured into signing Black players to the Rams in order to play at the Los Angeles Coliseum.
All four players were exceptional at the top of their game so what events made two of these men succeed in their sport and two men get lost in the shuffle of history? At a special screening of the film, an esteemed panel answered this and many other questions. The panel consisted of social activist Jeffrey Johnson, Executive Director of White House Initiatives David Johns, IMPACT co-founder Joe Briggs, Executive Producer Wesley E. Smith, and Sports Business Journal media reporter John Ourand.
While attending the screening I got to ask a question of the panel: Do you think Paul Brown's support of his players assisted in getting them into the Hall of Fame? All the panelists collectively said yes! Because of Paul Brown's support, both Motley and Willis went on to be inducted in the Pro Football Hall of Fame in 1968 and 1977. The audience was asked to ponder the question why Woody Strode and Kenny Washington were not inducted.
I grew up in Cleveland and was personally touched by the doors these men opened. It was nice to go to a game and see so many black faces like me. My father, Harry L. Stiggers, was a doctor and often times when Black players got injured or sick they needed to see a Black doctor. My father was one of those doctors. I met many of the players for the Cleveland Browns and The Cleveland Indians. Many became personal family friends that came to our house often mostly for my mother's good cooking.
Forgotten Four shows that its subjects had what it takes to be the best at what they did.
What I liked about the movie was how it humanized the four men. Family members, friends, players and news commentators spoke on their genuine love of the game and each man's character. They were hard working loving fathers, supportive team mates, good friends and elite athletes. These men were ordinary people who carried the weight of their race on their shoulders. These four men had what it takes to be the best at what they did. They will go down in history for what they did but they will remembered for what they did stood for. Fortitude, perseverance and their humanity helped open the doors for the ones to follow.
What happened to these men after their football careers were over?
Marion Motley became a whiskey salesman, a lottery worker, a postal worker, and also worked for the Ohio Department of Youth Services.
Bill Willis enjoyed working with children and took a position as an assistant Recreation Commissioner in Cleveland than he became Chairman of the Ohio Youth Commission.
Kenny Washington became a police officer for the City of Los Angeles, he was also a contestant in a popular TV show You Bet Your Life.
Woody Strode became an actor. Woody Strode had roles in many famous movies: Spartacus, Once Upon A Time In The West, The Professional, The Quick and The Dead and many others. He was also a wine maker. What I found fascinating about this man is that he married a Hawaiian Princess and was treated like royalty in Europe but he continued to make his home in Los Angeles.
I would have liked to see more personal information about the men. I was left with many questions. I was now curious and could not wait to race home and find out more about them. But I was still left to wonder if anyone is pushing for the induction of Strode and Washington in to the Hall of Fame.
Forgotten Four is now airing on EPIX and EPIX On Demand.
Photo Credit: EPIX