Your favorite Friends – and more – come to home video November 13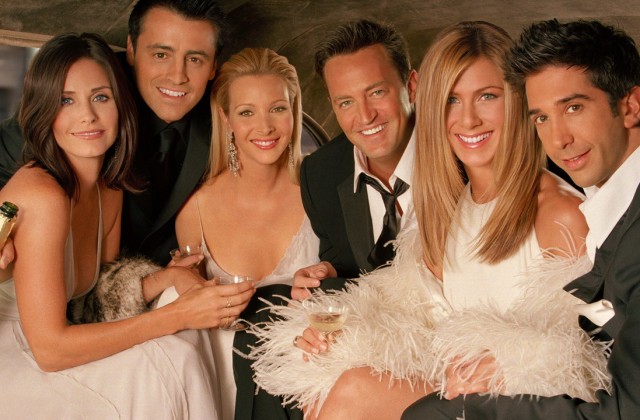 'Doctor Who – Series 7′ and 'Lost Girl – Season 2′ come to home video November 13, along with complete series collections of 'Friends' and 'The Dick Van Dyke Show' on Blu-ray, and 'Teenage Mutant Ninja Turtles,' 'Scooby-Doo, Where Are You,' and 'The Flintsones' on DVD.
The first half of the newest season of Doctor Who comes to home video this week, but the big news is the high definition debut of two classic sitcoms: Friends and The Dick Van Dyke Show. Friends has been seen in syndication in HD for a while now, but this is the first time the complete series has been available on Blu-ray (could Seinfeld be far behind?). It's nice to see early TV classics (the ones shot on film) making their way to Blu-ray as well. After the stunning work done on The Twilight Zone and Star Trek, it's a real treat to see The Dick Van Dyke Show get a high-def makeover (could I Love Lucy be far behind?). With the holidays approaching, these awesome box sets will probably make their way onto many Christmas lists. Check out our guide for these and other titles coming to video this week, and click on any link for more information about that title. You can pre-order now, get a great deal from Amazon.com, and show your support for CliqueClack at the same time! And for that, we thank you.
[easyazon-image align="none" asin="B0094GSRXS" locale="us" height="160″ src="http://ecx.images-amazon.com/images/I/51GqhGowNnL._SL160_.jpg" width="137″]
Doctor Who: Series
Seven – Part One
DVD
Blu-ray
[easyazon-image align="none" asin="B008YRL5W8″ locale="us" height="160″ src="http://ecx.images-amazon.com/images/I/51BMVvRxQ-L._SL160_.jpg" width="131″]
Lost Girl: Season Two
DVD
Blu-ray
[easyazon-image align="none" asin="B008NNY9XU" locale="us" height="160″ src="http://ecx.images-amazon.com/images/I/510Fwi55utL._SL160_.jpg" width="113″]
Duck Dynasty:
Season 1
DVD
[easyazon-image align="none" asin="B008D19WBQ" locale="us" height="117″ src="http://ecx.images-amazon.com/images/I/51exTQfbeIL._SL160_.jpg" width="160″]
Friends:
The Complete Series
Blu-ray
[easyazon-image align="none" asin="B008MIYKB2″ locale="us" height="160″ src="http://ecx.images-amazon.com/images/I/51nnAGwBN0L._SL160_.jpg" width="160″]
The Dick Van Dyke Show:
The Complete Series
Blu-ray
[easyazon-image align="none" asin="B008VIMLXM" locale="us" height="139″ src="http://ecx.images-amazon.com/images/I/51AtS8nTiaL._SL160_.jpg" width="160″]
The Incredible Mel Brooks:
An Irresistible Collection Of
Unhinged Comedy
DVD
[easyazon-image align="none" asin="B009474UW4″ locale="us" height="140″ src="http://ecx.images-amazon.com/images/I/51RiumKsF2L._SL160_.jpg" width="160″]
Teenage Mutant Ninja
Turtles: The Complete
Classic Series Collection
DVD
[easyazon-image align="none" asin="B00961ENYI" locale="us" height="109″ src="http://ecx.images-amazon.com/images/I/41mmt3S%2BO4L._SL160_.jpg" width="160″]
Scooby-Doo Where Are
You: Complete Series
DVD
[easyazon-image align="none" asin="B008OW3SU0″ locale="us" height="160″ src="http://ecx.images-amazon.com/images/I/51NBCQm5%2BkL._SL160_.jpg" width="133″]
Scooby-Doo! Mystery
Incorporated: Season 2
Part 1: Danger in the Deep
DVD
[easyazon-image align="none" asin="B00961EO24″ locale="us" height="100″ src="http://ecx.images-amazon.com/images/I/51oWmFS6erL._SL160_.jpg" width="160″]
The Flintstones:
The Complete Series
DVD
[easyazon-image align="none" asin="B008VIMLVY" locale="us" height="160″ src="http://ecx.images-amazon.com/images/I/51qNcUrDJTL._SL160_.jpg" width="117″]
Marvel Knights:
Astonishing X-Men
Unstoppable
DVD
[easyazon-image align="none" asin="B009DA749S" locale="us" height="160″ src="http://ecx.images-amazon.com/images/I/61WKlUi1mtL._SL160_.jpg" width="113″]
Magic School Bus:
Holiday Special
DVD
[easyazon-image align="none" asin="B008ZD4NI4″ locale="us" height="160″ src="http://ecx.images-amazon.com/images/I/51uLThyLPnL._SL160_.jpg" width="113″]
The Real McCoys:
Season 2
DVD
[easyazon-image align="none" asin="B0091C220E" locale="us" height="160″ src="http://ecx.images-amazon.com/images/I/51BATVi8j4L._SL160_.jpg" width="113″]
Christmas Around the
World With Perry Como
DVD
[easyazon-image align="none" asin="B0090EDEIC" locale="us" height="160″ src="http://ecx.images-amazon.com/images/I/61DHWg9Wf%2BL._SL160_.jpg" width="124″]
Snowmageddon
DVD
Blu-ray
[easyazon-image align="none" asin="B008S2NAC2″ locale="us" height="160″ src="http://ecx.images-amazon.com/images/I/51cpLbXU-IL._SL160_.jpg" width="114″]
Lukewarm
DVD
Photo Credit: Warner Brothers