Stallone and De Niro punch each other in the somewhat watchable Grudge Match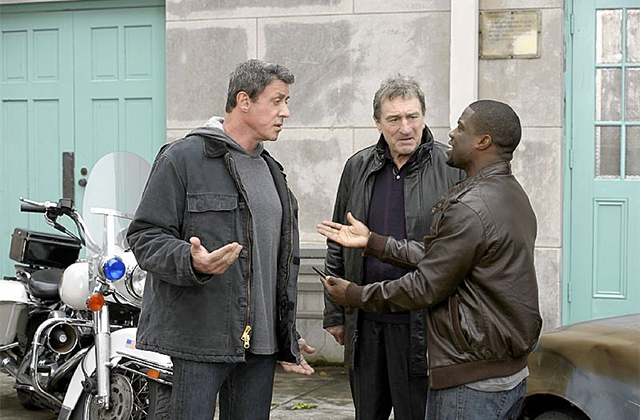 'Grudge Match' is an okay waste of time, with a few funny parts and is better when it doesn't stay on the black hole of Stallone's non-charisma.
We talk a lot about nostalgia and the feeling of uselessness that people can have, especially as they get older. But everyone who's lived through childhood can get nostalgic about the past and want to relive past glories or victories, easily ignoring any hardships or difficulties back then. But sometimes it's possible to be honest with ourselves and realize that the past is just that, something to get past and learn from, not something that can be actually relived. And that conflict between the desire to resolve never forgotten inequities and the honest realization that it is not truly possible to do so collides with the slick, exaggerated world of movies. In this case, boxing becomes the meta-metaphor of the struggle to physically force the issue before it all becomes a bit sad.
Grudge Match stars Sylvester Stallone (channeling Rocky, of course) as Henry 'Razor' Sharp and Robert De Niro (bringing in a bit of Raging Bull) as Billy 'The Kid' McDonnen. Two former boxers that each won a bout thirty years ago before Razor abruptly retired from the sport before a third match could decide the issue. They were forced to move on, Razor taking a ludicrously cliched blue collar factory job for decades and Billy running a bar. But a TV documentary sparks new interest in the mostly forgotten feud, and Dante Slate Jr. (Kevin Hart), son of their original promoter, sees dollar signs and a chance to make something of himself. So he decides to try to convince the two to have it out once and for all. If he can just keep the two from killing each other first. Naturally, it's all because of some nonsense with Billy sleeping with Razor's old girlfriend (Kim Basinger), which leads to Billy's son (Jon Bernthal) trying to reconnect with his estranged father and Razor trying to convince his old, sickly trainer (Alan Arkin) to help train him one more time. And so on.
There's nothing about the story or screenplay that's that original or exciting, but it has some funny parts, usually helped by Alan Arkin.
It all ends with a match where the two really seem to be hitting each other, or faking it pretty well, and an ending that's not completely terrible, I guess. But what's the draw here? Is there really a nostalgic thrill to seeing two older guys wail on each other? Sylvester Stallone hasn't really improved on his acting, being just as wooden as ever, while other folks around him put actual effort into their lines. De Niro isn't amazing here, but he's not just phoning it in, which puts him much higher than Stallone. There's nothing about the story or screenplay that's that original or exciting, but it has some funny parts, usually helped by Alan Arkin (no surprise). I guess Kim Basinger is alright here, although I wasn't blown away by such a simplistic character, and Jon Bernthal is better in the much, much better The Wolf of Wall Street, which opens today too. The truth is that the only really annoying character was Billy's grandson, who is either a terrible child actor or just directed poorly, because it was like nails in my ears every time.
The movie is passable, not that dull (usually) and ultimately very forgettable. I kind of liked the actual boxing match itself, but the characters were nothing but air, vanishing on closer scrutiny. But I suppose nobody's asking for depth from this movie, so perhaps it succeeds after all.
Photo Credit: Warner Bros. Pictures