Win passes to see Jersey Boys in Boston or Hartford
The hit musical 'Jersey Boys' is coming to the big screen, and we want to send readers in Boston and Hartford to a special advance screening. Find out how you can win a pair of free passes!
The life and times of Frankie Valli and the Four Seasons is making the leap from the musical stage to the big screen, and we want to give readers in the Boston and Hartford areas the opportunity to attend an advance screening of the new movie musical Jersey Boys directed by Clint Eastwood.
The film tells the story of four young men from the wrong side of the tracks in New Jersey who came together to form the iconic 1960s rock group The Four Seasons. The story of their trials and triumphs are accompanied by the songs that influenced a generation, including "Sherry," "Big Girls Don't Cry," "Walk Like a Man," "Dawn," "Rag Doll," "Bye Bye Baby," "Who Loves You," and many more. These classic hits are now being embraced by a new generation of fans through the stage musical, which has been running on Broadway for more than eight years and has also enjoyed successful tours around the globe.
Starring in the film, John Lloyd Young reprises his Tony Award-winning portrayal of the legendary lead singer of The Four Seasons, Frankie Valli. Erich Bergen stars as Bob Gaudio, who wrote or co-wrote all of the group's biggest hits. Michael Lomenda and Vincent Piazza star respectively as Nick Massi and Tommy DeVito, two original members of The Four Seasons. Oscar winner Christopher Walken stars as mobster Gyp DeCarlo.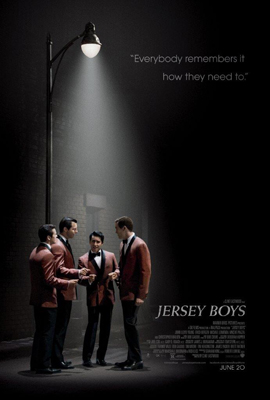 The screenings will take place on Tuesday, June 17, 7:00 PM at the following locations:
AMC Boston Common, 175 Tremont St, Boston, MA All BOSTON passes have been claimed.
AMC Plainville, 220 New Britain Ave, Plainville, CT
Please read the following instructions carefully. Failure to follow the instructions may result in disqualification.
To be eligible for passes, copy and paste one of the two locations of your choice into the comment box: BOSTON or HARTFORD.
Include your full name and correct email address in the appropriate spaces on the submission form — NOT in the comment box.
One entry per person/per email address will be accepted. Duplicates will be discarded, excessive duplicates will result in disqualification.
A unique GoFoBo code good for up to two Admit One passes will be awarded on a first come, first served basis until all codes have been distributed.
Only one person per couple needs to comment. Please keep these offers fair for everyone.
Passes do not guarantee seats at the screening, which are first come, first served. Please plan to arrive early.
The film is rated R — no one under 17 will be admitted without parent or guardian.
Have a look at the film's trailer and then tell us where you want to see the movie! Jersey Boys opens in theaters June 20th.
Photo Credit: Warner Bros. Pictures