Kevin Chapman is the gentleman's gentleman @ NYCC 2012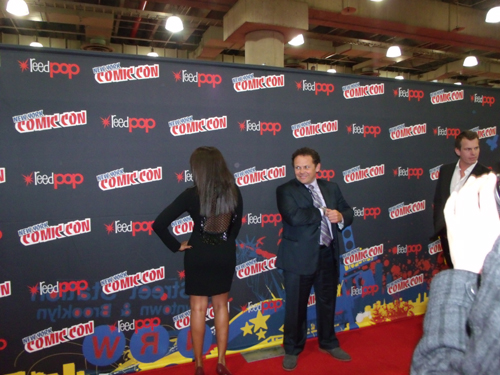 Kevin Chapman might call himself "a Coke machine with a head on it," but he's all heart. In the New York Comic Con press room, he joked with the guys, watched out for the ladies and he utterly supported his co-stars. Kevin Chapman is definitely one to watch out for in 'Person of Interest.'
What you see is what you get with Kevin Chapman. Kevin's a straight up Boston guy and sounds like a New York cop by way of Massachusetts. Considering he has three cops in the family and did ride-alongs in Baltimore, Boston, and LA in his past career, it explains why I find Fusco so believable. He's definitely a fan of the work and remembers everything about his character, down to the episode. He's aware of his character's shortcomings (and his own), but views his character as a good cop who got lost along the way. As a person, he's also solicitous. Most of the people at my table managed to throw out questions save the other female blogger at our table who fell silent when he appeared. Before the PR people moved him to the next table, he asked if she had any questions to throw his way. Was that a Fusco move? Probably not. But that was a genuine Kevin Chapman move all the way. You can tell Kevin loves his job (and co-workers). Come on, check out that glance he threw to his co-star as she shook her money-maker for the appreciative press room. Clearly, he loves what he does. If you want to hear about Fusco's relationship with Carter and if we'll ever see him inside the secret lair, listen to the clip!
"Fusco is a tad conflicted. You don't know if he's a good guy doing bad things or a bad guy doing good things."
An: Can you explain why Fusco views Reese as a friend considering Reese blackmailed your character, forced your character into HR –
Chapman: And I saved his life not once but twice.
An: Can you explain why Fusco views him as friend?
Chapman: Well I had to remind him that I was still here. I think the dynamic is kind of a big brother-little brother. I think he would be the big brother and Fusco would be the little brother. Fusco is a tad conflicted. I think what makes the character so interesting is he has a sense of duality. You don't know if he's a good guy doing bad things or a bad guy doing good things.
My approach to the work is I try to play it as truthfully as possible and leave that entirely up to the viewership. And that's what is so interesting playing Fusco for me as an artist is he's not a very defined character. You put it out there and let the viewer decide whether they like him or dislike him. I think the dynamic between Reese and Fusco … if you look at us we're two very different people. He's tall lean, classically handsome; I'm short, kinda squatty and look like a Coke machine with a head on it.
I think that's what makes the show very interesting. You have four very conflicted and flawed individuals who come together and create this unit that fights crime effectively. I think that whole thing is what makes it all work.

"I'm short, kinda squatty and look like a Coke machine with a head on it."
An: I always thought that Fusco's anger at Reese for never acknowledging him would force Fusco to go to the other side.
Chapman: No, I don't necessarily believe that. By Reese and Finch coming into Fusco's life, it gave Fusco the once heroic image that he had of himself. At some point in his life, Fusco had this heroic image of himself. He was going to become a police officer. And, then somewhere along the way, he got lost on the path. By having Reese and Finch coming into his life, it brought him back to that path. At first he was apprehensive and rebelling against it. And then as the story continued on he started to embrace the idea of it. But, I think eventually his skeletons have been piling up in the closet. He's going to have to sort it out.
An: Fusco is almost like the Machine. You think he's a dumb gun and that he'll always do what you say, but he's always thinking against you and he's always noticing. Will we ever see a scene where we see Fusco using his knowledge that he's gained against them?
Chapman: Fusco got an education in the streets. He's been a cop for a long time. He didn't make detective grade because he wasn't a good cop, in the sense of police work. I don't think Fusco's ever going to sit down and have a conversation about world economics. He's a blue-collar cop, a meat and potatoes guy. Every facet of society has that. There are the thinkers and then there are the workers and that's kind of how he's viewed.
Photo Credit: An Nicholson