Liam Neeson, Woody Allen, and a demon named Abyzou come to home video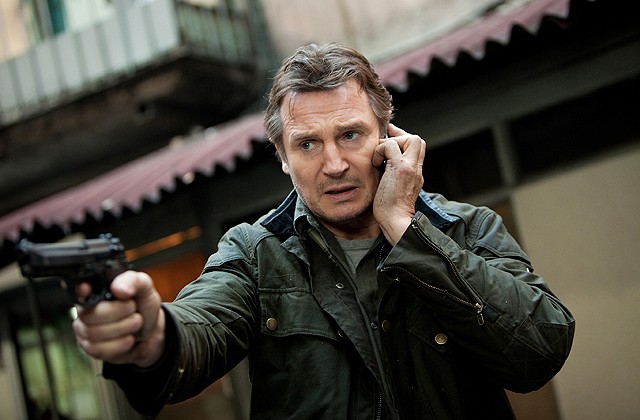 New movies on video January 15 include 'Taken 2,' 'To Rome With Love,' 'The Possession,' 'Won't Back Down,' 'How Green Was My Valley,' 'Hannah & Her Sisters,' 'Sleeper,' 'Gentelman's Agreement,' 'The Man Who Knew Too Much,' 'The Tin Drum,' and much more!
In this week's new home video releases, Liam Neeson returns to some familiar territory when dealing with the consequences of his actions in the surprise hit Taken. Unfortunately, the follow-up, Taken 2, didn't fare as well with audiences or critics but it still may be worth checking out on video. Hollywood tried to make us think The Possession was some radical new version of The Exorcist … except it pretty much wasn't. And Woody Allen followed up his charming trip to Paris with To Rome With Love, but you may be better off checking out some of his classic films new to Blu-ray this week: Hannah and Her Sisters and Sleeper. In fact, the classic films on video this week are where it's at with the release of The Best Years of Our Lives, How Green Was My Valley, the original The Man Who Knew Too Much, The Tin Drum and more. Have a look at our shopper's guide to see what else is coming on January 15, and click on a link to get more information or to make a purchase (any purchase made through a link at Amazon also supports our efforts here at CliqueClack).
[easyazon-image align="none" asin="B0067EKYDG" locale="us" height="160″ src="http://ecx.images-amazon.com/images/I/51iCfNfYASL._SL160_.jpg" width="133″]
Taken 2
DVD
Blu-ray
Digital Download
[easyazon-image align="none" asin="B00A1O0G5E" locale="us" height="160″ src="http://ecx.images-amazon.com/images/I/51rAyMuz4tL._SL160_.jpg" width="130″]
To Rome With Love
DVD
Blu-ray
Digital Download
[easyazon-image align="none" asin="B009XTF8JM" locale="us" height="160″ src="http://ecx.images-amazon.com/images/I/51-xbRxmzbL._SL160_.jpg" width="138″]
The Possession
DVD
Blu-ray
[easyazon-image align="none" asin="B00A993ZRC" locale="us" height="160″ src="http://ecx.images-amazon.com/images/I/61RCxlAgoSL._SL160_.jpg" width="128″]
Won't Back Down
DVD
Blu-ray
Digital Download
[easyazon-image align="none" asin="B009TTTKJ0″ locale="us" height="160″ src="http://ecx.images-amazon.com/images/I/51MYfnK%2B9EL._SL160_.jpg" width="113″]
Farewell My Queen
DVD
Blu-ray
[easyazon-image align="none" asin="B009XTF8GK" locale="us" height="160″ src="http://ecx.images-amazon.com/images/I/61KBwAqQnDL._SL160_.jpg" width="124″]
Branded
DVD
Blu-ray
[easyazon-image align="none" asin="B009M4KSHK" locale="us" height="160″ src="http://ecx.images-amazon.com/images/I/513pAtODXqL._SL160_.jpg" width="126″]
About Cherry
DVD
Blu-ray
[easyazon-image align="none" asin="B009INAGRC" locale="us" height="160″ src="http://ecx.images-amazon.com/images/I/51aMGB2y7pL._SL160_.jpg" width="115″]
I Am Bruce Lee
DVD
Blu-ray
[easyazon-image align="none" asin="B00A3V2KKY" locale="us" height="160″ src="http://ecx.images-amazon.com/images/I/51S%2BeaY99XL._SL160_.jpg" width="123″]
30 Nights of Paranormal
Activity With the Devil Inside
the Girl With the Dragon Tattoo
DVD
Blu-ray
[easyazon-image align="none" asin="B009L63QCS" locale="us" height="160″ src="http://ecx.images-amazon.com/images/I/51Hf-KvV5tL._SL160_.jpg" width="125″]
Lightning Bug
Blu-ray
[easyazon-image align="none" asin="B009V9N1SO" locale="us" height="160″ src="http://ecx.images-amazon.com/images/I/51lMSzIKS7L._SL160_.jpg" width="127″]
Allegiance
DVD
Blu-ray / DVD Combo
[easyazon-image align="none" asin="B009LFVV6M" locale="us" height="160″ src="http://ecx.images-amazon.com/images/I/51r6KebU5jL._SL160_.jpg" width="110″]
The Notebook: Ultimate
Collector's Edition
Blu-ray
[easyazon-image align="none" asin="B00AATV046″ locale="us" height="160″ src="http://ecx.images-amazon.com/images/I/51x5TX3CsyL._SL160_.jpg" width="132″]
The Bishop's Wife
DVD
Digital Download
[easyazon-image align="none" asin="B00A7OBJKY" locale="us" height="160″ src="http://ecx.images-amazon.com/images/I/51AqYeZBblL._SL160_.jpg" width="125″]
How Green Was
My Valley
Blu-ray
[easyazon-image align="none" asin="B00A3V2JPA" locale="us" height="160″ src="http://ecx.images-amazon.com/images/I/519H0ehSxuL._SL160_.jpg" width="124″]
Wild River
DVD
Blu-ray
[easyazon-image align="none" asin="B009UTX4M8″ locale="us" height="160″ src="http://ecx.images-amazon.com/images/I/519rq7UFIQL._SL160_.jpg" width="122″]
Hannah & Her Sisters
Blu-ray
[easyazon-image align="none" asin="B009UTX53Q" locale="us" height="160″ src="http://ecx.images-amazon.com/images/I/41pWnC6ncvL._SL160_.jpg" width="125″]
Sleeper
Blu-ray
[easyazon-image align="none" asin="B0095FYOP8″ locale="us" height="160″ src="http://ecx.images-amazon.com/images/I/51AU2vZuuTL._SL160_.jpg" width="133″]
Wimbledon
Blu-ray
[easyazon-image align="none" asin="B009YX8KN8″ locale="us" height="160″ src="http://ecx.images-amazon.com/images/I/51i85-rutPL._SL160_.jpg" width="125″]
Wake in Fright
DVD
Blu-ray
[easyazon-image align="none" asin="B00AATV050″ locale="us" height="160″ src="http://ecx.images-amazon.com/images/I/51a8VL-Xn4L._SL160_.jpg" width="132″]
Hans Christian
Andersen
DVD
[easyazon-image align="none" asin="B00AATUZQA" locale="us" height="160″ src="http://ecx.images-amazon.com/images/I/51-3x%2Bmy9QL._SL160_.jpg" width="132″]
Wuthering Heights
DVD
[easyazon-image align="none" asin="B00A7OBJM2″ locale="us" height="160″ src="http://ecx.images-amazon.com/images/I/51QD0UqXzoL._SL160_.jpg" width="125″]
Gentleman's Agreement
Blu-ray
[easyazon-image align="none" asin="B00AATV07S" locale="us" height="160″ src="http://ecx.images-amazon.com/images/I/51CfOdmc8NL._SL160_.jpg" width="132″]
The Best Years of
Our Lives
DVD
[easyazon-image align="none" asin="B00AATUZLU" locale="us" height="160″ src="http://ecx.images-amazon.com/images/I/51ezV%2BarTkL._SL160_.jpg" width="132″]
The Pride of the
Yankees
DVD
[easyazon-image align="none" asin="B009INAMEY" locale="us" height="160″ src="http://ecx.images-amazon.com/images/I/51rDV-39AZL._SL160_.jpg" width="115″]
Jackie Chan: Crime
Story / The Protector
DVD
Blu-ray
[easyazon-image align="none" asin="B008BWFOOG" locale="us" height="160″ src="http://ecx.images-amazon.com/images/I/51BqzKlW6aL._SL160_.jpg" width="114″]
Rules For School
(Classic Educational
Shorts: Vol. 5)
DVD
[easyazon-image align="none" asin="B008BWFOMI" locale="us" height="160″ src="http://ecx.images-amazon.com/images/I/51KbyAC%2BBYL._SL160_.jpg" width="113″]
Troubled Teens
(Classic Educational
Shorts: Vol. 6)
DVD
[easyazon-image align="none" asin="B00AATV0WS" locale="us" height="160″ src="http://ecx.images-amazon.com/images/I/51xJSk2veFL._SL160_.jpg" width="132″]
Guys & Dolls
DVD
[easyazon-image align="none" asin="B009RWRIP2″ locale="us" height="160″ src="http://ecx.images-amazon.com/images/I/61XbXfaWpEL._SL160_.jpg" width="128″]
The Man Who Knew
Too Much (Criterion
Collection)
DVD
Blu-ray
[easyazon-image align="none" asin="B009RWRIUC" locale="us" height="160″ src="http://ecx.images-amazon.com/images/I/615Y0Dz2OlL._SL160_.jpg" width="129″]
The Tin Drum
(Criterion Collection)
DVD
Blu-ray
Photo Credit: Twentieth Century Fox