Psychos, vampires and ghosts haunt this week's DVD releases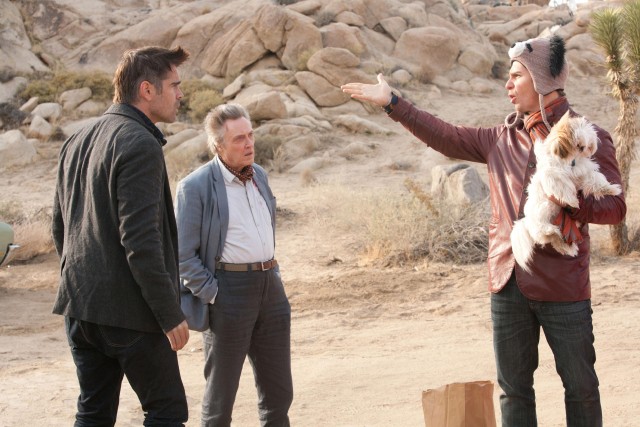 Movies on DVD and Blu-ray January 29 include 'Seven Psychopaths,' 'Hotel Transylvania,' 'Paranormal Activity 4,' 'All Superheroes Must Die,' 'Citadel,' 'Cold Light of Day,' 'The Awakening,' 'The Duellists,' 'White Zombie,' 'Flight of the Navigator,' a 'Die Hard' collection, and a retrospective of 90 years of Warner Brothers films.
This week's new home video releases feature psychopaths — seven, to be exact — vampires and other monsters, and another house full of paranormal activity. There's also a celebration of Warner Brothers' 90th anniversary with a 50 film box set, a collection of Die Hard movies to tie in with the upcoming fifth film in the series, and more classics on Blu-ray including Ridley Scott's feature film debut, The Duellists. You can find out more about these and other titles released on January 29 in our handy shopper's guide. To make a purchase, simply click on the appropriate link and we'll whisk you over to Amazon.com. You'll get a great deal, and you'll be showing your support for CliqueClack at the same time!
[easyazon-image align="none" asin="B007REV4PM" locale="us" height="160″ src="http://ecx.images-amazon.com/images/I/61OilQ9NHzL._SL160_.jpg" width="128″]
Seven Psychopaths
DVD
Blu-ray
[easyazon-image align="none" asin="B0034G4OYK" locale="us" height="160″ src="http://ecx.images-amazon.com/images/I/61wr-SByDiL._SL160_.jpg" width="128″]
Hotel Transylvania
DVD
Blu-ray / DVD
Blu-ray 3D / Blu-ray / DVD
Digital Download
[easyazon-image align="none" asin="B009AMALLM" locale="us" height="160″ src="http://ecx.images-amazon.com/images/I/51zYtAKe3sL._SL160_.jpg" width="130″]
Paranormal Activity 4
DVD
Blu-ray/DVD
Digital Download
[easyazon-image align="none" asin="B00AG51RU6″ locale="us" height="160″ src="http://ecx.images-amazon.com/images/I/51tO75AYo2L._SL160_.jpg" width="127″]
Cold Light of Day
DVD
Blu-ray
Digital Download
[easyazon-image align="none" asin="B0097C0AUC" locale="us" height="160″ src="http://ecx.images-amazon.com/images/I/51LWfC%2BJO2L._SL160_.jpg" width="128″]
The Awakening
DVD
Blu-ray
Digital Download
[easyazon-image align="none" asin="B009LA1QSU" locale="us" height="160″ src="http://ecx.images-amazon.com/images/I/61FXNSG7VgL._SL160_.jpg" width="129″]
All Superheroes Must Die
DVD
Blu-ray
[easyazon-image align="none" asin="B009NP1ZR0″ locale="us" height="160″ src="http://ecx.images-amazon.com/images/I/51A9MUlhVpL._SL160_.jpg" width="128″]
Citadel
DVD
Blu-ray
[easyazon-image align="none" asin="B009TT0B9S" locale="us" height="160″ src="http://ecx.images-amazon.com/images/I/51iu43qqzZL._SL160_.jpg" width="139″]
Shorts International
Presents: Oscar Winning
Short Films
Blu-ray/DVD Combo
[easyazon-image align="none" asin="B009V9N1CU" locale="us" height="160″ src="http://ecx.images-amazon.com/images/I/51j3wgs4CYL._SL160_.jpg" width="113″]
Noobz
DVD
Digital Download
[easyazon-image align="none" asin="B00A144O5W" locale="us" height="160″ src="http://ecx.images-amazon.com/images/I/51tg%2Bd-0yiL._SL160_.jpg" width="112″]
Liability
DVD
Digital Download
[easyazon-image align="none" asin="B009WY9YS4″ locale="us" height="160″ src="http://ecx.images-amazon.com/images/I/51Wz4rFrGCL._SL160_.jpg" width="113″]
Hello I Must Be Going
DVD
Digital Download
[easyazon-image align="none" asin="B009LA1QTE" locale="us" height="160″ src="http://ecx.images-amazon.com/images/I/51VdW-iM3hL._SL160_.jpg" width="114″]
The Love Section
DVD
[easyazon-image align="none" asin="B009L0LEDW" locale="us" height="103″ src="http://ecx.images-amazon.com/images/I/51qrQaTrIWL._SL160_.jpg" width="160″]
Best of Warner Bros
50 Film Collection
Blu-ray
[easyazon-image align="none" asin="B00ANGID14″ locale="us" height="160″ src="http://ecx.images-amazon.com/images/I/61z4ALuhdbL._SL160_.jpg" width="133″]
Die Hard: 25th
Anniversary Collection
Blu-ray
[easyazon-image align="none" asin="B008VIMLUU" locale="us" height="160″ src="http://ecx.images-amazon.com/images/I/51okLa3y%2BCL._SL160_.jpg" width="115″]
The Duellists
Blu-ray
[easyazon-image align="none" asin="B009KG7ESG" locale="us" height="160″ src="http://ecx.images-amazon.com/images/I/51DgObiTHEL._SL160_.jpg" width="132″]
White Zombie: Kino
Classics' Remastered Edition
DVD
Blu-ray
[easyazon-image align="none" asin="B00A6SZS30″ locale="us" height="160″ src="http://ecx.images-amazon.com/images/I/61F13A4ccQL._SL160_.jpg" width="129″]
That Obscure Object
of Desire
Blu-ray
[easyazon-image align="none" asin="B0097A2LTW" locale="us" height="160″ src="http://ecx.images-amazon.com/images/I/51o8Yk%2B9mYL._SL160_.jpg" width="136″]
Flight of the Navigator
Blu-ray
[easyazon-image align="none" asin="B009NP1ZTS" locale="us" height="160″ src="http://ecx.images-amazon.com/images/I/51Z2AgutrEL._SL160_.jpg" width="127″]
Tales of the Night
DVD
Blu-ray / DVD
Digital Download
[easyazon-image align="none" asin="B00A144O20″ locale="us" height="160″ src="http://ecx.images-amazon.com/images/I/510fmgUxvWL._SL160_.jpg" width="113″]
The Long Walk Home
DVD
[easyazon-image align="none" asin="B00AF4OSMC" locale="us" height="160″ src="http://ecx.images-amazon.com/images/I/51MTqRBWSWL._SL160_.jpg" width="113″]
Kit Carson
DVD
[easyazon-image align="none" asin="B00APY2OSW" locale="us" height="160″ src="http://ecx.images-amazon.com/images/I/51JxOKJSdZL._SL160_.jpg" width="108″]
Gorgan Vs The Flying
Spider
DVD
Photo Credit: CBS Films