The Sessions is an amusing and frank story of intimacy and struggle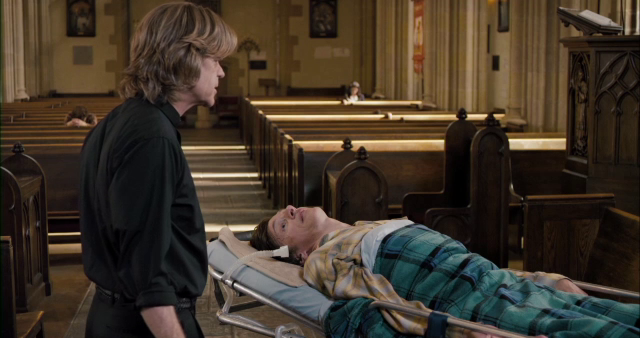 'The Sessions' is the 'based on a true story' tale of becoming a man when you can't move a muscle.
 What is it that defines someone as a man? Is it just the capacity to impregnate a woman, or perhaps something more intangible?
In The Sessions, Mark O'Brien (played here by John Hawkes) was only a child when he was afflicted with polio, leaving him paralyzed below the neck and forced to live with an iron lung for the rest of his life. But he managed to create a career for himself as a journalist and poet, often about his own life and struggles. When he was in his mid-30s, Mark decided he was curious about sex and how disabled people deal with such a vital part of humanity. This led quickly, as you'd imagine, to finally wanting to lose his own virginity. So he decides to hire Cheryl (Helen Hunt), a sex surrogate who does this sort of thing for a living. Aided with moral support from his preacher (William H. Macy) and more physical support from his assistant (Moon Bloodgood), he tries to see what the big deal is all about.
Cheryl works to help Mark find some sort of physical intimacy despite his physical limitations, while raising the confusing question of whether or not someone can have her profession and not get too close to a client. She doesn't consider herself a prostitute, and is married with a child. But Mark wants and needs love, always from people who can't give it to him.
There is a lot of what you might refer to as "brave" acting in the movie — Helen Hunt unashamedly gets naked for much of the time, demonstrating the attitude one might expect from someone with the job of a sex surrogate. She sometimes gets a bit too "Helen Hunt" for my tastes, seeming more like an actor playing a role than someone with feelings and concerns. William H. Macy is dry and funny as the godly man who's conflicted about how to deal with a complicated situation, and Moon Bloodgood is basically "there" — a fairly flat character and a fairly flat acting performance. But John Hawkes is the true marvel here, demonstrating wit and humor despite contorting his body while remaining perfectly still. This is the sort of performance that could easily seem like "Oscar bait" or worse, just seem exploitative.
John Hawkes' acting is so seamless, however, that if you didn't know better, you might truly believe he really was paralyzed. Unfortunately, the movie goes in odd directions at times, sometimes introducing characters that really aren't relevant — but in the end, the movie will make you laugh and feel a bit sad. Mark achieved a great deal despite his physical limitations, and the movie lets you see one important sliver of his life.
[easyazon-image align="none" asin="B003BZ105U" locale="us" height="160″ src="http://ecx.images-amazon.com/images/I/51vK66nBg1L._SL160_.jpg" width="114″][easyazon-image align="none" asin="B000I8HIO0″ locale="us" height="160″ src="http://ecx.images-amazon.com/images/I/51iRR2Z5TXL._SL160_.jpg" width="120″]
Photo Credit: Fox Searchlight