Gossip Girl, Weeds, Nurse Jackie and more TV on DVD releases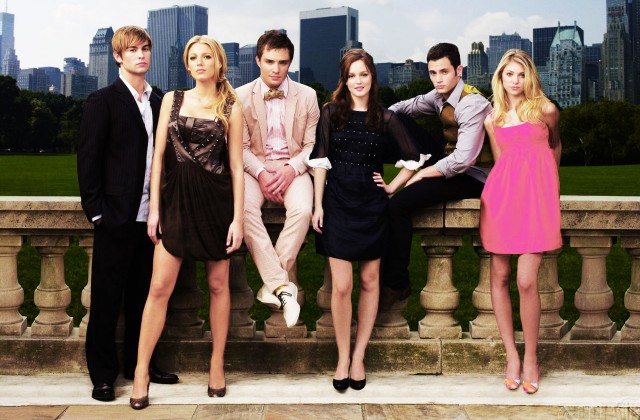 TV on DVD and Blu-ray February 12 includes 'Gossip Girl,' 'Weeds,' 'Nurse Jackie,' 'Storage Wars,' 'Toddlers & Tiaras,' 'The Hardy Boys,' 'Bonanza,' 'Matlock,' 'Family Matters,' 'Duck Dodgers,' 'Big Bad Beetleborgs' and more!
After six seasons, The CW's Gossip Girl took its final bow (and not a moment too soon), and now you can own the final season or the complete series on DVD February 12. Also on home video this week are the final season of Weeds and last season's Nurse Jackie. More reality shows hitting DVD include Storage Wars and Toddlers & Tiaras, and classic TV like The Hardy Boys, Bonanza, Matlock and Family Matters. For the kids, we've got Duck Dodgers, Big Bad Beetleborgs, Babar and more! Have a look at our shopper's guide for these and more, and click on a link to make a purchase or to get more information.
[easyazon-image align="none" asin="B009Z5BPZK" locale="us" height="160″ src="http://ecx.images-amazon.com/images/I/51OBU917CLL._SL160_.jpg" width="140″]
Gossip Girl: The Complete
Sixth and Final Season
DVD
[easyazon-image align="none" asin="B00A196SE2″ locale="us" height="160″ src="http://ecx.images-amazon.com/images/I/514ul11BqhL._SL160_.jpg" width="119″]
Gossip Girl:
The Complete Series
DVD
[easyazon-image align="none" asin="B009TE9GZI" locale="us" height="160″ src="http://ecx.images-amazon.com/images/I/51YBMeWaBVL._SL160_.jpg" width="136″]
Weeds:
Season Eight
DVD
Blu-ray
[easyazon-image align="none" asin="B009TE9HO8″ locale="us" height="160″ src="http://ecx.images-amazon.com/images/I/61LbM%2BlFsQL._SL160_.jpg" width="135″]
Nurse Jackie:
Season Four
DVD
Blu-ray
[easyazon-image align="none" asin="B00A4W34XE" locale="us" height="160″ src="http://ecx.images-amazon.com/images/I/51uVa6gMzEL._SL160_.jpg" width="124″]
The Very Best of WCW
Monday Nitro, Vol. 2
DVD
Blu-ray
[easyazon-image align="none" asin="B00ANDGYQS" locale="us" height="160″ src="http://ecx.images-amazon.com/images/I/515TeWz4TcL._SL160_.jpg" width="133″]
Life Stories
DVD
Blu-ray
[easyazon-image align="none" asin="B00AAQHO2Q" locale="us" height="160″ src="http://ecx.images-amazon.com/images/I/51MeP9o7XUL._SL160_.jpg" width="113″]
Storage Wars 4
DVD
[easyazon-image align="none" asin="B00A4Y60VK" locale="us" height="160″ src="http://ecx.images-amazon.com/images/I/51B5qoKL%2BGL._SL160_.jpg" width="117″]
Toddlers & Tiaras:
Season 2
DVD
[easyazon-image align="none" asin="B00A4Y62CW" locale="us" height="160″ src="http://ecx.images-amazon.com/images/I/51RaukTNQlL._SL160_.jpg" width="117″]
Toddlers & Tiaras
Crowning Moments
DVD
[easyazon-image align="none" asin="B00AAQ7KJS" locale="us" height="160″ src="http://ecx.images-amazon.com/images/I/51N2iWqCcYL._SL160_.jpg" width="113″]
Smithsonian Channel:
The Origins of Oz
DVD
[easyazon-image align="none" asin="B00A4Y62JU" locale="us" height="160″ src="http://ecx.images-amazon.com/images/I/51AipeqWHlL._SL160_.jpg" width="114″]
The Hardy Boys:
Season 3
DVD
[easyazon-image align="none" asin="B00AATGDXO" locale="us" height="160″ src="http://ecx.images-amazon.com/images/I/514jxSL2BYL._SL160_.jpg" width="112″]
Doctor Who: The Reign
of Terror (Story 8)
DVD
[easyazon-image align="none" asin="B00A73ANHA" locale="us" height="160″ src="http://ecx.images-amazon.com/images/I/51zEZxIl1kL._SL160_.jpg" width="128″]
Bonanza: The Official
Complete Fifth Season
DVD
[easyazon-image align="none" asin="B00A6SZS6C" locale="us" height="160″ src="http://ecx.images-amazon.com/images/I/61BMdcCZNTL._SL160_.jpg" width="112″]
Bonanza: The Official
Fifth Season, Vol. 1
DVD
[easyazon-image align="none" asin="B00A73ANH0″ locale="us" height="160″ src="http://ecx.images-amazon.com/images/I/61gJcX6dRlL._SL160_.jpg" width="112″]
Bonanza: The Official
Fifth Season, Vol. 2
DVD
[easyazon-image align="none" asin="B00A73ANIY" locale="us" height="160″ src="http://ecx.images-amazon.com/images/I/51glcGo705L._SL160_.jpg" width="112″]
Matlock:
The Eighth Season
DVD
[easyazon-image align="none" asin="B009X919YU" locale="us" height="160″ src="http://ecx.images-amazon.com/images/I/514SefJbtyL._SL160_.jpg" width="139″]
Family Matters: The
Complete Third Season
DVD
[easyazon-image align="none" asin="B00A4F5A1K" locale="us" height="160″ src="http://ecx.images-amazon.com/images/I/51ZNOASgghL._SL160_.jpg" width="99″]
Loretta Young:
100th Birthday Edition
DVD
[easyazon-image align="none" asin="B009ZNA918″ locale="us" height="160″ src="http://ecx.images-amazon.com/images/I/51u10ryzbzL._SL160_.jpg" width="132″]
Duck Dodgers: Dark
Side of the Duck –
Season 1
DVD
[easyazon-image align="none" asin="B00A429YOW" locale="us" height="160″ src="http://ecx.images-amazon.com/images/I/61Pw8YKmUkL._SL160_.jpg" width="113″]
Big Bad Beetleborgs:
Season One, Vol. 2
DVD
[easyazon-image align="none" asin="B00A429YRE" locale="us" height="160″ src="http://ecx.images-amazon.com/images/I/51Hwo2feCLL._SL160_.jpg" width="113″]
Slugterra: Return Of
The Shane Gang
DVD
[easyazon-image align="none" asin="B00AFQSY84″ locale="us" height="160″ src="http://ecx.images-amazon.com/images/I/517L%2BvHbdQL._SL160_.jpg" width="112″]
Babar The Movie
DVD
[easyazon-image align="none" asin="B00A6SZRH2″ locale="us" height="160″ src="http://ecx.images-amazon.com/images/I/516fdrHJrHL._SL160_.jpg" width="116″]
Dora the Explorer:
Dora's Butterfly Ball
DVD
[easyazon-image align="none" asin="B00A4Y61ZU" locale="us" height="160″ src="http://ecx.images-amazon.com/images/I/51wsSaatx0L._SL160_.jpg" width="117″]
Fairfield Road
DVD
Photo Credit: The CW