Strike gold – black gold – with the Dallas reboot on DVD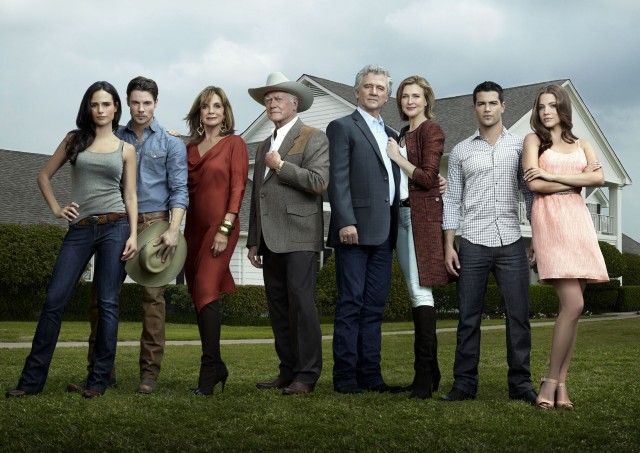 New TV on DVD and Blu-ray this week includes 'Dallas,' 'Archer,' 'Smash,' 'Anger Management,' 'Red Dwarf X,' 'The Hour,' 'Episodes,' 'Dance Moms,' 'An Idiot Abroad,' 'The Goode Family,' 'Tiny Toon Adventures,' 'Game Change,' and more!
Just in time for the second season of TNT's Dallas reboot, you can catch up on season one with this week's new home video release. As far as reboots go, TNT hit a home run with Dallas, especially by bringing back classic characters Bobby, Sue Ellen, Lucy, Ray Krebs, Cliff Barnes, and of course J.R. Sadly, we'll only get to see the wonderful Larry Hagman on a handful of episodes this season, so it will be interesting to see how the show copes with the death of its star actor and character, and if the audience will stick around in the hopes that the new generation of Ewings will carry the torch.
In other releases, Archer, Smash and Anger Management get last season releases timed to the new seasons, reality shows Dance Moms and An Idiot Abroad come to DVD along with some classics, kids shows, and the crew of the Red Dwarf return for their first new season since 1999! All of these shows and more will be available on January 8th, so have a look at our handy shopper's guide to see what's coming, and click on a link to make a purchase or to get more information.
[easyazon-image align="none" asin="B009GYS70Q" locale="us" height="160″ src="http://ecx.images-amazon.com/images/I/51U4NICRZZL._SL160_.jpg" width="139″]
Dallas: The Complete
First Season
DVD
[easyazon-image align="none" asin="B007CO5N72″ locale="us" height="160″ src="http://ecx.images-amazon.com/images/I/51LXLuwmyPL._SL160_.jpg" width="128″]
Archer: Season Three
DVD
Blu-ray
[easyazon-image align="none" asin="B008CRC506″ locale="us" height="160″ src="http://ecx.images-amazon.com/images/I/51yDgAhmIkL._SL160_.jpg" width="107″]
Smash: Season One
DVD
[easyazon-image align="none" asin="B009Z5BPYG" locale="us" height="160″ src="http://ecx.images-amazon.com/images/I/51-0WrinRFL._SL160_.jpg" width="125″]
Red Dwarf: X
DVD
Blu-ray
[easyazon-image align="none" asin="B009VXWIDY" locale="us" height="160″ src="http://ecx.images-amazon.com/images/I/51iUlKH3w0L._SL160_.jpg" width="113″]
The Hour:
Season Two
DVD
[easyazon-image align="none" asin="B004EPYZD0″ locale="us" height="160″ src="http://ecx.images-amazon.com/images/I/51gxiDiXgsL._SL160_.jpg" width="129″]
Enlightened: The
Complete First Season
DVD
Blu-ray
[easyazon-image align="none" asin="B009TE9GBC" locale="us" height="160″ src="http://ecx.images-amazon.com/images/I/51nQejrGJpL._SL160_.jpg" width="129″]
Anger Management:
Season One
DVD
Blu-ray
[easyazon-image align="none" asin="B009R5H6UQ" locale="us" height="160″ src="http://ecx.images-amazon.com/images/I/51vyeKs-0gL._SL160_.jpg" width="113″]
Episodes:
Seasons 1 & 2
DVD
[easyazon-image align="none" asin="B00AB55BS0″ locale="us" height="160″ src="http://ecx.images-amazon.com/images/I/51LfKfotn8L._SL160_.jpg" width="128″]
Game of Thrones: The
Complete First Season
Blu-ray/DVD Combo
[easyazon-image align="none" asin="B009TTGMAA" locale="us" height="160″ src="http://ecx.images-amazon.com/images/I/511hNKkHOrL._SL160_.jpg" width="114″]
Dance Moms:
Season 2 Volume 1
DVD
[easyazon-image align="none" asin="B009TTGM7I" locale="us" height="160″ src="http://ecx.images-amazon.com/images/I/51qxxhF3DZL._SL160_.jpg" width="114″]
Dance Moms:
Season 2 Volume 2
DVD
[easyazon-image align="none" asin="B009Z5AJOS" locale="us" height="160″ src="http://ecx.images-amazon.com/images/I/5104x7ijluL._SL160_.jpg" width="140″]
An Idiot Abroad:
Season 2
DVD
[easyazon-image align="none" asin="B009NRQTPG" locale="us" height="160″ src="http://ecx.images-amazon.com/images/I/51w-jB11sGL._SL160_.jpg" width="160″]
American Masters:
Inventing David Geffen
DVD
Blu-ray
[easyazon-image align="none" asin="B009B82FGY" locale="us" height="160″ src="http://ecx.images-amazon.com/images/I/51atXejZ2aL._SL160_.jpg" width="160″]
Nova: Mystery of
Easter Island
DVD
Blu-ray
[easyazon-image align="none" asin="B009D4RPIE" locale="us" height="160″ src="http://ecx.images-amazon.com/images/I/51Z73NtXNSL._SL160_.jpg" width="126″]
Midsomer Murders,
Set 21
DVD
Blu-ray
[easyazon-image align="none" asin="B00A2XQU7M" locale="us" height="160″ src="http://ecx.images-amazon.com/images/I/512lgE0716L._SL160_.jpg" width="112″]
3rd Rock From the
Sun – Season 5
DVD
[easyazon-image align="none" asin="B00A2XQTVY" locale="us" height="160″ src="http://ecx.images-amazon.com/images/I/51Nz9ozeasL._SL160_.jpg" width="112″]
3rd Rock From the
Sun – Season 6
DVD
[easyazon-image align="none" asin="B00A2XQTF0″ locale="us" height="160″ src="http://ecx.images-amazon.com/images/I/51bh5gjolLL._SL160_.jpg" width="112″]
Hearts Afire –
The Complete Series
DVD
[easyazon-image align="none" asin="B009INAND4″ locale="us" height="160″ src="http://ecx.images-amazon.com/images/I/6163LKUryML._SL160_.jpg" width="114″]
The Goode Family:
The Complete Series
DVD
[easyazon-image align="none" asin="B009RZ160W" locale="us" height="160″ src="http://ecx.images-amazon.com/images/I/512u1OJcGkL._SL160_.jpg" width="112″]
Doctor Who:
Shada (Story 109)
DVD
[easyazon-image align="none" asin="B00A2XQTFK" locale="us" height="160″ src="http://ecx.images-amazon.com/images/I/51K3GJvMn-L._SL160_.jpg" width="112″]
Fury — The Tribute
Collection — 23 Episodes
DVD
[easyazon-image align="none" asin="B009S0VHFK" locale="us" height="160″ src="http://ecx.images-amazon.com/images/I/51EVdmWXDvL._SL160_.jpg" width="117″]
Jerry Lewis Show:
Fan Favorites
DVD
[easyazon-image align="none" asin="B009S0VGJ2″ locale="us" height="160″ src="http://ecx.images-amazon.com/images/I/51E5LFIMCHL._SL160_.jpg" width="117″]
The Life and Times
of Wyatt Earp: Fan
Favorites
DVD
[easyazon-image align="none" asin="B009S0VH9Q" locale="us" height="160″ src="http://ecx.images-amazon.com/images/I/51YmBEvS0WL._SL160_.jpg" width="117″]
The Real McCoys:
Fan Favorites
DVD
[easyazon-image align="none" asin="B0090F6SD4″ locale="us" height="160″ src="http://ecx.images-amazon.com/images/I/51sxi0fpO2L._SL160_.jpg" width="107″]
Buck Rogers in the
25th Century: Season Two
DVD
[easyazon-image align="none" asin="B009JE18UE" locale="us" height="160″ src="http://ecx.images-amazon.com/images/I/610eJ6ViE%2BL._SL160_.jpg" width="139″]
Steven Spielberg's
Tiny Toon Adventures 3
DVD
[easyazon-image align="none" asin="B009T6CXGU" locale="us" height="160″ src="http://ecx.images-amazon.com/images/I/51UwsBYiWcL._SL160_.jpg" width="160″]
Degrassi: The
Complete Season 10
DVD
[easyazon-image align="none" asin="B009INAM4O" locale="us" height="160″ src="http://ecx.images-amazon.com/images/I/51HKjYa7r6L._SL160_.jpg" width="113″]
VR Troopers:
Season One, Vol. 2
DVD
[easyazon-image align="none" asin="B009OAWMLM" locale="us" height="160″ src="http://ecx.images-amazon.com/images/I/51H3NCZ8vZL._SL160_.jpg" width="132″]
Star Wars: The Clone
Wars Return of Darth Maul
DVD
[easyazon-image align="none" asin="B009WHDBFI" locale="us" height="160″ src="http://ecx.images-amazon.com/images/I/51SNeHA-I%2BL._SL160_.jpg" width="113″]
Wow! Wow! Wubbzy!:
Best Of Widget
DVD
[easyazon-image align="none" asin="B007KAUZY4″ locale="us" height="160″ src="http://ecx.images-amazon.com/images/I/51UEMwi%2Bn7L._SL160_.jpg" width="120″]
Game Change
DVD
Blu-ray/DVD Combo
Photo Credit: TNT