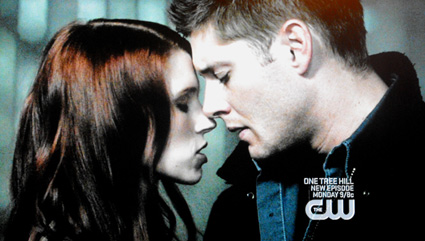 (Season 4, Episode 10 – "Heaven And Hell")
Earlier this week, my copy of the internet told me this would be the last new Supernatural until January. With that in mind, I was expecting some big things to send us all off to holiday. And, we got 'em. Angels battling demons, super-demons even, is pretty big. The boys defying Castiel and Uriel, also pretty big. The really big deal though, as is often the case, came in the last few minutes of the episode, with Sam and Dean parked along some little country road. Finally, some revelations regarding Dean's time down below. Big ones.
Let's put that one in our back pockets for now, though, and get to the rest of the episode. Picking up right where we left off last week, it was just as most of us had guessed. There was no way the boys were just going to hand over Anna (Julie McNiven). While I expected that, I hadn't really considered just how ineffective they would be in that fight, as we saw when Castiel (Misha Collins) knocked Sam out with a touch. What a great twist when Anna sent them far away with a spell. As Sam put it, "That blood spell, it's some serious crap, man."
That, of course, led us to the first discovery that I didn't see coming. Anna is an angel. There was a nice bit of continuity having Pamela (Traci Dinwiddie) return, but even after finding out, it didn't go like I thought it would. Anna's views on Heaven, being human, and why she ripped out her grace all worked very well for her story. I'm just surprised they went there. A marble statue, only four angels have seen God, etc. But hey, if you are going to do Heaven, Hell, Lucifer, and the whole ball of wax, you might as well go all in. I did especially like how she described her years on Earth and the way it correlated to Dean's relationship with his father.
The other bit that I completely missed was the setup for the big showdown. I'm going to go ahead and blame all the commenters here for that. All of your talk about not being able to trust Ruby (Genevieve Cortese) apparently had me just waiting for her to sell the boys out. When she dialed up Alastair (Mark Rolston), I thought, "They were right!" As we know now, that wasn't exactly the case. There was a method to the madness. Although, her pestering Sam about using his power does again call into question just what her motives really are.
Dean's dealings with Uriel (Robert Wisdom) further masked the ruse. Dean is hard to break, but as soon as Uriel made the comment about knowing where to apply pressure, it was clear that Sam was now in play. And if we know anything about Dean, we know he'll do anything to protect his brother. So, it was all very believable, and quite the surprise when we learned that getting the angels (Godzilla) and demons (Mothra) to face off was the plan all along. Well done.
I wasn't as surprised by Dean's revelation. They hinted at it well when Alastair said that he showed such promise. I was more surprised that we got that answer so soon, thinking we'd have to wait most of the season for those results. They were much what you would imagine from time spent in Hell. Grisly, evil, and very troubling. It's a grim tale, and one that will continue to color Dean's actions as they work their way through the seal mission. As if his part in all of this wasn't complicated enough already, he now has to do it with this additional burden. A tip of the hat to Jensen Ackles for that final scene, as well.
So, there we have it. A great finish to the first segment of season four. I'm hoping that Anna getting her grace back wasn't the end for the character on the show. She seems particularly suited to lending the boys a hand somewhere down the line, and I would welcome more from her. I'm also trying not to read too much into the fact that Dean slept with an angel, while Sam is sleeping with a demon. Is that a harbinger of things to come? Could the boys end up on opposite sides of this fight? You certainly want to think no, but then visions of Darth Ruby and all of her "Use the force Sam" shenanigans pop up … I can't wait for January.
Photo Credit: CW