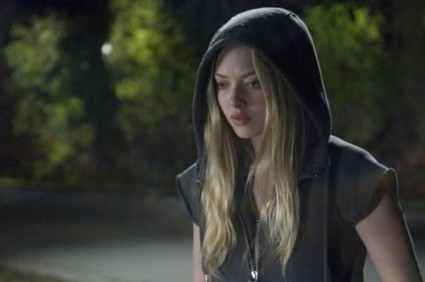 I'm a little embarrassed to admit it (but then again, I enjoy The Vampire Diaries….), but I watched Jennifer's Body this past weekend, and I really kind of liked it. It was just the right amount of campy and has everything you'd want from a teenage horror flick: blood and gore, awkward sex, the occult, a hot chick, some girl-on-girl action that includes the hot chick (and even I will admit that was the hottest sex scene in this movie), a hot evil guy and, of course, the hapless victim, or three. I don't want to give the entire movie away, so if you haven't seen it, see it, and if you want a synopsis, you can read one here.
I liked the twist that the victims in Jennifer's Body were the horny teenage boys, and not the dumb blonde sorority girls. There's definitely a shout-out to Buffy in some form here, turning the tables on the stereotypes and ending up with one strong, female demon hunter, even if she is delightfully damaged emotionally.
But the best part of the film is the open ending. This baby's screaming to be made into a TV series, and I for one think it would be spectacular, for all of these reasons and probably more:
Buffy fans would love it
There's no denying the void the TV watching world has felt since the demise of Buffy the Vampire Slayer. No, I will not stop writing about it. Check out this clip from Jennifer's Body, with the blonde demon fighter, the mention of the occult books in the high school library, the witty dialogue…. It's great:
The Jennifer's Body series would be decidedly darker than Buffy, because this demon hunter kills humans. Tell me a new, blonde, ass-kicking demon-hunting teenager wouldn't be welcome on your TV screen.
Amanda Seyfried
Perhaps the greatest loss to television as we once knew it, aside from Buffy of course, is the fact that Veronica Mars is no more. So now, you take a dark, damaged blonde teenager who hunts demons and, oh, by the way, she's a Veronica Mars alum (she played the dead Lily in flashback scenes), and you get pure awesomeness. Incidentally, Beaver (Kyle Gallner) was in the movie, but alas, couldn't possibly be in the TV series. Ahem.
The supernatural element
There's room for one more, so move over Medium, Ghost Whisperer and, well, OK, Supernatural; you don't have to move over because you're the best show on TV right now, but be open to making another friend. Needless to say, the supernatural element in TV shows is a popular genre right now and Jennifer's Body could really be done well, making a great addition. Dude, more demons. Awesome.
Tongue-in-cheek humor
Listen closely: Jennifer's Body is funny. In fact, the whole thing is one delightful black comedy from beginning to end. The dialogue is witty and the situations near-parodies. Even in the clip above: "She eats boys." C'mon, you're laughing now, right? OK, then watch this clip and you'll definitely be laughing:
It's conceivably the last season of Supernatural and we need a snarky demon hunter
Far be it from this post to be completely about me mourning Buffy and Veronica Mars; let's add in the fact that if this is the last season of Supernatural — I may just cry myself a river. But the fact is that I need some snarky with my demon hunters, and if Supernatural's not around, then Jennifer's Body needs to come and fill that void.
Here's the big picture, in case I haven't convinced you yet: blonde, female, damaged, teenage demon hunter; dark, yet twistedly funny; hunting and murdering demons and evil humans who worship the occult; stereotypes reversed, girl power and a high school library with an occult section. Dare I say we need Jennifer's Body to become a TV series?

Loading ...
Photo Credit: 20th Century Fox