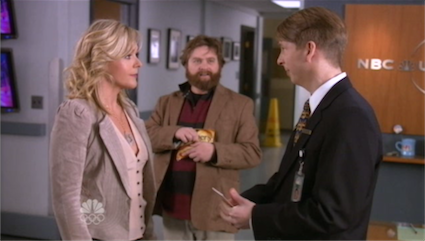 Cold Open: Obama Speech — They should have just opened with that amazing Funny or Die video people have been passing around for the past week. Seriously, did you see it yet? Well go see it! Why can't freakin' NBC put together a group like that for an episode of SNL? Anyway, what was I talking about again? Oh yeah, the cold open. Bleh.
Monologue: Zach Galifianakis — Now that was a great monologue. I haven't seen The Hangover yet, but he's definitely a decent stand-up comedian. Most of his comedy at the piano was very Steve Wright, and even though it's pretty much what he does in his stand-up routine outside of SNL, it's still funny.
Overly-affectionate Vogelcheck Funeral — We saw this once before when James Franco hosted, but man, I don't want to see how they'd take it to the next level next time. Bill Hader on the pug … dear lord! Still so uncomfortably funny.
The Bidet — You don't often see these things in bathrooms anywhere really, but when you do, it just looks so ominous and mysterious sitting there next to the toilet. If you have no idea what it's used for, you can get really confused. And if you have a child who's never seen one and he goes off to use the potty … I don't want to think about it.
Zack Drops by the Set — At first I thought this was going to be just a bunch of green screen injections of Zach on different shows, but oh no! The 30 Rock set intrusion was the best … or was it the Law & Order one? Good sketch/short.
TODAY Show — The best part of this skit was continuing off the previous video. The last time I recall SNL doing a continuing sketch was with the closet organizer back when Jon Hamm hosted.
Musical Guest: Vampire Weekend — I like these guys and they sounded pretty good tonight. It's crazy to see how some of these smaller bands come on stage with a complete back-up section, but it really does add to the performance when they're on SNL, at least.
Weekend Update — I just realized that Seth Meyers doesn't really appear in any sketches other than Weekend Update. Am I right? I can't recall seeing him in other sketches, at least not lately. What up with that? Speaking of that….
What Up With That? — You never know who they're going to pull out to be a "guest" for this sketch. Sometimes it's really surprising, like when Al Gore appeared. Paul Rudd wasn't that much of a stretch, as he's probably buds with Zach G., but Frank Rich was a pretty out-of-nowhere addition. Still love this sketch.
The Situation Room — Has there been a rash of unchecked videos and photos appearing on CNN that I haven't heard about? This is probably a big poke of fun at how some news agencies are picking up "news" from Twitter and Facebook as trustworthy sources. But man, these additions would certainly make The Situation Room more tolerable.
Pageant Talk — "You smell like a bunch of old stinky Bojangles sausage biscuits!" God, Zach G. sure has the male pageant queen down pat. (In hindsight, I should add the ending scene to the poll, because Zach's beard was shaved off for this one, and then … reappeared for the ending! UPDATE: The mystery is solved!)

Loading ...
Photo Credit: NBC