Psych – New little Shawn just isn't the same
Remember that kid who played young Shawn through most of these five seasons? Well, apparently humans do this thing called aging and growing, and odd things happen to their voices during early teen years.
- Season 5, Episode 7 - "Ferry Tale"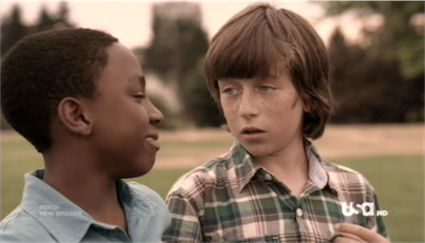 Say hello to the new young Shawn Spencer. Yes, the previous Shawn — played by Liam James — is no more, simply because Liam is growing up and has a tougher time pulling off 1990 Shawn.  Corbin Bernsen made mention that this was going to happen, when I spoke to him at the San Diego Comic-Con this year. I'm not sure who it is that's playing young Shawn now, but so far I liked Liam James better.
As for this episode, all I have to say really is that one of the things I like most about Psych is their ever-growing list of guest stars. I always love seeing Chi McBride, and he played his role so well in this episode. I had a feeling he'd wind up turning on Shawn and Gus, when they mentioned an accomplice, but the twist in there threw me, and it worked out very well.
Two other notes:
In case you're wondering, that drink that Gus loved was called horchata.
Looking for the pineapple in this episode? See below: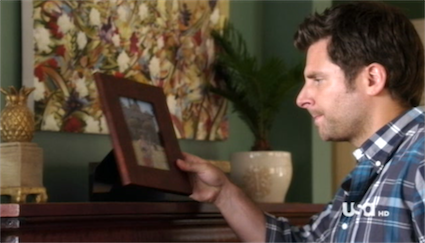 Next week looks like an awesome episode: Shawn 2.0!

Loading ...
Photo Credit: USA Network