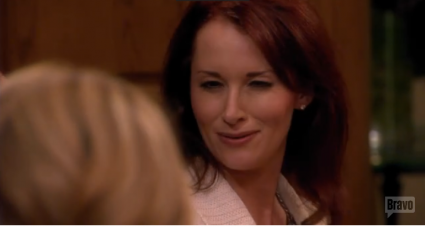 As some of you know, I used to write/edit a Medium fansite called Medium Dreams. As I had to write multiple Medium-related posts per day, I would sometimes write about "the real" Allison DuBois, the woman upon whom the series is based. Her basic story follows that of the TV character (3 kids, married to an aerospace engineer, etc.) but that's about the extent of the similarities.
The real Allison DuBois makes a living giving readings and seminars across the country, as well as by writing books. This is all in addition to whatever money she has gotten from the seven seasons Medium has aired, so she's clearly doing very well for herself. They say money can't buy you happiness, but as we learn from The Real Housewives of Beverly Hills, it can buy you some giant fake boobs and make you crazy as a shit-house rat.
I've never watched RHOBH before, but I had heard that Allison DuBois makes an appearance, since she's friends with Camille Grammer (her soon-t0-be ex-husband Kelsey produces Medium). I had also heard that she makes a total ass of herself, which obviously is not the way I've seen her portrayed before, so I was curious.
What followed was a nearly incomprehensible hour of television, but the highlight was definitely Allison DuBois's obvious descent into madness. This is a woman who has a very carefully-cultivated public image, but as soon as a few martinis and reality cameras get in front of her, it all goes away in a puff of electronic smoke.
I seriously don't know what's up with her, but as you'll see from the 5-minute clip below, DuBois spends the entire dinner getting wasted, smoking an electronic cigarette like a crack pipe and insulting a table full of women whom she's never met. It's probably the most spectacular reality television trainwreck I've seen all year.
Here's my favorite quote from the video:
"Well you know what? You are not interesting to me at all, so you can continue to be interested in me. That's awesome. You have two legs too: you can walk."
The best part is, the real shit-talking began after everyone left:
"I will shove this up her fucking ass just to prove a point– except I think she'd need a bigger one than this to even feel it."
"Girl, bitch is a one-syllable word for a reason: it's all they understand."
And, because I couldn't resist, some Allison DuBois Memorial .gifs. She may not be dead, but her image is.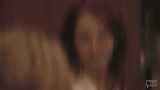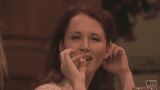 Photo Credit: Bravo