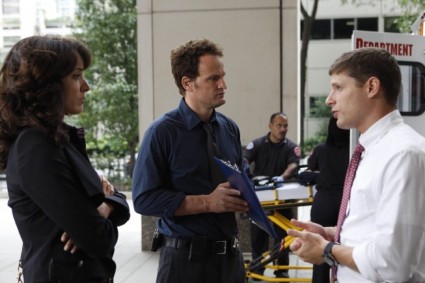 It's that time of year when fans start to panic that their favorite shows many not be renewed for another season. With a fan favorite Fringe already renewed … phew … the focus has moved on to some other favorites. I love so many of the shows at risk it's difficult to pick a favorite. Do I pick Chuck, the perennial bubble show? Or, a sci-fi favorite in V, The Event, or No Ordinary Family? Or, a cop show filmed right here in my local area, The Chicago Code? I can't forget the better than expected Hellcats. I enjoy all these shows, so how to decide which one to support?
Check out some of the picks of my fellow Clackers!
Deb: Yes, out of that list, definitely Human Target. I'm very anxious to see where they would go with a season three, after the foibles of season two and the very vocal fan feedback!
Jen: I feel really badly because I don't care if any of these shows get canceled, really. But I would choose Lie to Me, because I think it has improved and I like Tim Roth, and No Ordinary Family, because I like it when Julie Benz is employed.
Michael: I have a vested interest in No Ordinary Family on top of the fact I reviewed it. I still have faith, blind faith though it may be! It ended pretty strong. I'm not saying "dead" until ABC does. …
Keith: Two of the primary actors have signed on to other shows. They're not set in stone, but that just can't mean good things for No Ordinary Family.
Ivey: Well, the same could be said about Off the Map, where two of the main characters (and love interests) are actually signed, in second position, on to another pilot playing love interests there. If I were a betting man, though, I think one of these two shows has a shot, and sadly for me, I think No Ordinary Family has a much better one. As for the main question, my vote would be for The Chicago Code … I know it hasn't blown any doors down ratings wise, but it is by far the most realistic portrayal of cops I've seen. It also has incredibly good character dynamics, and quality production values as well. My second vote would go to, ironically, Lie to Me. Castle be damned … Lie to Me has the best Father/Daughter dynamic on TV since the Mars family left town.
Brittany: I've seen a lot of cop shows in my time, and I'm harder on them than most because of my own law enforcement background. The Chicago Code is not only one of the best I've ever seen in terms of entertainment, but it stands up to my nitpicking. It's put a cast of incredibly talented and sorely under-appreciated actors in strong, well-written roles. In a short period of time, I already feel like I know these people and that I want to be in their sandbox. No other show has made me completely stop and pay attention to it when it's on. If this show gets canceled, I may just go weep for humanity. (Okay, not really, but I'd make my sad face.)
Kona: Out of those, definitely The Chicago Code. It's one if the very few new shows I bother to watch. It would be a giant shame if it got canceled. It has some of the strongest performances on television — especially Jennifer Beals.
An: I will continue to support Harry's Law. Not only is it funny, it's realistic in its quirkiness. When you compare it to Fairly Legal a show about a quirky female lawyer who changes her job to make a difference, Harry's Law is that prototype done right. Harry is actually quirky. She actually leaves her firm and her position of patent law. And, she actually deals with clients who need her to make a difference. On top of that, it has a great supporting cast who it uses as more than door stoppers. After that, I support Mr. Sunshine. I don't care what the naysayers say. In fact, to them I say nay. I think it's a funny show and I want to see it return.
Chuck: I'd like to see more V because I think the story got to such a good place at the finale that it really showed promise and it seemed like it was going to go into a direction more like the original series with a human/alien battle for the planet.  I love Elizabeth Mitchell and Morena Baccarin is fantastic as Anna and you can't just introduce Marc Singer into the mix and let it all end there!  Unfortunately, they killed off Jane Badler's character but maybe Faye Grant and Robert Englund can make some guest appearances in season three!  I just think the show has a lot of potential if ABC would stop screwing around with it by ordering episodes and then cutting the order before the show even airs, and Warner Brothers could help by streaming the show online so interested viewers who haven't seen the show can get caught up.  You can't even buy season two on iTunes or Amazon yet!  Makes no sense.  Hopefully the fan base will be strong enough to get the show another season.
It looks like The Chicago Code has the most support from the Clackers — which do you want to see back again next season the most? Vote and then share your reason in the comments.
Photo Credit: FOX