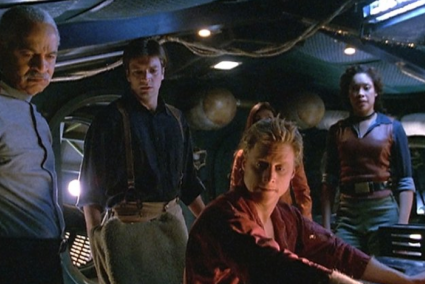 Something that is widely known around CliqueClack HQ, that the rest of you might not know, is that I love our theme weeks.  Despite that, I didn't participate as much this week, frankly because I have found that Firefly has lost a little shine in my eyes lately. Sometimes a particular fandom can become a bit overbearing, and that can impact my impression of a particular franchise. Thankfully, this week the rest of the Clack reminded me about all of the reasons that I love this series.
(Well, they remembered all but one … but I'll save my favorite part of Firefly for the end of this post)
The week started off strong as everyone made fun of me for picking Serenity herself in the Favorite Character Poll, which River is currently winning. Bob asked us why we love Firefly, and one of our most frequent commenters Tom provided one heck of an answer.  Julia, CliqueClack's resident expert on feminism, explored the awesomeness with which Joss Whedon writes all women characters.
Tuesday the entire team got together to discuss their favorite Firefly moments. Was Brett right, with Mal's "Han Solo" moment, or was I closer to the mark with the pitch perfect sentimentality in "The Message?" If you were wondering where the members of the screw of Serenity are all making their homes now, Isabelle had the answer for you.
Was "Out of Gas" the perfect flashback episode? Katie certainly thinks so. She also explains some of the most popular memes the show gave birth to. Everyone has their favorite episodes, and on Wednesday we asked you what yours was ("Out of Gas" is winning that particular poll). Another one of favorite commenters, Rosie/bsgfan2003 explained how River, even more than Mal, was the lynchpin that held the crew together.
Thursday, we turned our eyes to the feature film born out of the TV series, Serenity, at our sister site, CliqueClack Flicks. Brett and Deb debated the merits of the film vs. the series, while Jeremy wondered how well the movie stands independent of the source. Back at the homestore, everyone's favorite siblings quibble over what exactly Joss' best series was.
All good things come to an end, including Firefly week. Today, I shared some of the show's lesser known, but just as snarky, quotes. In our final poll of the week, we take a look at Summer Glau's career, and ponder what her best role so far (My money is still on her turn on The Big Bang Theory as "Summer Glau"). Finally, Katie takes one last opportunity to prove herself our resident Firefly expert by having some fun with River Tam and Doctor Who's River Song … and then she had a little more fun when she asked the CliqueClack team who the sexiest person on Serenity was.
As we bring CliqueClack's latest theme week to a close, I leave you with my favorite part of Firefly. All aspects of the show brought the awesome, from the acting to the writing to the production quality. However, there is one thing about every episode that immediately makes me aim to misbehave: the title sequence and theme song. The Joss written, Sonny Rhodes performed song is arguably the best TV theme song ever.
Photo Credit: FOX