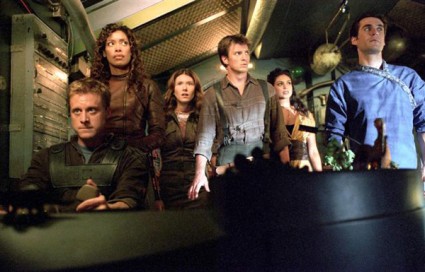 Debbie:
We're going retro this week, and diving in to some nostalgia with a twist. Our Game of Thrones post last week got me to thinking that even though a show might not be in our genre, it somehow could make its way into being a favorite in spite of that. See, I can be open-minded … ahem. …
For instance, I generally do not love sci-fi or westerns, but Firefly makes it to my top-twenty favorite shows of all time, easily (and someday I'm going to make that list). The characters, their interactions and the dialog were all so stellar that I didn't care if the action took place on spaceships with 10-gallon hats or not. I loved watching Firefly and crave revisiting it often, if only I had the time.
How about you? What's one of your favorite shows that is not from your typical genre?
Bob:
I think the best example may be a show that isn't so far in the past… in fact it's a current show. I have never liked procedurals, so I'm not quite sure why I even started checking out The Good Wife in the first place, but I sure am glad I did. Yes, there is a new legal case every week which makes it a procedural by definition (I don't think CBS airs anything but procedurals), but there is enough on going plot and drama to keep me coming back every week.
Aside from that the cases are really interesting. I love that the show doesn't chain itself to the courtroom. Some episodes never even make it to the courtroom. Sometimes it only follows depositions in the offices, or just features lawyers going head to head and negotiating settlements. In any case, the writing and acting is so good, that this lawyer procedural (which I would almost never watch) is always on my must see list.
Debbie:
So much for nostalgia … but it works with current shows too! Hmmm … if I had to choose a current show, I'd pick House, because medical dramas are not my bag. But for the same reasons as Firefly, the characters, their interactions and the dialog, House is one of my favorite shows and has been for all seven seasons. I guess I like that touch of quirkiness in a show that doesn't take itself too seriously.
Bob:
I find, at least for me, if a show is of really high quality, the subject matter almost takes a back seat. I've never been a huge fan of the mobster genre, but I love Boardwalk Empire because of the incredible production value, history, and the amazing acting. Overall, it's just a really good show.
It's a little funny, though, because House is not one that I could ever get into. People rave over it, but every episode I have seen (and granted it has only been a handful) have left me not feeling much of anything. I was just never able to connect with the title character that others seem to love so much. To me, he just seemed like a dick.
Debbie:
Oh, he is a complete ass, but if you're a loyal viewer, you'll find that he's an ass with a heart and he's experienced so much character growth over the course of seven seasons, yet the writers have been able to keep him an ass. It's really well done.
Bob:
I guess when it comes right down to it most folks stick with the genres that they know they like. I know for me, I usually just avoid the cop, doctor, and lawyer shows all together unless there is a really unique hook to them. I know a lot of folks in the country love these shows, but they're just not for me.
Just like sci fi and fantasy isn't for you. I don't know why they aren't for you, but….

Photo Credit: FOX