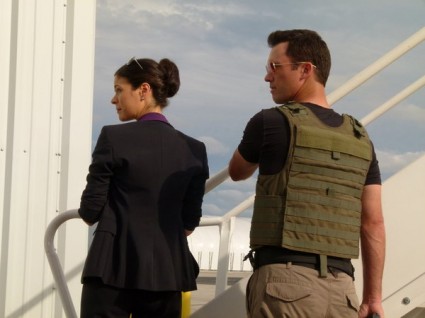 The Burn Notice season five finale was, by and large, a keeper. As Michael made one last play to save Fiona, Jeffrey Donovan and Gabrielle Anwar gave great performances. Director Renny Harlin (of Die Hard 2 fame) blew up a plane. And thankfully, Agent Pearce (Lauren Stamile) wasn't Anson's mole. (That was a painfully obvious Kristanna Loken, who was better off as the Terminatrix in Terminator 3.)
That brings me to the episode's talking point — the cliffhanger in which Fiona turned herself in to the FBI for the crimes Anson had framed her for, in order to force Michael to "do the right thing." Aside from being cool in that it allowed for the first voiceover by someone other than Michael, it gave us plenty to talk about when it comes to the future of Fiona, the relationship between her and Michael, and Burn Notice.
It's safe to say that Fiona is going to be a major part of season six, so the question is not if she'll be back in the game, but what will happen to her first. Burn Notice isn't afraid to take considerable leaps forward between seasons so anything could happen to Fiona before the season six premiere — or even into early season six. Matt Nix and Co. won't sideline a main character for too long, but that doesn't mean they can't put her through the wringer.
Whatever she goes through next, her decision and its aftereffects will obviously impact the relationship between Michael and Fiona, and I'm curious to see just how much. They've always had some considerable differences in their beliefs, and their semi-domestic bliss of this season couldn't last forever. Their romance is a significant part of the show, and I want to see what shaking it up will bring both for the series and its passionate fans.
And then there's the outlook for Burn Notice. After all the talk about Anson being the man behind the curtain, there was surprisingly little of him and we didn't really solve too much when it came to the show's mythology. I'd imagine we'll see more of Anson in season six, which means more of Michael trying to level his organization-in-making. Given that the show is going for at least one more year, that's not entirely surprising, but I wouldn't blame anyone for being a little disappointed either.
The show has taken its mythology about as far as it can go. We've seen quite a few would-be higher-ups in Michael's life before Anson; the audience might feel cheated if we find out there's somebody else past him. The prudent course of action would be to start tying ends up sometime in season six before Anson overstays his welcome. But that's also easier said than done, as we don't know how long the series could run for. Would the writers run out of story? Or should they then start looking at wrapping the show up, not unlike Dexter?
I'd like to see as many more seasons of Burn Notice as the cast and crew want to turn out, and I think the show could survive without the underlying story of Michael's burning. Once it's solved, there's probably still a lot in his proverbial closet that we could still find out or explore. The show is well-written and acted enough that it could be watchable even if it was simply about him and his team helping the less fortunate, something like a successor to The Equalizer.
But that's all speculation. We'll find out next summer…
Photo Credit: USA