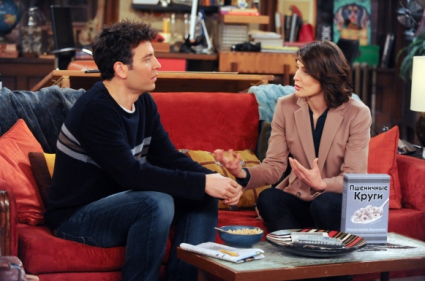 In retrospect, I felt I was actually pretty kind in my review of last week's How I Met Your Mother. The idea of putting Ted and Robin back together seemed so tired to me that I couldn't imagine that the show would actually spend any story time dedicated to it. Well, technically I guess I could imagine it, as the arc had been foreshadowed earlier in the season. But things turned out not at all as I expected.
I think I "get" Ted better than most people do. Don't tell anyone, but it is because we have a lot in common – but hopefully not too much. Because of that, though, the idea that he has never fully gotten over Robin is something I understand. Their promise to get together at 40 if they were both single is definitely the type of thing that would trip Ted up. I'm just glad Robin didn't buy into the idea as full-heartedly as he did. It was heartbreaking to see him cancel out that promise, but it was something he had to do if he was really going to be able to move on.
Tougher still for Ted was his realization that there was still something between Barney and Robin. I was happy to see Barney be completely truthful with Ted about what had happened between them this year – it is a nice change of pace from the first time Barney and she had a fling. What is not so good for the Barney/Robin shipper in me: the nonchalance with which the Barnacle said he was over her. I've still got faith in the two of them, but moments like that make it much harder to hold on to hope.
As bad as things might look for Ted right now, he has got a friend like Marshall. I don't think I've ever been more impressed by one of the characters on HIMYM as when Marshall spoke to Robin about moving out. The sincerity of that moment, and the idea that Marshall would go to her without Ted's knowledge — bros before hos indeed.
Did you catch Conan O'Brien in the background of one of the MacLaren's scenes? If you missed it, I grabbed a screenshot. O'Brien apparently won the cameo as a charity prize. Good for Coco! Did his hanging out in the background in a bar scene remind anyone else of his time as a writer for Saturday Night Live?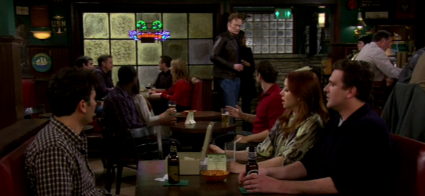 I loved Lily and Marshall's Long Term Bets:
Lily bets Marshall that Barney will die by murder
Marshall bets Lily that Robin will never return their hairdryer
Lily bets Marshall that Ted will go bald
Marshall bets Lily that if Ted goes bald, he'll totally pull it off
Lily bets Marshall that Ted and Robin won't end up together
Notes & Quotes
Some of the ongoing clues to the identity of the mother might get a little obnoxious, but I love the yellow umbrella.
Anyone catch that the movie that Ted and The Mother couldn't see was The Wedding Bride III?
"I love you Robin. I'm serious. Do remember why we broke up in the first place? We asked each other, 'Where do you want to be in five years?' and our answers were just too different. Well its five years later, and where are we? Standing on the roof where I kissed you for the first time. I know this is a lot to process — so no pressure here. Just … want do you think? You know what, you're exhausted. It's late. Let's just go to sleep. Well, goodnight!" – Ted
Ted goes camping in secret?
"[On the phone] I know it's early, but can you meet at the bar. Right now. Alone?" – Ted
"I'm on my way. [To Lily] I gotta meet Ted at the bar." – Marshall
"At 7:00 AM? Man, Ted really needs to work on his boundaries." – Lily
"Do you think…" – Barney
"OK, I already know I don't want to hear this." – Lily
"Do you think that if we did it…" – Barney
"Yep, I was right, I don't want to hear this." – Lily
"… and I did a really good job …" – Barney
"Please leave." – Lily
" … that I could turn that into my baby?" – Barney
Love the "We have a sex tape hidden somewhere" interspersed with the Charlie Brown Teacher Talk.
It took Barney exactly 46 minutes to get from Marshall and Lily's to Ted's apartment? Yeah it did.
"Bros before hos, right. And no matter how mad she made me, Robin's still my bro. And if uh, you make her happy, then that makes me happy." – Barney
"Barney, you've really grown up, you know that?" – Ted
"Thanks. Now let's watch our two best friends have sex on tape." – Barney
"I'll make the popcorn." – Ted
"My skin is loose like an elephant." – Marshall
"My boobs are perky and plump." – Lily
"I slobber like a confused old dog." – Marshall
"I slap my own ass." – Lily
"I slap my own ass." – Marshall
"He's lying, Robin. He's trying to be strong but its killing him, and so has his best friend I have to say something that he loves you just way too much to say: You gotta move out." – Marshall
"For Ted's sake, I hate to say this, but: Pay up." – Lily
"Not yet." – Marshall
[easyazon-image align="none" asin="B003L77G6U" locale="us" height="160″ src="http://ecx.images-amazon.com/images/I/51N8vXVo%2BAL._SL160_.jpg" width="116″]   [easyazon-image align="none" asin="B0053O89Z6″ locale="us" height="160″ src="http://ecx.images-amazon.com/images/I/51G3ySkAhVL._SL160_.jpg" width="119″]  [easyazon-image align="none" asin="B0061MYFHK" locale="us" height="160″ src="http://ecx.images-amazon.com/images/I/211I36mjc5L._SL160_.jpg" width="123″]
Photo Credit: Ron P. Jaffe/FOX