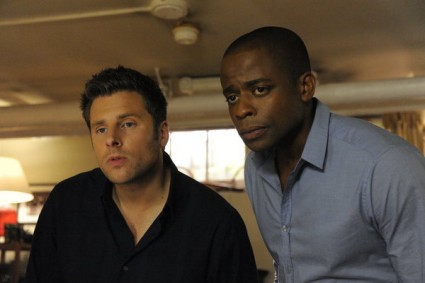 The funny men of Psych are headed back to your TV screen! To prepare for their leap day arrival, we have ten videos of season six's funniest moments! What could make those even better? How about a chance to win some fun Psych stuff?!?
We have a prize valued at $100 including: a Psych Snuggie, Psych Season 5 DVD, Psych coasters, Psych Silly Bands, and … it wouldn't be complete without a Pineapple pillow!
There are three opportunities for you to win!
Watch the Best of Season 6 videos below and then leave a comment with your favorite funny moments! You can enter once a day (Monday, Tuesday, Wednesday).
On Monday, list your 3rd favorite video! On Tuesday, your 2nd favorite video! And, on Wednesday, Psych premiere day, share your top pick for funniest video!  If you missed a day, don't worry, just share that day's video pick!
You can also share your picks on twitter using #BestOfPsych. Check out that hashtag for other popular video picks!
"Shawn Rescues Darth Vader" — Shawn's Lie Detector Test

"Last Night Gus" — The Morning After
"Last Night Gus" — The Morgue
"This Episode Sucks" — Sookie is Mine!
"This Episode Sucks" — Vampire Bar
"Deadman's Curveball" — Shawn Out at Home Plate
"In For a Penny" — Juliet's Father Shows Up
"Neil Simon's Lover's Retreat" — Shawn and Juliet Leave Gus Behind
 "Neil Simon's Lover's Retreat" — Shawn and Juliet are Robbed
"Neil Simon's Lover's Retreat" — Lassiter, Gus and Henry Make a Bet
Share your top three Psych videos — limited to once each day! Then, tune-in for the extra-long leap day mid-season premiere on Wednesday, February 29th!
We'll pick one recipient completely at random and alert them after the giveaway ends on Wednesday, February 29th at Midnight ET (make sure your spam filters aren't blocking mail from @cliqueclack.com!). Only one entry per person per method and you must have a valid U.S.-based mailing address. The prize was provided by USA Network, but USA Network is not a sponsor, administrator, or involved in any other way with this giveaway. This giveaway is open to U.S. residents of 18 years of age or older only. Not following these guidelines voids your entry. Good luck!
[easyazon-image align="none" asin="B003L77H1E" locale="us" height="160″ src="http://ecx.images-amazon.com/images/I/51mBUVHldeL._SL160_.jpg" width="116″]
Photo Credit: USA Network