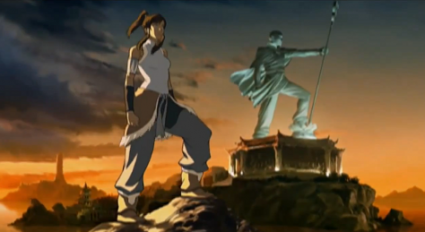 Last Wednesday, Nickelodeon released their plans for an unprecedented 650 new episodes within a wide range of programming for the rest of the year (Brett was particularly happy that iCarly is getting more episodes). Since a good chuck of that programming is going to be both traditional and CG animation — both new and returning series — let's break down the different cartoon programming Nickelodeon has in store for us.
Returning Cartoons
The returning traditional animation shows include SpongeBob SquarePants, The Fairly OddParents, The Winx Club and T.U.F.F. Puppy. To be honest, I have little interest in Winx Club and T.U.F.F. Puppy, but I'm happy to know SpongeBob and Fairly Oddparents are back, especially the latter since there have been questions about its return. They're two of the longer running cartoons on television and also two of the higher quality cartoons still in production, so I see it as a good thing that we're getting more episodes.
The Legend of Korra
Out of everything in this article, the one project I'm truly excited for is Legend of Korra, which is set to premiere on April 14th at 11 am EST, and I'll be gleefully programming the show into my DVR. I wrote about the original trailer last summer, but the video released this past week focuses on the growing anti-bending cult that has been slowly cultivated after the death of Aang. Both trailers explore the more serious nature of Korra compared to her previous incarnation. Also, if you look carefully you should be able to see Korra's airbending mentor (and Aang's son) Tenzin. The animation looks gorgeous, but I think the show's success will all come down to the new voice actors. The dialogue in the trailer below doesn't sound quite as convincing as I'd like, but I'm sure some of that awkwardness comes from the audio chopped and pasted together for the commercial … we'll have to wait for the show itself to see if Janet Varney is up to the challenge of voicing the next Avatar (thanks to her previous work with Rifftrax, I'm slightly biased to her success).
The Dreamworks Shows
Along with new episodes of Kung Fu Panda: Legends of Awesomeness and The Penguins of Madagascar, Nickelodeon is bringing more Dreamworks characters to the small screen with a TV adaptation of Monsters vs. Aliens. While I think these adaptations tend to be unnecessary, I have to admit that the end of Monsters vs. Aliens at least left that universe open for more serial storylines — it seems the most easy to transition to episodic storytelling out of the three shows.
New CG Shows
The video game series Raving Rabbids is getting their own show — while the games themselves are entertaining, the show might be a challenge since all of the "rabbids" are maniacal, senseless, non-speaking rabbits. The only way I can see this show working is if it's comprised of small vignettes. If there are any sane, speaking characters as the leads then I don't see the show working.
One of the only new shows that isn't directly adapted from a movie or game is Robot & Monster, which looks to be a buddy comedy about a friendly monster and a grumpy robot. Robot & Monster has been in the works for a while, but it's quirky character designs alone are making me curious. At the very least, it's not an adaptation, which is a breath of fresh air.
While it is an adaptation, Teenage Mutant Ninja Turtles does look good from the cast alone — Sean Astin is Raphael and Animaniac's Rob Paulson is playing Donatello (my all-time favorite of the turtles). I'm even optimistic about the show's polygonal, cell-shading character designs. What I'm more worried about at this point is the Nickelodeon-produced, Michael Bay-directed live action Ninja Turtles movie. Does he really think the turtles are aliens? And I shudder to think what Bay is going to do with April O'Neal. But again, Bay is only attached to the movie, so there's still hope for the cartoon as a separate entity.
Christmas Specials
Nickelodeon was also proud to announce a few Holiday Specials. Spongebob's new Christmas special will be in stop-motion, "inspired by the classic Rankin/Bass (Rudolf the Red-Nosed Reindeer, Santa Claus is Comin' to Town) specials," which would be fine … if Community didn't do it two years ago. Not that Community owns the rights to any of their concept episode ideas, but it's going to be hard for me not to compare the two specials. I'm still willing to give it a shot.
What I'm less enthusiastic about is the sequel to the detestable Fairly Oddparents live-action movie from last summer. I can't fully explain how much I hated that piece of tripe, although you can read my review of it for some insight into why it was so bad. Apparently Timmy is going to learn the true meaning of Christmas, even though I'm pretty sure he learned that in his other Christmas episodes … you know, the ones that were actual cartoons and were also good. This just does not bode well, folks.
In short, I highly recommend Legend of Korra because it's looking to be a beautiful continuation of a show that was great in its own right. If you're a fan of the 90s Ninja Turtles show or movies, I would say you should at least check the new show out. And Robot & Monster looks to be fun, too. However, I would highly suggest avoiding the Fairly Oddparents Christmas movie like the plague. Heed my warning.
[easyazon-image align="none" asin="B001AI7766″ locale="us" height="160″ src="http://ecx.images-amazon.com/images/I/51S6IxTw4AL._SL160_.jpg" width="119″][easyazon-image align="none" asin="B002DYJTVW" locale="us" height="160″ src="http://ecx.images-amazon.com/images/I/51NrEdZECxL._SL160_.jpg" width="116″][easyazon-image align="none" asin="B0055EHUPE" locale="us" height="160″ src="http://ecx.images-amazon.com/images/I/51lNgLdTAaL._SL160_.jpg" width="113″][easyazon-image align="none" asin="B000XVOR5A" locale="us" height="160″ src="http://ecx.images-amazon.com/images/I/51Ry7siLooL._SL160_.jpg" width="115″][easyazon-image align="none" asin="B003TJM6I8″ locale="us" height="160″ src="http://ecx.images-amazon.com/images/I/51C-SGU-6OL._SL160_.jpg" width="112″]
Photo Credit: Nickelodeon