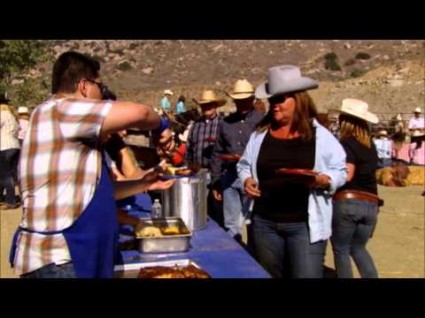 It was the good, the bad and the hungry featured on tonight's episode of MasterChef, as the remaining top eight contestants competed in a Cowboy Cookout Challenge out on the range. Having had a strong performance in last week's elimination challenge, Monti and Frank emerged as the two team captains in this challenge. Once their teams had been formed, it was a clever twist on Chef Ramsay's part to switch the two captains so they'd be working with whomever they did not pick.
Flighty Monti was in charge of the red team, consisting of Josh, Felix and Becky, while cool-as-a-cucumber Frank manned the blue team, consisting of Christine, Stacey and David. Their challenge was to feed 101 hungry cowboys and cowgirls with a hearty meal consisting of a steak and two sides. Monti developed the entire menu for her team, which consisted of a ribeye steak, sweet potato mash and spicy green beans. Compiled far more democratically, the blue menu was comprised of a New York strip steak, grilled corn-on-the-cob and garlic mashed potatoes. However, it was Stacey's sweet and smoky barbecue sauce on the meat that seemed to garnish the most praise on the prairie.
Ultimately, the blue team won the challenge and safety from being eliminated in tonight's pressure test. As much as I hate to say it, I believe Monti's leadership had a lot to do with her team losing the challenge. Becky tried to tell her they should make a side dish that would be low-maintenance and would stretch a long way such as barbecue baked beans, but she wanted no part of it. Predictably, the red team ran out of sweet potatoes after maybe 25 cowboys had been served, while the blue team kept going strong.
The sweet potatoes were a good idea and I'm sure they were tasty, but I agree with Becky that beans might have made for an easier choice. Both teams struggled with overcooked steaks and for a few minutes, it looked like the red team might make it as the "comeback kids," but really it was never even a contest. The blue team swiftly defeated the red team, despite the momentary scare they had when some of their corn-on-the-cobs went up in flames because Frank decided to put the blind Christine in charge of manning the grill. It clearly wasn't her fault, but I don't think it did anything to redeem her in the eyes of her fellow competitors who had chosen her last in the team challenge. While they all agree she is a major contender in the elimination tests and mystery box challenges, they are quick to point out her obvious disadvantages in the team challenges.
When the red team was forced to nominate someone to send to safety, it was far from a unanimous decision when Felix was sent upstairs, but ultimately it came down to Felix casting a vote for herself with Monti backing her up rather than Josh or Becky. Tonight's pressure test looked (and pardon the pun but I can't help it) "eggs-cruciating." The remaining three contestants were each given just six eggs to cook four different styles without any back-ups. This meant no room for error, as each egg had to be cooked literally to perfection. The techniques they had to successfully implement in 20 minutes included a three-egg omelette, a poached egg, a fried sunny side-up egg and a soft-boiled egg. Sounds easy, but it definitely wasn't pretty.
I was hoping Becky would screw up and be eliminated, but it was Josh whose time in the MasterChef kitchen came to a close, as he failed to impress the judges with his runny, undercooked soft-boiled egg, his 30-45 seconds overcooked poached egg and his "fried custard looking and tasting" omelette. What a major disappointment. The judges all concurred, as Ramsay told Josh they were genuinely sad to see him go.
I'm really looking forward to tomorrow night's program with special celebrity judge Paula Deen because I think it will be more "eggs-citing" than tonight's episode.
Memorable Quotes:
"Chef Ramsay looks really sexy on a horse." — Felix
"David, my name's Ramsay not Martinez." — Chef Ramsay, scoffing at David's warning about the mashed potatoes being hot
"Salmonella … that's what I want to give the judges today. I'm not going home on an egg, dude." — A disappointed Monti talking about her fried egg
"That's like sex on a plate." — Chef Graham Elliot (describing Becky's fluffy omelette)
[easyazon-image align="none" asin="0740773925″ locale="us" height="160″ src="http://ecx.images-amazon.com/images/I/51tt02oXarL._SL160_.jpg" width="132″] [easyazon-image align="none" asin="1616280662″ locale="us" height="160″ src="http://ecx.images-amazon.com/images/I/51iMFY3IJwL._SL160_.jpg" width="143″] [easyazon-image align="none" asin="1603429786″ locale="us" height="160″ src="http://ecx.images-amazon.com/images/I/51kBusnKeDL._SL160_.jpg" width="125″]
Photo Credit: Fox