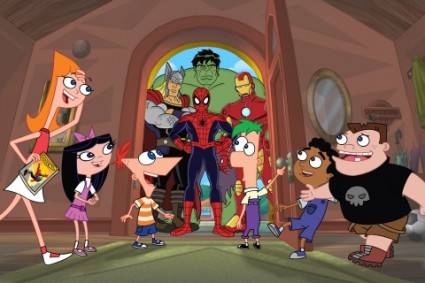 I've written quite a bit about Batman in the last month, but this week we turn to another group of cartoon superheroes. When Disney acquired Marvel in late 2009, there was a lot of talk (some in jest) about the awkward crossovers between the two juggernauts of entertainment. While the hour-long Sunday morning cartoon showcase Marvel Universe has been featured on Disney XD since March, up until now Disney hasn't mixed their original licenses with Marvel's characters. That's going to change next year when the Disney Channel releases the 2nd Phineas and Ferb movie starring the Avengers!
According to IGN, Dr. Doofensmirtz ends up sapping the superheroes of their powers with his newest invention, causing the heroes to need the boys' help in getting them back. You might be wondering how Iron Man could lose his powers if it's actually a metal suit, but remember this is Phineas and Ferb … this is the show whose villain once created a gigantic machine that just gives people paper cuts. Regular logic does not quite apply.
I've already seen some adult fans rant about this news, assuming it'll be stupid and how dare they belittle the Avengers! I actually found one comment that claimed there's no crossover between P&F fans and Marvel fans. Let's pretend that Phineas and Ferb doesn't have a teenager and adult following (even though they do). Let's even pretend that no kids went to see The Avengers (because it's PG-13 and all). As of now, Marvel Universe features two shows with the Avengers in it, including Avengers: Earth's Mightiest Heroes. And would you like to know what's been on right after that show? Phineas and Ferb. There's certainly a lot of crossover between the two fandoms.
It will be interesting to see if Disney chooses to have a particular version of the superhero team. Right now, the Avengers in Ultimate Spider-Man are different from Earth's Mightiest Heroes, but they're also planning to make a new Avengers show that may or may not be in the Ultimate Spider-Man universe. They could also just use a general version of Avengers.
The thing is, I'm super excited about this news. Phineas and Ferb is one of my favorite cartoons on TV because it's hilarious! Yes it's still kid-friendly, but it's also incredibly meta, lamp-shading the tropes that it borrows. They've spoofed/referenced Star Wars, Lord of the Rings, CSI: Miami, Wizard of Oz and even Iron Man himself! The first Phineas and Ferb movie was done so well and proved the show could handle a longer format.
Remember, the Avengers are not a particularly somber bunch. The cartoons featuring the superhero team aren't completely serious (have you see Hulk and Hawkeye in Earth's Mightiest Heroes, and Spider-man is the prince of quips) and Whedon's touch of humor in The Avengers was a huge part of the movie's success. So if Phineas and Ferb showrunners Dan Povenmire and Jeff "Swampy" Marsh can really make something fun with this, then why not?
And think of the possibilities — Tony and the boys would put their heads together and make crazy contraptions. Peter Parker and Baljeet would bond over being nerdy. Hulk would teach Bufford how to properly smash. Loki would be baffled by Doofensmirtz. But oh man, what if Perry the Platypus works with SHIELD? What if Perry the Platypus worked with Agent Coulson!? OK, now I'm really excited.
Photo Credit: Disney