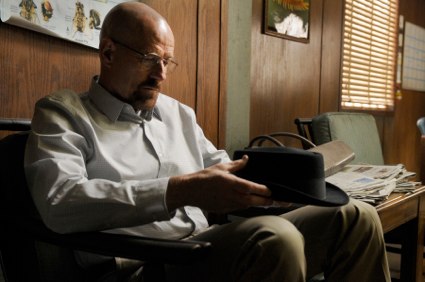 When I sat in on the San Diego Comic-Con press roundtables with the Breaking Bad cast, one thing that was reiterated by everyone: nothing will be held back in these final episodes of the series. When they tell us something that ominous, of course one can't help but wonder what horrible fate might become of some main characters on the series. In particular, I'm wondering what's going to become of Walt's family … and so is Skyler.
Skyler is one character I'd be shocked wouldn't make it until at least the second-to-last episode. In fact, I believe there are a few people who wouldn't be surprised if Skyler is what brings Walt down, in the end. It's their kids I wonder about. Once Walt crosses the wrong person again — and we all know he will — who's first to fall victim? It's what Skyler's afraid of, and she's not sure what to do about it.
The problem here is that Skyler is looking for an all-or-nothing solution to her problem. She wants to protect her kids from physical harm, but she also wants to protect them from a broken home. If Skyler's truly fearing for her children's safety, wouldn't that make the idea of a broken home seem like a worthwhile compromise? Her ideas for basically framing Walt would certainly screw up their kids' heads — I'm not slighting that aspect of it at all — but isn't that better than then, y'know, being killed?
So what are Skyler's options? She obviously doesn't care if her kids live without Walter in their lives, as she said she was just going to wait for the cancer to return — something which, by the way, seemed could be happening, based on all that coughing Walter had at the end of last season. So what's to stop her from putting out a hit on Walt? How long before she meets Mike and asks him to do the deed for her? And would he bother to do it, knowing Jessie is a capable cook on his own?
Skyler may look to be stuck for ideas, but it's only for the moment. She's not done yet.
Photo Credit: Ursula Coyote/AMC