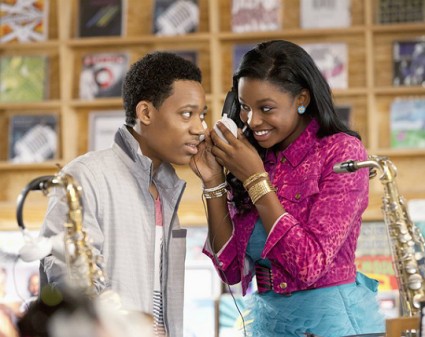 You have to hand to the folks at Disney. They sure do know a thing or two about keeping young individuals entertained. With as much crap on television these days, it's refreshing to know that families can unwind with some of the quality programming that the Disney Channel offers — especially their original movies. Oh, how that takes me back.
Ladies and gentlemen, we're going to do things a bit differently this week. Instead of zeroing in on a single individual — like last week's fun column on Sofia Vergara — I figured I'd sneak in a review of a made-for-TV movie … that just happens to have been released on DVD today. Let It Shine, the latest original Disney Channel movie, is aimed towards, but certainly not limited to, an African-American audience. The film focuses on talented songwriter Cyrus DeBarge, played to perfection by Tyler James Williams of Everybody Hates Chris, the son of a haughty preacher who spends his time in the church directing the young adult choir … while secretly moonlighting at a teen night club. Oh, how scandalous! It's at the club that he wistfully yearns to become a rapper while watching teenagers and young adults compete against each other with hip rhymes, cool dance moves, and a whole lot of swag.
Fortunately for him, he gets his chance when Roxie, a youthful coffee-skinned singer — a vivacious combination of Nicki Minaj and Lady Gaga — launches a competition to find the next great teen rapper. This is where things get tricky. You see, Roxie happens to be an old childhood friend of Cyrus and his best friend Kris who also submits a rap song into her competition. However, Roxie chooses Cyrus' song but mistakes it for Kris' when she sees a photo of him that was included in the submission. It seems that he has that "special look" while Cyrus simply doesn't. Chalk it up to show business, I suppose. The downside is that Kris can't write rap music to save starving families in Africa. To that end, Cyrus is forced to secretly write for his best friend, and stand by as Roxie helps Kris rise to fame.
And therein lies the tale of Let It Shine.
There's really not much to it, but I'd be lying if I said it wasn't a joy to watch. I have to give Disney their props for offering up a film for a different audience. The movie somehow manages to combine both soft-core rap and contemporary gospel, and has a pretty good soundtrack of original songs. My favorite one was "Don't Run Away," a ballad that doubles as the kind of dance track that you'd get from a singer like Ne-Yo.  I'll probably have it downloaded by the time this column goes viral. Disney plays it safe with the characters, their settings and their wardrobe. There's no cleavage, no sagging pants, no stilletos, and no kissing. I found all of this to be wonderfully refreshing … although a kiss between the two leads wouldn't have been so bad. Still, the precautions that Disney took helped make the film all the more enjoyable.
The same can be said about the super talented cast. In addition to James, who does quite a fine job in his role, other members of the core cast includes newcomer Coco Jones as Roxie, Trevor Jackson as Kris, and Brandon Mychal Smith, a staple in Disney Channel shows, as Bling, a rapping rival for Cyrus. While I certainly enjoyed the young cast members, I think I was a bit more intrigued by the seasoned adults that helped lend the film a touch of credibility. Courtney B. Vance portrays Cyrus's strict father, Pastor Jacob DeBarge, and Dawnn Lewis is on hand as his kindhearted wife Gail. The scene where she teaches the hip young adult ministry an old school church hymn is downright hilarious. The fact that Disney was able to lure these two actors says a lot. Their chemistry was palpable and for just a split second, I forgot that Vance is married to Golden Globe winner Angela Basset. I'm just sayin'. Rounding out the cast is Alex Desert and the super cool Nicole Sullivan whom I think is just fantastic.
While the cast is awesome, the bonus features leave a lot to be desired. As much money as Disney has, would it really have been asking too much to include a behind the scenes featurette? The DVD comes with a digital copy and a bunch of trailers for other Disney movies and shows … and that's about it. Scene selection can't be considered a bonus. It's the norm. Still, the movie itself is worth the purchase alone. For anyone with children, or anyone who just wants to burn 104 minutes, this movie is certainly the way to go. With a capable cast, a wonderful selection of upbeat songs, a fun story, and a lesson or two in following your dreams and not judging others, this film does more than entertains — it simply shines.
Photo Credit: Disney Channel