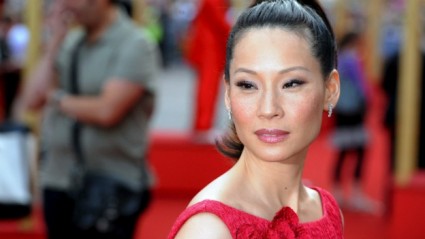 Growing up, I wanted to be a lot of things — astronaut, doctor, garbage man, butt kicking superhero — but I eventually settled on writing. It's what I'm good at. Plus, I don't have to leave the house to do so. I don't think I ever wanted to be a detective, but I sure did enjoy watching them on TV. Maybe that's one of the reasons that I'm looking forward to the debut of CBS' Elementary on September 27th. A radical revision of the classic Sherlock Holmes tale, it sets our crime solving hero in modern times complete with ultramodern gadgets, new villains and a new Watson — played by NAACP Image Award nominee Lucy Liu.
Now, you would think that folks would be excited by the idea of Liu as a crime-fighting assistant, but there have been some haters … and for the life of me, I simply cannot imagine why. Sure, we all know that the character John Watson had an XY chromosome originally but dammit, it's 2012. People have sex changes, you know. As Joan Watson, I'm sure Liu will do just fine. Besides, I think the switch is clever.
Liu has proved time and time again that she can command a scene and kick some serious booty. Let's look to the Charlie's Angels movies for instance … actually, we'll use the first one as a reference. The second one was about as bland as anything Tyler Perry produces. Liu was pretty damn convincing as one of Charlie's karate knowing sleuths. The scene with her fighting Crispin Glover with a rusty chain is actually one of my all-time favorite fight sequences. Liu was quite believable. The same can be said about her amazing performance in Kill Bill: Vol 1. No disrespect to Uma Thurman, but Liu was bad … in a good way.
However, while knowing a thing or two about martial arts gives her an advantage, the fact that she can honestly act does help too. Liu isn't a stranger to television and is known for her work in Ally McBeal, Dirty Sexy Money and TNT's critically acclaimed Southland. She's diverse and capable which makes her the perfect topic for this Clacking in Color column and the quintessential choice for a revamp of the Watson character.
So, what's the problem exactly? Why are some people complaining about Liu as Watson? Is it that some individuals prefer that things be kept the same … or is it something else? Something a bit more harsh — the fact that Liu is a woman?
Yeah, I said it.
Let the record show that I have absolutely no problem with a chick taking charge in a TV show or in real life. For further proof, see my columns on Audra McDonald, Reshma Shetty, and Wendy Raquel Robinson. I'm all for Liu being Watson in Elementary. I think it's justified. What I want is for the haters to at least give the woman a chance. Before we pass judgment, let's just wait until September to see her for ourselves. If she sucks then she sucks, but if she's awesome — which I'm sure she'll be — then consider her the Watson of 2012. Heck, if Jude Law can play Sherlock's assistant in the movies then why can't Liu play the character on the TV show? She's just as charismatic and twice as good looking.
I'm just sayin'.
Photo Credit: CNN