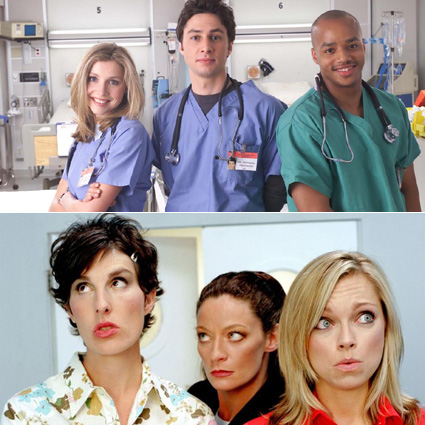 I loved Scrubs' weirdly amazing brilliance. It was the most awesome effing show on NBC for eight seasons. I feared I would never watch another show that even vaguely approached its stream-of-consciousness, free-association kick-assedness. Then, two years ago, I found myself shuffling through Hulu searching for British comedies (yeah, if you haven't guessed it yet, I'm a bit of an anglophile) and I came across the odd awesomeness of Green Wing.
If you've never seen Green Wing (which is possible since it only had two seasons and a Christmas episode from 2004-2006), it's essentially the lovechild of Dan Harmon and Bill Lawrence. Created by Victoria Pile, it follows Caroline, an awkward female doctor, as she enters a new hospital and deals with the insanity of her fellow staff members. Because it's a hospital comedy following Caroline's naive obsession with a fellow doctor couched in James Joycean absurdist associations, it's closest to Scrubs. And, yes, Tamsin Greig's brown-haired, wide-eyed, childishly innocent Caroline character is clearly J.D.'s across-the-pond cousin while Sasha Alexander's flaky blonde Dr. Angela Hunter seemed closest to Sarah Chalke's Elliott. However, that's where the similarity ends.
Green Wing clearly comes from the British spectrum of the world. It delves face-long into disturbingly hilarious black comedy without withholding its bite. Half the hallucinations in Green Wing aren't mental hallucinations, they're just characters going about their daily business. While in Scrubs even the most vile/evil characters showed specks of humanity, Green Wing's characters just became increasingly more horrid, save Caroline and her love interest.
Part of Green Wing's awesomeness springs from its kickass cast, which is basically a who's who of British comedy, including Sally Bretton and Oliver Chris (former Office castmembers); Olivia Colman (who kicked butt in both Rev. and Hot Fuzz); Michelle Gomez (The Book Club and Mrs. Jack Davenport); Tamsin Greig (Shaun of the Dead); Julian Rhind-Tutt (Stardust, Tomb Raider) and Sasha Alexander (Couplings, Stardust, I Could Never Be Your Woman). Think about the dark places Community frequently visits. In order to pull off a needy, cross-dressing Dean you need to have some comedic chops. Green Wing's characters went to even darker, more absurd places. And its cast pulled it off effortlessly.
So, if you have some times to spare, check out Green Wing's first season on Hulu. (DO NOT watch its second season, which loses that awesomeness.) You won't be disappointed.
[easyazon-image align="none" asin="B00439DI7G" locale="us" height="160″ src="http://ecx.images-amazon.com/images/I/51iAC8bh3LL._SL160_.jpg" width="149″][easyazon-image align="none" asin="B00005JNEQ" locale="us" height="160″ src="http://ecx.images-amazon.com/images/I/51ZMQAQTE7L._SL160_.jpg" width="114″][easyazon-image align="none" asin="B000AJJNI6″ locale="us" height="160″ src="http://ecx.images-amazon.com/images/I/5167F2MNMXL._SL160_.jpg" width="113″][easyazon-image align="none" asin="B000EBGFPY" locale="us" height="160″ src="http://ecx.images-amazon.com/images/I/51TDE6BMSCL._SL160_.jpg" width="118″]
Photo Credit: scrubs.wikia.com, channelfour.com