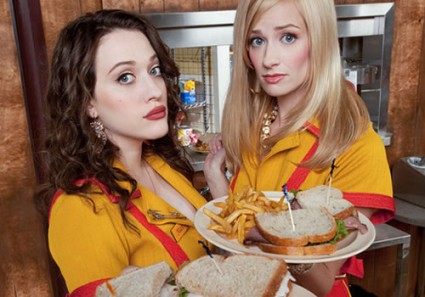 Okay, sue me. I am not afraid to admit that I love 2 Broke Girls. In fact, it's the only sitcom on CBS that I watch. But there are many that have dismissed its crude humor and "offensively" stereotypical characters as patently unfunny and a waste of Kat Dennings' talent (why does no one ever mention Beth Behrs when they say that?). So, yes, I will take a stand for 2 Broke Girls and hope that others will discover what could become a true comedy gem.
If you're unfamiliar with the plot, Behrs plays Caroline Channing, the daughter of a not-so-vague Bernie Madoff-like father who finds herself broke and on the street after his financial scandal sends him to jail and puts all of her money and belongings in the hands of the system. Dennings plays Max Black, a sassy waitress at a Brooklyn diner who has nothing but a tiny apartment, a cheating ex-boyfriend, and a dream to become a famous baker of the world's best cupcakes. Max and Caroline meet on the subway one day, and feeling sorry for her, Max takes Caroline in and gets her a job, her first, at the diner. Hilarity ensues, with the neat little hook that Caroline is driving Max to fulfill her dream by starting a cupcake fund for their business that tallies up at the end of each episode (or down if they have to use the money for something else). It's a neat little hook that gets you invested in their journey.
The girls are like a modern Laverne & Shirley surrounded by a cast of wacky stereotypes including Han Lee (Matthew Moy), the Asian owner of the diner, Oleg (Jonathan Kite), the horny, eastern European cook, and Earl (Garrett Morris), the cashier at the diner with a quip for any situation. Coming in to the story midway through the season is Sophie Kachinsky (Jennifer Coolidge), a cleaning service owner who lives in the same building as Max and gives the girls some part-time employment to help them raise money for the business. Han, Oleg and Sophie all have some kind of TV-ethnic accent which has been the focus of much of the derision against the show, but they're all actors who knew what they were stepping in to so if they don't have a problem with it, then no one else should either.
I've gotten a kick out of the show over the past season, and I have to say that it's been pretty consistently funny. The characters of Max and Caroline certainly are "types" but Dennings and Behrs have a natural chemistry together that makes the relationship, and the comedy, work. As is pointed out in the bonus "making of" feature on the video, everyone assumed the actresses knew each other long before they got this job because their friendship seemed so natural. That really comes out on the show. The writing is pretty sharp too, even if it does tend to go a little more to the sexual side at time — there are no innuendos here folks. This ain't Three's Company. And there are the occasional heart-tugging moments as well, particularly when Caroline had to take her horse to live out in the country (you just can't keep a horse in a tiny yard in Brooklyn), and when Earl suffered a heart attack while fretting about his taxes. But even when a little drama creeps in, there are always some laughs to bring the mood back up. Overall, I really enjoyed the first season, and I'm looking forward to the second which will air Monday nights on CBS at 9:00 PM Eastern.
Warner Brothers has just released the complete first season on DVD (3 disks) and Blu-ray (2 disks). The 1080p Blu-ray image is sharp and clear with vibrant colors as would be expected from the high definition recordings. The DTS-HD Master Audio is presented in a 5.1 mix and everything is well balanced. Most of the audio is front and center with the surrounds used mostly for the musical bumpers before and after each commercial break. There are also subtitles in English, French and Spanish. Bonus materials are slim. The highlight is the "2 Girls Going 4 Broke" featurette with a behind the scenes look at how the show came together with input from creators Michael Patrick King (Sex and the City) and Whitney Cummings (and this show is so much better than her own sitcom on NBC), as well as all of the regular cast members (and it's odd to hear Moy and Kite speak in their normal voices). There is also a collection of unaired scenes from several season one episodes, but what I really wanted was a blooper reel. You'd think with a sitcom, there'd be a great blooper reel! I closely watch the actors during some of the funnier moments of the show, and I know I've seen both Kat and Beth trying hard not to crack. Maybe they're just so good that there aren't any bloopers. Other than that major shortcoming, I highly recommend the set for the fans of the show (and with your purchase, you also get access to the episodes via Ultraviolet, which allows you to stream your purchased content to a number of devices), and if you haven't yet bothered to watch it because of the reviews, now's your chance to give it a sample!
This review was based on a retail copy of the Blu-ray provided to CliqueClack by Warner Home Video.
Photo Credit: CBS/Warner Brothers