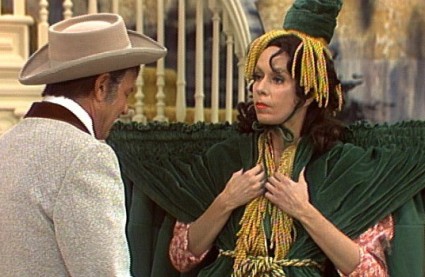 If you're of a certain age, you grew up watching musical/comedy variety shows on TV instead of reality competition shows and karaoke contests. The early days of television, especially when it was live, was filled with variety shows from Your Show of Shows to The Dean Martin Show, not to mention the series of variety specials hosted by Bob Hope, and the hybrid sitcom/variety show starring Jack Benny. But on September 11, 1967, CBS premiered a new variety show starring a former cast member of The Garry Moore Show, as well as a Broadway star in her own right — Carol Burnett. The show ran for 11 seasons, and featured everything from original skits and musical numbers to movie parodies and musical performances by the biggest artists of the day. And the guest list was an amazing mix of TV, movie and Broadway stars from Rock Hudson to Lucille Ball to Beverly Sills, exposing TV viewers to another side of their favorite movie stars or introducing them to stage legends they may never have heard of. Carol's list of characters has become legendary: the bubble-headed (and butt-ed) Mrs. Wiggins, Stella Toddler, Nora Desmond, the Charwoman, and of course, Eunice among them. Carol also surrounded herself with a top-notch cast of supporting actors — Harvey Korman, Vicki Lawrence, Tim Conway, Lyle Waggoner and Dick Van Dyke (who, unfortunately, never seemed to fit in with the cast when he became a regular after Harvey left the show) — that excelled in comedy and music as well. And out of 11 seasons, you can probably pinpoint the one defining moment of the show (out of many) when Carol and company gave the classic Gone With the Wind their own comedic spin (in honor of the movie's first ever television broadcast … on another network). Carol descending the staircase in a dress made from something she "just saw in the window and couldn't resist" gave the show one of its longest recorded laughs and became symbolic of the show's sharp humor (Mattel even produced a special edition Carol Burnett doll in the same outfit).
But by the end of the 10th season in 1977, the television landscape had changed and variety shows (including those hosted by Sonny & Cher, Donny & Marie, The Captain & Tennille, and Tony Orlando & Dawn) were on the wane. Carol's rating had taken a tumble, particularly after CBS moved the show from its prime Saturday night time slot (yes, people actually used to watch TV on Saturday!) to mid-week where it withered in its last season. Many of the episodes were edited down to 30-minute Carol Burnett & Friends syndicated reruns (mostly eliminating the featured musical acts), but the full-length episodes were never seen on TV after the end of its run (although Columbia House did offer restored episodes over the course of 33 volumes featuring two episodes per DVD before suddenly dropping their mail order TV Club membership service). Now, thanks to the efforts of Time Life, The Carol Burnett Show is back on DVD to entertain fans young and old!
Time Life has put together an "Ultimate Collection" which contains 3 volumes of episodes categorized under various headers. The first set, "Carol's Favorites," contains 16 episodes on 6 DVDs with bonus material on three of the disks. This set contains "Went With the Wind" (episode 1002), an episode of "As the Stomach Turns," the very first Family sketch (episode 722), "The Walnuts" spoof of The Waltons (episode 814), a salute to MGM musicals (episode 1022), and guests stars including Roddy McDowall, Dinah Shore, Steve Martin, Betty White, The Jackson 5, Maggie Smith, Shirley MacLaine, Joanne Woodward, Rock Hudson and Vincent Price. Bonus features include the reunion special Let's Bump Up the Lights, and an episode of The Garry Moore Show featuring Carol in the "Supergirl" sketch — which featured Carol doing the famous Tarzan yell for the first time on TV!
The second set, "This Time Together," contains 17 episodes plus bonus material on 6 DVDs. Highlights include a spoof of the hottest box office hit of the time, The Godfather (episode 612), a round of TV commercial spoofs, three special guest-free Family shows, another "As the Stomach Turns" episode, several "Family" sketches, "That's Entertainment, Part 86," Mrs. Wiggins and Mr. Tudball, the Australian show filmed in Sydney (episode 710), Tim Conway's Oldest Man, and Stella Toddler. Special guests include Steve Lawrence, Lily Tomlin, The Pointer Sisters, Dick Van Dyke, Bernadette Peters, Sammy Davis Jr., Petula Clark, Madeline Kahn, Eydie Gorme, Peggy Lee, Stiller & Meara, Edward Villella, and Hal Linden. Bonus features include "This Time Together," a reunion with Carol, Vicki, Tim and Lyle, "Gags and Gowns: A Tribute to Bob Mackie," and "Side Effects May Include … – About the TV Commercials."
The third set, "One More Time," contains 17 episodes plus bonus material on 6 DVDs. Highlights include Carol & Sis (episode 718), TV commercials (episode 806), "The Cockney Lesson" (episode 909), "Mama's Birthday" (episode 911), the hilarious Family sketch "Sorry!" (episode 809), "Mildred Fierce" (episode 1009), "Dr. Jekyll and Ms. Hyde" (episode 707), Eunice's appearance on The Gong Show (episode 616), and "Snow White: 15 Years Later" (episode 616). Special guests include Joel Grey, Telly Savalas, The Smothers Brothers, Maggie Smith, Betty White, Bernadette Peters, Helen Reddy, Tony Randall, Ken Berry, Jim Nabors and Ruth Buzzi. Bonus material includes the featurette "Focus on The Family," "From Soaps to Nuts: About the TV Parodies," and interviews with Carol and Vicki.
But that's not all! There are four DVDs of exclusive bonus features including Carol's final appearance on The Garry Moore Show, a great featurette on the show's opening Q&A segment, the infamous dentist sketch with Tim Conway reducing Harvey Korman to a giggling mess, bonus sketches with Jerry Lewis, Lucille Ball, and Bing Crosby, a 2004 interview with Tim Conway and Harvey Korman, a look at the season ten guest stars, a tribute to the show's writers, a celebration of the movie parodies, another interview with Harvey Korman from 2004, and celebrities like Lainie Kazan, Bernadette Peters, Carl Reiner, Jerry Lewis, Amy Poehler, Ellen DeGeneres, Jane Lynch and Betty White reminiscing about Carol and the show. That's all on the first 2-disk set!
The second bonus set includes a Cinderella sketch from The Garry Moore Show, a 2004 interview with Harvey Korman, a featurette about the show's mini-musicals, the Sunset Boulevard spoof "Sunnyset Boulevard," a featurette on the show's ensemble chemistry, a tribute to Harvey Korman, the Love Story parody "Lovely Story," and interviews with Rita Moreno, Amy Poehler, Gail Parent, Lyle Waggoner, Tim Conway, Steve Lawrence, Bob Mackie, Vicki Lawrence and more.
Time Life has done a magnificent job bringing these shows back to life on DVD. The episodes, originally shot on video, look as good as they did during their original broadcasts (based on what I've seen so far … this is a massive set to get through), and the bonus material from The Garry Moore Show (probably from Kinescopes) looks a little worse for the wear, but we should be happy to have them at all. All of the new interviews look great as well. If you're a real Carol Burnett fan, or want to introduce the show to a new generation, you will have very little to complain about with this ultimate set (there's also a smaller collection available as well). I've been a fan of The Carol Burnett Show since I watched it back in the day, and I'm thrilled to have these full episodes available on DVD, some for the very first time! If you love the show, you can't go wrong with this deluxe box set (a memory booklet is also included). Thank you, Time Life, for your efforts in putting this amazing set together!
This review is based on The Carol Burnett Show Ultimate Collection provided to CliqueClack by Time Life Video. The Ultimate Collection and The Best of The Carol Burnett Show are available exclusively from Time Life Video.
Photo Credit: CBS