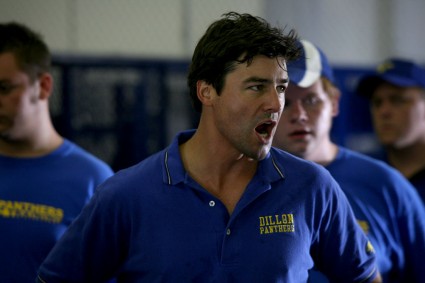 I'm a giant fan of Friday Night Lights, and as such, I have a massive crush on Kyle Chandler, AKA Coach Taylor. He's tough but fair, has a cute Texas accent and manages to make hideous sunglasses look endearing. Alas, FNL is in its final season, so I only have a finite amount of Coach Taylor left. I'm not sure what stage of grief I'm in, but it was grief that brought me to the theater to see Super 8.
I'm not a sci-fi person at all. However, J.J. Abrams alone meant that there was at least a 50/50 chance I'd check this movie out. But add in Kyle Chandler, and it goes up to 100%. Kyle Chandler as a cop? Off the charts.
Because here is an immutable truth: Kyle Chandler is really hot when he gets angry.
Now, before you start judging me, it's not like I have a sad thing for angry dudes in general. This is 100% Kyle Chandler-specific. I love watching FNL, because the kids on that show are jerks and he's constantly pissed at them. But he doesn't even have to be yelling; quietly intense is even better:
Super 8 was great for a lot of reasons, but Kyle Chandler trying to save his town and his family is really what made it for me. But that's probably my favorite thing about this film: each person who watches it will have a different experience. As a mother, the family aspects really resonated with me. For others it will be the kids' adventures, and for others still, it will be the sci-fi aspects. It's truly a rare film that caters to everyone while not dumbing itself down.
For me, two hours of Kyle Chandler walking around all intensely noble is kind of a perfect movie. He's flawed, which speaks to the Florence Nightengale in most women, yet ultimately he wants to do the right thing. In the middle though, there's plenty of him getting super-angry at a lot of people. If I can't have Coach Taylor much longer, I can only hope that the spirit of Coach Taylor continues to live on in movies like Super 8.
Photo Credit: NBC