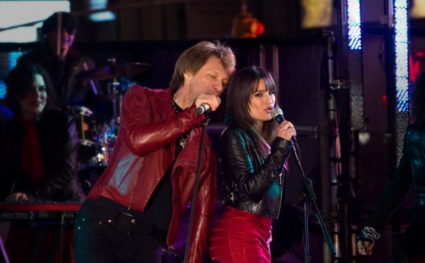 When Valentine's Day performed so well at the box office last year, you had to know that someone would again try to capitalize on the genre. The result is New Year's Eve, a film so jam-packed with stars that it will be the go-to movie for people playing "Six Degrees of Kevin Bacon" for the next 10 years  (no Bacon cameo, though two of his Footloose co-stars are on display). Sadly, NYE is a very average film that will probably make more than enough money to ensure another holiday-themed ensemble piece is in our future.
There are eight "main" stories that the narrative follows. Randy (Ashton Kutcher) and Elise (Lea Michele) are stuck in an elevator together. Kim (Sarah Jessica Parker) clashes with her daughter Hailey (Abigail Breslin, who is now apparently playing a teenager in an effort to remind me that I'm getting older). Claire (Hilary Swank) is the Times Square official charged with ensuring the famous ball drops at midnight; Brendan (Ludicris) is her friend and NYPD liaison. Ingrid (Michelle Pfeiffer) enlists Paul (Zac Efron) to help with her bucket list. Sam (Josh Duhamel) is trying to overcome obstacles to get into the city to deliver a speech. Laura (Katherine Heigl) runs into her ex Jensen (Jon Bon Jovi) while catering an event with her sous chef Ava (Sofia Vergara). Two couples, Tess & Griffin (Jessica Biel, Seth Meyers) and Grace & James (Sarah Paulson, Til Schweiger) angle to be the parents of the first child born in the new year. Finally, Stan (Robert De Niro) tries to fight off cancer just long enough to make it through the night and see the ball drop, added by nurse Aimee (Halle Berry).
That's a long list. I mean, it's a really, really long list. There's enough star power in the preceding paragraph to power the lights in Hollywood for years. But since the idea is to cram in as many recognizable faces as possible, there are also appearances by a ton of other people. I seriously thought about including each name of each star making a cameo as a meta-statement/criticism about the decision to shoehorn everyone in Hollywood (and New York), but decided against it. But I do wonder exactly how many moviegoers are so in-tune with all aspects of pop culture that would be able to catch every single cameo the film has. I got to the point somewhere just past the half way mark, where I became more interested in ensuring I didn't miss a cameo than following the disparate narratives.
And that's the biggest failure of New Year's Eve; I cared very little about any of the stories presented. I'm not sure if it's because there was so much going on, or if because I would have liked it if more of these stories came together in the end. This is where I can't help but compare NYE with its predecessors like Playing by Heart and Love Actually. Both of those movies set a standard that neither Valentine's Day nor NYE live up to.
Despite my disappointment, there was quite a bit I did enjoy about the movie. Having been a fan of Lea Michelle since she debuted on Glee, I was looking forward to see her playing someone other than neurotic Rachel, and enjoyed her performance. I also think Duhamel is one of those guys that is comfortable in any role he plays. My favorite story though, was the dueling pregnant couples. I adore Paulson and Biel, and thought Seth Meyers did a fine job.
Will NYE stop the trend of star-dudded movies like this? No, I doubt it. I actually think that it will perform pretty well at the box office, as Valentine's Day proved that the formula works. I just wish whomever is tasked with writing Arbor Day or whatever holiday that Hollywood decides to throw at us next looks at some of the other examples of the formula instead of this uninspired installment.
Photo Credit: Andrew Schwartz/New Line Productions