Welcome to the new CliqueClack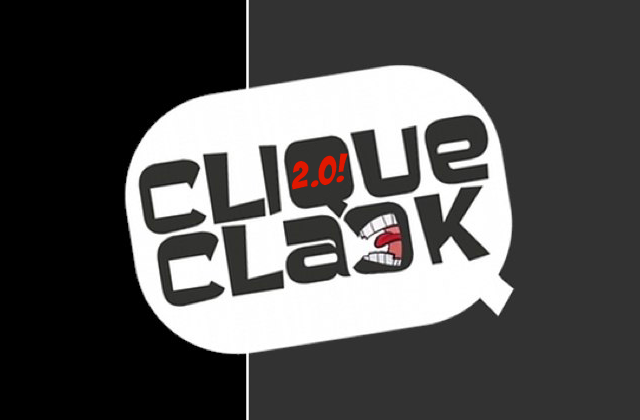 Those of you who visit our front page regularly — whether it be for TV or Flicks — are seeing quite a change around here today. This is the new now. This is the future. This is a good thing.
Take a look around. If you're new here, you can safely disregard what I'm about to say below and just go on enjoying our great new content here at CliqueClack. You old regulars: come with me. You're about to read about some very good and much-needed changes happening around here!
When CliqueClack started four years ago — almost to the day — our first priority was to give readers episode reviews of TV shows that were no longer being offered at TV Squad. Sadly, everything that remotely resembles the TV Squad of old has been completely obliterated, so some of you may have no idea what I'm talking about. What was TV Squad became AOL TV, and what was AOL TV became part of Huffington Post. But I'm getting off track here. Let me start with the TV side of things, because that is where we started out here at CliqueClack.
I agree with fellow TV Squadder — and sometimes CliqueClacker — Bob Sassone, who wrote that episode reviews just aren't cutting it anymore. Weekly recaps are a dime a dozen. If that's what you're looking for, there's no shortage of sites offering them. For writing about TV shows, we want to work smarter. Writing at 10 or 11 PM on a weeknight isn't going to get you the best of what a writer has to give; it's going to give you a comatose piece of crap.
We want to regain the spirit upon which we were founded, which was not to write show reviews but to write ANYTHING that TV Squad would no longer allow, because their deep budget cuts meant articles with voice got cut first. And, more than anything else, that's what the writers wanted to write. Most writers don't want to write innane recaps weekly; they want to be smart, they want to stand out, they want to shine amidst a sea of mediocre TV writing, movie writing and pop culture writing. It's time we get back to a place for them to do that again, which means better content for YOU.
It's time we get back to a place for them to do that again, which means better content for YOU.
What you've seen here for the past four years in terms of episode reviews is changing. In fact, it's pretty much going away. Gone are hastily-done articles about a TV show, talking about nothing happening. Do you really want to read about someone nitpicking on tiny details of one episode? We need to deeply analyze these shows we love; revel in them. Rather than take a show and write about its episode in bits and pieces, we'll have columns about the shows that might cover a particular theme of the episode, the season or the series as a whole. And those articles might be posted days after the episode aired … and it likely won't cover every bloody detail, like how good "Character A" looked in a hat that night. A show might see weekly coverage, but it's not something to necessarily count on, and they're not going to be without soul.
The other exciting change here at CliqueClack is unity. We're a "clique," so it's time we act like one. We're taking CliqueClack Flicks and TV and merging them together as one. But it doesn't end there — we're bringing more subject matter into the fold. We're talking books, music, technology, pop culture and more. Basically a bunch of cool stuff with well thought-out pieces that weren't written at the witching hour or under pressure of deadline.
We're talking books, music, technology, pop culture and more.
We're also going with a more simplified format, with less front page clutter and way too many categories to confuse the hell out of you. If you want to find articles about a specific topic, you'll be able to find them, but there's no sense in making things more complicated than that.
This is CliqueClack now. This is the future. This is GOOD. I firmly believe this new focus on more thought-out, quality content is what our site needs to breath fresh air into it. We hope you'll stick around and see what we're up to and what new content we'll be able to deliver in the coming years, because I'm feeling pretty damned reinvigorated about it.
Photo Credit: Keith McDuffee, CliqueClack