Depression robbed us of Robin Williams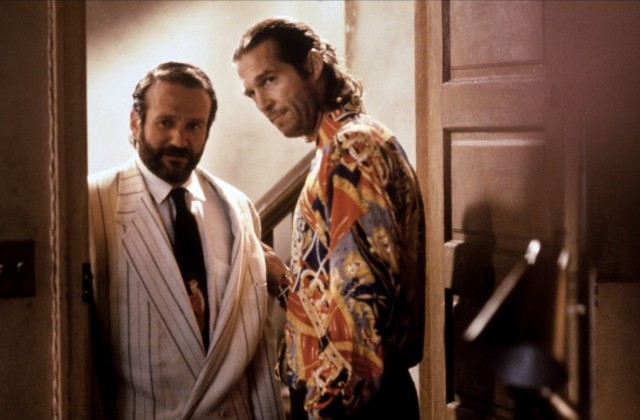 I'm angry at a disease that knows no bounds and cares not for anyone, regardless of who they are, regardless of race, creed or color.
In a mere 24 hours there has been a spate of posts and commentaries and various other entries on the unfortunate passing of Robin Williams.
A bevy of news reports on whichever channel you call a favorite. Gaggles of radio talk shows in incredulous discussion. Water cooler snippets about a favorite film of his. You can't even access the internet right now without some banner blaring reminders every which way about the man.
I've seen several friends and acquaintances taking the opportunity to use the news as a launching point to tell their own stories of personal fights with this skulking disease called "Depression," using it to remind people there are outlets to battle this silent, lurking evil. And there isn't anything wrong with that. A tragedy like this, painful as it is, should be used to recognize its vice-like hold on those afflicted and point them in a direction other than that of Robin Williams.
Me personally? I'm angry. Pissed off. And at the point of seething.
Because I loved Robin Williams. He was one of my all-time favorite actors and comedians. And Depression took him away from the family and friends and fans who loved him.
I need to come to terms with "Depression" and why it's such an insidious, conniving bastard.
I thought the man was amazing as the manic Parry in The Fisher King. (I got a two-for-one bonus in that film as he co-starred with another of my favorite actors, Jeff Bridges.) He was superb in Awakenings, intriguing in Moscow On The Hudson (one of his first films) and painfully emotive and completely believable as Robert Ellison in "Bop Gun," an outstanding episode of Homicide: Life On The Street which unfolded the story of Williams' character and family as his wife was killed while on a visit to Baltimore. There was The Birdcage, Good Will Hunting and Insomnia with Al Pacino, all three completely different, each film stretching the man's acting chops. And how about his dual role in a film which probably plays #2 in the world right behind The Shawshank Redemption, Mrs. Doubtfire? All a result of his one-off appearance on an unlikely episode of Happy Days which led to the bright-burning Mork & Mindy.
*sigh*
I'm pissed because this mental disease called "Depression" personally robbed me of any further appearances on David Letterman where he was often a loose canon, regularly putting on impromptu master classes of impressionistic brilliance. I was captivated by his skittish performance opposite Robert De Niro in Awakenings and equally so as John Keating in Dead Poet's Society.
… on David Letterman … he was often a loose canon, regularly putting on impromptu master classes of impressionistic brilliance.
Like all actors, however, Williams' films offered up some real boners: Toys. Patch Adams. Death To Smoochy. Old Dogs. I know of at least one acquaintance who likes Popeye. And many might call it a boner but I laughed often and out loud at his foibles in RV. Sue me. Yeah … all his films weren't "A"-listers but I respected him for giving them his all.
I first heard the news about Williams as an aside on an internet comedy broadcast which was featuring an episode about happiness, of all things. (Oh, the irony.) I thought it was some sort of cruel hoax at first and I immediately sought out more information. What I discovered led me further and further along a path that began in disbelief but eventually birthed an ever-growing anger peppered with tears the more I read about it.
Yeah, anger.
What a strange reaction to the death of someone I'd never met. I felt it grow as I continued to find out about some of the supposed circumstances surrounding his death, circumstances fueled by Depression which will come to light even more as the days progress.
And tears. As I grew angrier and angrier, I realized I was holding back a floodgate of emotion, finally manifesting itself at the airing of NBC Nightly News with Brian Williams. The news anchor's report on the actor was the catalyst for releasing those tears I was holding back … but it didn't quell my anger.
I'm going to harbor this anger for quite some time. And it's quite possibly going to become worse before it gets better and finally dissipates. This weekend I'll find it necessary to view a few of my favorite Williams acting forays. In so doing I might find some comfort from anger and sorrow warring inside me but I'm leaning more toward the inevitability they will well up overwhelmingly to further involve me in their quarrel before I get any relief from them.
In the meantime, I need to come to terms with "Depression" and why it's such an insidious, conniving bastard.
Photo Credit: Columbia Pictures