Will Dexter have to face his greatest adversary: The truth?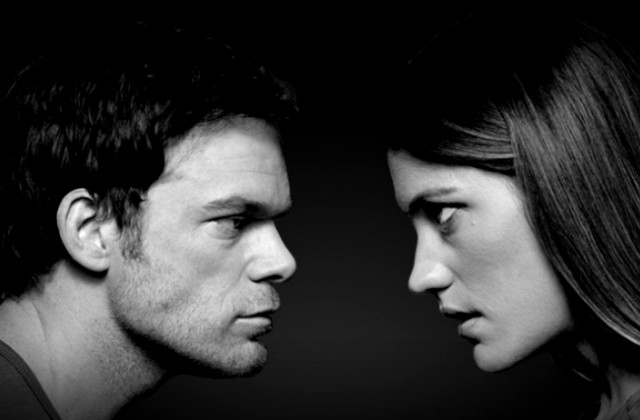 With only one episode left in the penultimate season, will Dexter's humanity bring about his downfall?
Season 7 of Dexter hasn't exactly fit the formula the previous seasons established for the show, and that's not necessarily a bad thing. Despite its sometimes awkward pacing, this season has brought up a few major questions in the Dexter universe. How would Deb react if she found out the truth about Dexter? Is Dexter capable of love and sharing a future with someone? Will his "code" survive the loss of his Dark Passenger? And most importantly, what is happening with Quinn's hair? Seriously, half the time he looks like he's auditioning for the role of Kramer. I have a theory why Nadia left …
By changing the overall structure of the season it drastically reduced the tension on Dexter and as a result there was no real sense of urgency this season.
Up until now, the seasons of Dexter have followed their own "code." There is an overarching "big bad" that Dexter discovers, investigates, and ultimately introduces to his table by the final episode. In some cases that formula has been underwhelming (I wasn't a fan of the Jimmy Smits' season), but others — like the season with John Lithgow's Trinity — had me on the edge of my seat anticipating each week's storyline. One of the benefits of this "code" of storytelling is that each week builds on the week before so that the screws are constantly being turned and the tension ramps up from beginning to end. This season, however, didn't follow that paradigm but instead introduced mini antagonists for Dexter to deal with along the way, while hinting to the main opposition Dexter will have to face in this season's finale. While I find it refreshing for the writers to shake up their style now that the series finale is set at the end of next season, I felt that by changing the overall structure of the season it drastically reduced the tension on Dexter and as a result there was no real sense of urgency this season.
Now he has no one (or thing) to blame for his need to kill and that makes him a much more interesting character.
I really enjoyed the first few episodes when Deb tried helping Dexter restrain his Dark Passenger, and I felt that pressure on Dexter to control his urges would be an interesting avenue for the writers to explore. Ultimately, though, Deb gave up, giving him a wide berth, allowing Dexter to sink back into his normal routine. This led the way for the parade of mini enemies, each of which pushed Dexter further from his original "code."
I agree with most people who criticized the Louis Green story arc. It felt like the writers spent a lot of time setting up Louis as an intellectual antagonistic force that would really challenge Dexter because he didn't fit the code and couldn't be disposed of in Dexter's usual means. I was convinced that Louis was tracking the search engine he recommended to Dexter and was therefore privy to the research Dexter performed during his vetting process. So for his story to end as abruptly as it did was a little disappointing to say the least, but it did allow Dexter the opportunity to show he could stop himself from acting on the urges of his Dark Passenger if he wanted to.
Each of the subsequent nemeses similarly forced Dexter down an unfamiliar path: Isaak made him question his ability to love, Sal Price made him question his moral limits (in that he knew Hanna killed Sal and he helped cover it up), and Hanna made Dexter question his Dark Passenger. This realization was my favorite since all it takes is a beautiful woman probing about the idea of his Dark Passenger for Dexter to go … yeah, I guess it's kinda dumb. Now he has no one (or thing) to blame for his need to kill and that makes him a much more interesting character. He isn't a slave to his desires anymore, but what does that mean for his "code?"
When the series first began, Dexter (with the exception of his relationship with Deb) was completely detached from society and only tried to look the part of a regular human being to mask the monster underneath. He had a singular focus of survival before, where his appearance of normalcy was all part of his "code" to continue getting away with his need to kill. His relationship with Rita, initially, was basically a sham, since Rita's relationship baggage created a nice wall for Dexter to hide behind, preventing the two from getting significantly close. But as the seasons have progressed, his relationship with Rita developed, which spread to her children and even bore Dexter a child of his own. And with each step along the way, Dexter's life evolved from just his Dark Passenger routine into a life balancing his urges as well as the needs of his family.
Balancing those two sides of his personality, however, has proven difficult (and costly) to Dexter's life. His obsession with Trinity's 30-year "career" while maintaining a family caused him to deter from his routine and ultimately cost Rita her life. With her death, more responsibilities fell onto to Dexter's plate and as a result his Dark Passenger had to take a back seat to midnight feedings and diaper changes. On a side note, he's been called a bad father in a lot of comments/message boards, and it's true that at this point Jamie (who apparently has no personal life of her own) is more of a parent to Harrison than Dexter. But the reality is that we don't tune in each week to watch Dexter read to his son or play with him at the park. Those scenes, much like scenes of action stars reloading their guns, are not interesting to film or watch so they are omitted in favor of more story driven scenes. Regardless of his sometimes absentee nature in raising Harrison, that responsibility of having someone that depends on him has forced Dexter to consider the other people in his life over his own needs. Satisfying his Dark Passenger's need to kill is no longer his top priority, it is what he does in between his new life as father (and at one time husband).
But splitting his focus has made him careless. In season 4, he nearly exposed his secret after sleep deprivation from staying up with newborn Harrison caused an auto accident, where his bag of knives were thrown from the car. In season 5, strapped for time looking for a nanny for his son, he didn't search Boyd Fowler's house effectively, missing the fact that Lumen was trapped inside watching him perform his kill. Now, his feelings for Hanna — because of his ability to share his entire life with her — has given him the false hope of an actual future where they can grow old together. But he is too busy looking at his possible future to see the danger currently encircling him. It's because he's spreading himself too thin that he keeps missing details that he would have noticed in season 1. Every time he sacrifices his "code" in order to fulfill some familial responsibility he risks the truth coming to light. If Dexter can survive LaGuerta's investigation, I think season 8 will involve him choosing which man he wants to be: father or killer, because he can't do both … at least not for much longer.
In that spirit of narrowing focus, two other questions arose for me during "Do You See What I See?" Did Deb poison herself to frame Hanna? And does Matthews know Dexter's secret? I'm on the fence about the poison. I feel like the writers set it up to go either way. Does it make sense Deb would risk killing herself in an accident when she was convinced she could get the evidence she needs from Arlene? She did tell Hanna she would do whatever it takes to protect Dexter from her. And I feel Matthews has some inclination about Dexter's involvement; perhaps Harry confided in him before he died. This would explain LaGuerta's comment, "you'll get what's coming to you" when Matthews asked her about his pension. What do you think? Did Deb spike her own water? Has Matthews been looking the other way all of Dexter's life?
Photo Credit: Showtime