Disney's Frozen should melt the coldest heart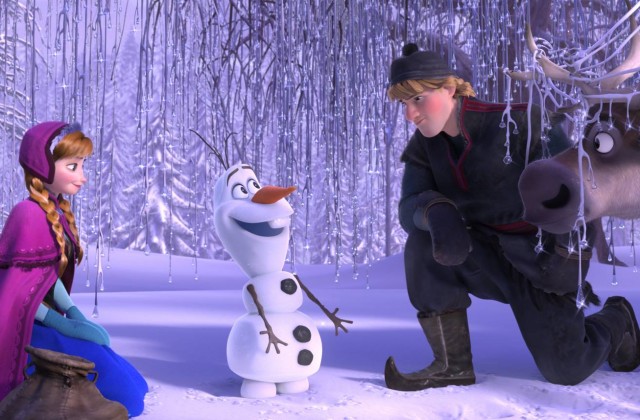 Disney's 'Frozen' can cure the winter blues, while the amazing short 'Get a Horse' puts Mickey Mouse and friends back on … and off … the big screen!
It hasn't been a great year at the movies for animated films. There have been a few bright spots — Monsters University and Despicable Me 2 did well — but for every hit, there were more films that did not live up to box office expectations — Cloudy With a Chance of Meatballs 2, Free Birds, The Croods, Turbo. But you can usually count on Disney to breathe life into the genre with one of their "princess" movies, and it's safe to say that Frozen will not get a chilly reception from audiences or critics.
The story seems simple on the surface: two princesses are the best of friends growing up. The oldest, Elsa, is blessed/cursed with the ability to create snow and ice, much to the delight of her younger sister Anna. But an accident in their grand ballroon — Elsa accidentally zaps Anna in the head — forces their parents to seek help from a tribe of trolls to heal the girl and remove any memory of Elsa's powers from her mind. Elsa withdraws from the world and refuses to interact with Anna anymore, leaving the girl to wonder what she's done. This being a Disney movie, you can bet the parents don't survive the first act, leaving Anna basically alone in the castle, but on coronation day, Elsa must finally come out of hiding and open the gates to their tiny kingdom. The pressures of the day and Anna's announcement that she is going to marry a prince she just met cause Elsa to lose control of her powers, sending the land into a deep winter … even though it's the middle of summer. Elsa flees the kingdom, but Anna is determined to find her and bring her home.
There is deep emotion and complexity to Frozen, especially in how it deals with family, love and betrayal.
Like I said, it seems like a simple story, but while the colorful surface and wacky supporting characters will keep kids entertained, there is much deeper emotion and complexity to the story, especially in how it deals with family, love and betrayal. It's sad to see the girls, who had such a great relationship as children, be so distant as adults. Even more so because Anna has no idea why Elsa has frozen her out (no pun intended). But even with years and a door separating their relationship, Elsa can still see that Anna's prince my be more of a wolf in sheep's clothing. She's actually smarter than all of us on that count. As Anna goes on her quest to find Elsa, she meets ice salesman (a job hard to do in a snow-covered land) Kristoff, his faithful companion Sven (his pet reindeer), and Olaf, a snowman Elsa created years ago who loves warm weather. Olaf has been heavily featured in the promotion for the film, something that almost kept me from seeing it, but he's used well and sparingly. As Anna finds Elsa, as do others who want to imprison her for her "crime" of freezing the land, she has to tend to those issues of love, betrayal and family, and sometimes with surprising results.
It really is just a spectacularly beautiful movie that uses 3D to its advantage.
A while back I reviewed Disney's direct-to-video Tinkerbell series film Secret of the Wings, which could have almost been a practice run for Frozen with its story of two sisters and climates both warm and cold. That film was gorgeous to behold even on the small screen, and Frozen is simply breathtaking on the big screen. I know there are people out there who hate the gimmickry of 3D, but in this case, I can't recommend it enough for this film (and for the amazing short that plays before it … more on that in a minute). I once said that space movies and 3D were made for each other, but any movie that has snowfall in it works just as well. Directors Chris Buck and Jennifer Lee — and their amazing team of artists — have created a landscape that is beautifully real and used the 3D process to have snowflakes falling in the theater while giving great depth to the rest of the surroundings, from forests to mountains to ice castles. It really is just a spectacularly beautiful movie.
What also works in the film's favor are the actors who get totally lost in their roles.
What also works in the film's favor are the actors who get totally lost in their roles. I knew Josh Gad was the voice of Olaf, since he's been hitting the interview circuit, but I honestly had no clue who any of the other voice actors were. Even though I was trying to figure out one voice that seemed familiar, I never once wondered who the voices of Anna (Kristen Bell), Elsa (Idina Menzel), or Kristoff (Jonathan Groff) were provided by. It was surprising to also learn that Alan Tudyk, Ciarán Hinds (the one I thought sounded familiar), Edie McClurg, Robert Pine and Maurice LaMarche also lent their voices to the characters on screen. It really helps sell the story when you're not focused on the famous actor you can hear but not see. The songs, by Kristen Anderson-Lopez and Robert Lopez, have a very Broadway feel to them but nothing really stood out as a showstopper. They're all pleasant and help move the story along, but you're not likely to be whistling any of those tunes on the way out. Still, with all of the elements combined, Frozen should draw in families looking for something everyone can enjoy during the holiday season (and, yes, boys can enjoy it too … that snowman and reindeer aren't just there as window dressing).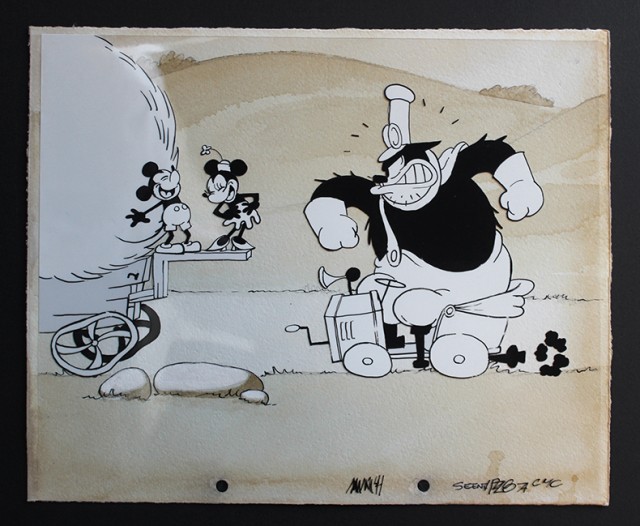 And if Frozen wasn't enough on its own, Disney Animation Studios has provided a short film prior to the feature entitled Get a Horse, starring the one and only Mickey Mouse (and friends). The film is billed as a never-before-seen short produced in traditional 2D, hand-drawn animation and features the voice of Walt Disney as Mickey. The story follows Mickey and company on a day of frollickery until bad guy Peg Leg Pete shows up to ruin everything. But the film holds some major surprises (and some surprisingly adult humor) as the story unfolds, placing the action in your lap and above your head as the film blends the 2D black and white with full color, CG 3D animation. The story really didn't matter, but the action on and off the screen was mind-blowing and I would pay just to see that short one more time. If you need a couple of hours away from the holiday hubbub, you really can't do any better than the whole Frozen experience.
Photo Credit: Walt Disney Animation Studios