1931's Dr. Jekyll And Mr. Hyde is startling, distressing stuff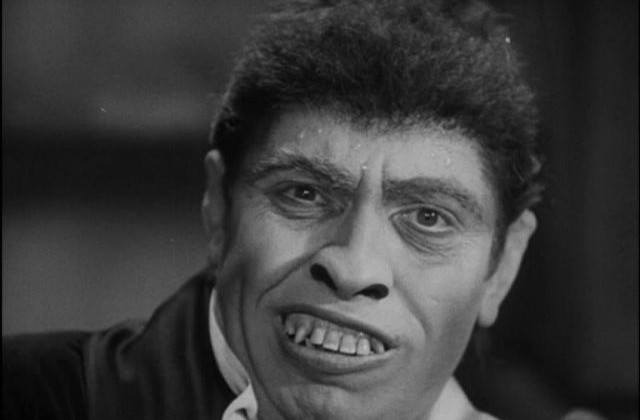 This classic Throwback Thursday film is one of the most sinister and alarming of Hollywood's pre-code era.
As a kid, I had nothing but love for old monster movies.
The Universal gang, Frankenstein, Dracula, The Creature From The Black Lagoon. The cheesecake gigantic atomic monstrosities. War Of The Gargantuas. Godzilla and his kaiju clan.
I collected and built all the Aurora horror model kits. (Not the Polar Lights remakes, the original, one and only Aurora kits with their glow-in-the-dark features and meticulous need for attention.) I still have all of them.
And I reveled in the bevy of publications of my youth, from comics (Werewolf By Night, Man-Thing, Monsters Unleashed) to black and white magazines (Famous Monsters Of Filmland) and right on into the "vogue" newspapers (The Monster Times).
I'm glad I didn't see this film as a kid.
Interestingly, of all the films and media I devoured back in the day — something I continue soak up and revisit as time allows — I never got around to reading Robert Louis Stevenson's novella The Strange Case Of Dr. Jekyll And Mr. Hyde nor did I get any of the many films tucked beneath my belt. I really don't have a good reason. It just might be it was one of the lesser films I figured I'd get to eventually. In hindsight I don't remember it being as readily viewable as other horror flicks, a reasonable excuse I'm comfortable in stating that's the most likely cause.
Regardless, I recently was able to wrangle a viewing of Fredric March's Oscar-winning performance during a rather recent Turner Classic Movie pre-code Friday night.
And oh … what a treat it was.
"Perhaps you prefer a gentleman. One of those fine-mannered and honorable gentlemen. Those panting hypocrites who like your legs but talk about your garters." – Mr. Hyde
The film left several indelible impressions on me. Given March's performance, there's no question why he won an Academy Award. I haven't seen much information or talk regarding his actual performance in the film, but based on what I saw on the screen the guy was relentlessly focused in his craft. Yes, it's got all the old-timey black and white aura about it that lends mood and "color," something that rides comfortably on its laurels even 60+ years after its release. But March's performance is something to behold. And I'm not just talking the superb transformation scenes into and out of his Mr. Hyde character. His realization of Hyde is evocative of a feral animal. You can feel the effort of his ache and strain as Hyde's persona seethes to the surface. He exudes a bestial mood you can practically smell through the screen. Acrobatically, March leaps over railings just as effortlessly and effectively as he flings champagne bottles to the floor or forces foes out of his way or women onto the floor. The guy was a physical marvel. I've never seen any indication he didn't do his own stunts, further testament to his adeptness.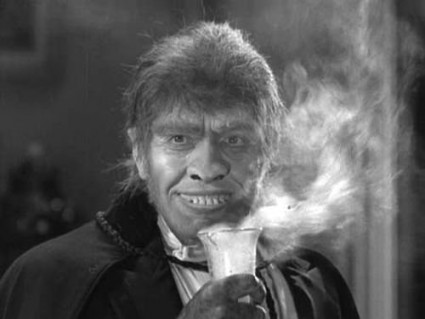 Most impressive (and disturbing), however, is the fact Mr. Hyde is a singular asshole. He could give a rat's ass about anyone or anything. The only time he cares about anything other than whatever whims come to mind is when he's cornered and in danger. Then, he's all about escape … and always with the utmost prejudice in preserving himself. Nothing more, nothing less. He'll go to any lengths to flee, not giving a single whit as to the consequences of his actions. I was mesmerized by Hyde and his ogre-like demeanor during his encounter with bar vixen/singer Ivy Pearson (Miriam Hopkins) who, not coincidentally, Jekyll saved from an attacker one evening. Hyde is positively horrendous, lecherous and ghastly in the extreme.
Which, in turn, brings around the subject of the success of the film as a pre-motion picture code ("Hays Code") product, free of the censorship guidelines which raised their heads in the mid-30s. Those guidelines stymied things such as graphic scenes, extreme violence and sexual innuendo, all of which run rampant throughout Dr. Jekyll And Mr. Hyde. It's what makes it such a jewel of film, albeit an uncomfortably disturbing one. In fact, the viewer who has yet to take in this classic will no doubt be surprised by some of the loose standards and extremism evident in the film.
Honestly? I'm glad I didn't see this as a kid. There's not many things that disturb me now … but then? As an impressionable youth? I have little doubt someone as caustic and despicable a character as Mr. Hyde would have rankled my dreams to the utmost.
Photo Credit: Paramount Pictures