Win passes to see Exodus: Gods and Kings in San Francisco or Sacramento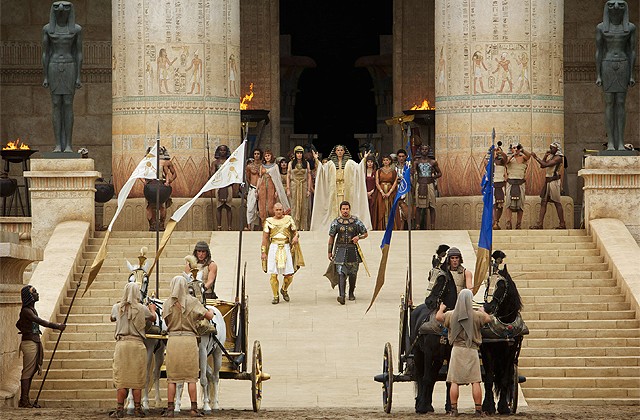 Ridley Scott's Biblical epic comes to the big screen on December 12, but you can see it before anyone else in San Francisco or Sacramento. Read on to find out how to get a pair of passes to the advance screening.
THIS OFFER HAS EXPIRED.
CliqueClack has partnered with Twentieth Century Fox to offer readers in San Francisco and Sacramento an opportunity to attend an advance screening of Ridley Scott's Exodus: Gods and Kings starring Christian Bale, Joel Edgerton, John Turturro, Aaron Paul, Ben Mendelsohn with Sigourney Weaver and Ben Kingsley.
From acclaimed director Ridley Scott comes the epic adventure Exodus: Gods and Kings, the story of one man's daring courage to take on the might of an empire. Using state of the art visual effects and 3D immersion, Scott brings new life to the story of the defiant leader Moses (Bale) as he rises up against the Egyptian Pharaoh Ramses (Edgerton), setting 400,000 slaves on a monumental journey of escape from Egypt and its terrifying cycle of deadly plagues.
The film's intrigue, scale, scope, adventurer and vivid characters provide a unique theatrical event. The Exodus from Egypt is the original and definitive heroic saga. It's also a powerful and personal story rich with emotion, rivalry and betrayal and an undying quest for freedom.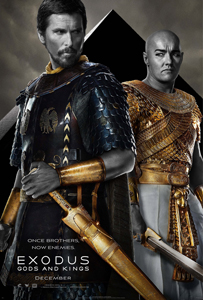 The screening will take place on Thursday, December 11, 7:00 PM at the following locations:
Century City 9, San Francisco ALL SAN FRANCISCO PASSES HAVE BEEN CLAIMED
Century 16 Greenback, Sacramento
A limited number of passes will be available on a first come, first served basis. To be eligible, please read and follow the directions CAREFULLY. There will be no exceptions.
Comment on this post ONLY with either SAN FRANCISCO or SACRAMENTO. Do not include anything else in the comment box. If you make a mistake, do not edit your comment because it will not register. You must submit a new comment.
Include your FULL NAME (First and Last) and email address on the entry form (NOT in the comment box!). Double check your email address before submitting. If your email address is misspelled, you will not receive passes.
ONE entry per person or couple will be accepted. CliqueClack has the right to discard any duplicates or comments that appear to be duplicates. Multiple comments from a single person will result in complete disqualification. Keep these offers fair for everyone!
Winners will be contacted by email. Please make sure to set your filters to accept email from @cliqueclack.com.
Check your calendar before commenting. If you have no intention of using the passes, please don't leave a comment. If the studios see that passes we are given to award to our readers are not being used, they will not want to offer us passes for future screenings. Please be considerate!
Winners will receive a code to redeem at GoFoBo.com for up to two passes. Please note that passes do not guarantee seats at the screening. Seating is first come, first served so plan to arrive early. CliqueClack has no control over the total number of passes distributed, and is not responsible for seating arrangements at the theater.
Exodus: Gods and Kings is rated PG-13, and opens December 12.
Photo Credit: Twentieth Century Fox