Fast & Furious 6 will be the summer action movie to beat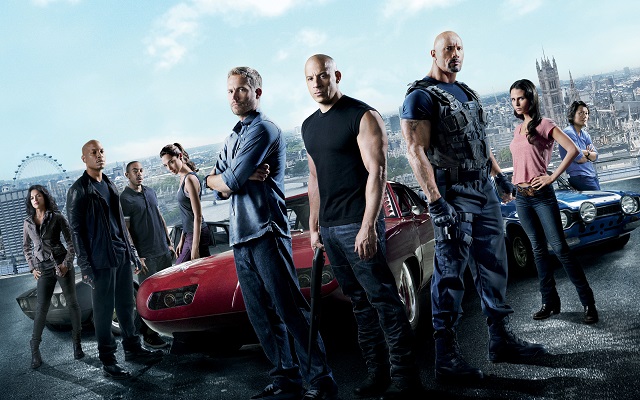 These movies just keep getting more entertaining with each incarnation, so fasten your seatbelts because 'Fast & Furious 6′ is going to put the pedal to the metal and take you on a high speed, action-packed ride.
If you would have told me back in 2001 that The Fast and the Furious would go on to become a ridiculously successful film franchise spanning over five movies and counting, I probably would have laughed in your face. But as time went on I can honestly say that I really didn't see it coming, because The Fast and the Furious franchise snowballed into a feverish sleeper hit of a film franchise that even I enjoy watching — especially on the big screen.
With a huge ensemble cast starring Vin Diesel, Paul Walker, Dwayne "The Rock" Johnson, Michelle Rodriguez, Tyrese Gibson, Chris Bridges, Sung Kang, Luke Evans and more, Fast & Furious 6 picks up after Dominic Toretto (Diesel) and his criminal gang of street racers finished their Rio de Janeiro heist in the last film.
Now retired and living abroad with the millions he and his team got away with, Toretto is confronted by a ghost from his past when Diplomatic Security Services agent Luke Hobbs (Johnson) presents him with information that his long-believed dead girlfriend Letty (Rodriguez) is still alive and working jobs for a known mercenary and terrorist named Owen Shaw (Evans). Hobbs offers to clear Toretto and his gang of their criminal records in exchange for joining forces to take down Shaw. The movie only gets more entertaining from there.
Fast & Furious 6 is a great action movie with an uncanny sense of pacing.
Probably the best thing about this movie is that it is a great action movie with an uncanny sense of pacing. Fast & Furious 6 is very reminiscent of a roller coaster ride, the pacing picks up with high octane action sequences and chases and just as you've gotten your fill, the film will slow down just long enough for you to catch your breath and digest just enough of the plot before the action picks up again. With such a large cast and so many things that are going on at the same time this movie was pieced together brilliantly.
This film doesn't disappoint.
The acting wasn't anything to write home about, but for a summer action flick it gets the job done, just as it had in the last five films. I've never been a Paul Walker fan since I saw a scene of him in Timeline where he couldn't even iron a shirt convincingly, and he was able to do his role without distracting me from the film's story. Tyrese Gibson's character helps move the film along with his comedic relief and the way he bounces off Chris Bridges' character, and the duality between Johnson's and Diesel's characters made for a great onscreen dynamic as well. Ever since Fast Five I was waiting for a full-on team-up between Toretto's gang and agent Hobbs. This film doesn't disappoint.
Fast & Furious 6 boasts great cinematography which just adds to the film's pros. Then again, when shot in exotic locales such as the Canary Islands or vibrant cities like Tokyo and London it's no surprise. And when you add colorful cars into mix topped off with slow-motion butt shots of scantily clad women walking by, it's pretty much the best cinematography you can expect from a car culture film.
Fast & Furious 6 does suffer from your typical popcorn action movie tropes.
If you have to ask if there are any glaring downsides about the film my answer would be "not necessarily." Fast & Furious 6 does suffer from your typical popcorn action movie tropes. The characters are one-dimensional for the most part but don't drag down the story with their cookie-cutter roles. And thanks to the film's genius-level of pacing there's enough balance between fast and furious action and just enough drama and comedy to keep you entertained for the long haul.
Fast & Furious 6 is the best film in the series to date and I look forward to the next one. Watch this movie with a packed crowd and you will get sucked into the true experience of why summer action films are made: to entertain our socks off!
Photo Credit: Universal Pictures