Firefly: A Celebration is a must-have compendium for browncoats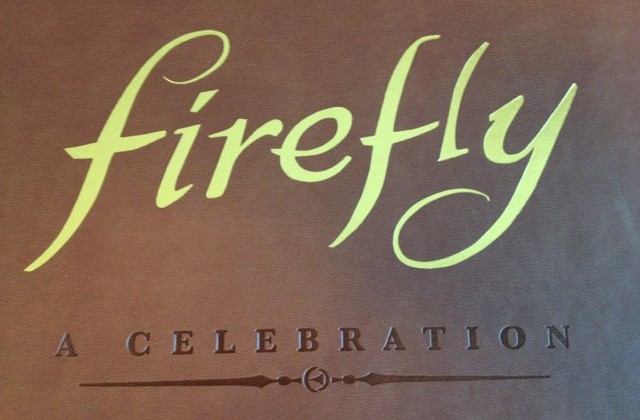 Ten years ago today, 'Firefly' premiered on televison … and the rest is history. Now you can have that history and much more with 'Firefly: A Celebration'. This is one amazing, kick-ass tome.
2012 seems to have become the year of Firefly, if there ever was to be one outside of when the series premiered in 2002. Much of the cast and writers of the beloved series turned up for a reunion panel at this year's San Diego Comic-Con, to celebrate when the show premiered a decade hence. In fact, today marks that special occasion, which I'm sure is being honored by many with a re-watch of the oh-so-few episodes that saw the light of day.
What also celebrates Firefly's ten years is the debut of one hell of a fantastic book I was able to get an early review of, titled "Firefly: A Celebration," which releases on October 2. If you're any sort of fan of the show, this beautiful book is a must-have addition to your bookshelf/coffee table.
"A Big Damn Book For Big Damn Heroes" the book boasts, and it's pretty gorram accurate. The general list of features in the book is short, but the contents within are anything but.
"A Big Damn Book For Big Damn Heroes" the book boasts, and it's pretty gorram accurate.
For starters, the book contains unedited shooting scripts of every episode of Firefly. Every. Single. One. And they're not simply printed in typical screenplay form. Instead, they're listed such that they make the best use of space as to not make the book impossibly huge, interspersed with tons of extra content. Thrown throughout each script are boxes of commentary from the actors, writers and crew, along with photos from the scenes, adjacent to the dialog. There are also highly detailed photos of many of the show's props and sets, as well as behind-the-scenes photos of filming those scenes. Each script also starts with a lengthy spot of commentary from the episode's writer(s), going into the thought process behind the episodes and other details you may not have known or have heard about before.
While the scripts take up the bulk of the book, the way they are presented is simply marvelous. The creators of this book could have simply and easily published only the scripts on their own, with nothing to accompany them, but they thankfully went all out in injecting a boatload of extras that'll make any Firefly fan squeal.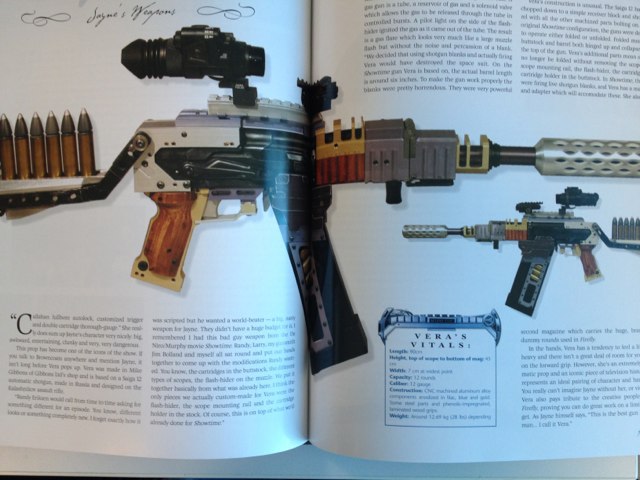 The 544-page book also contains a slew of interviews of cast and crew, ones I was not able to locate elsewhere, at least online. Again, the book could have easily just contained interviews that were regurgitated from other sources, but at least the ones I looked into were original to this book. The opening interview with Whedon has some fascinating background information to some of the episodes and the show in general. Did you know the Blue Men were meant to be played by different actors in every episode, to show there are more than just those two? There's a fun story about that in there. Or how about what Whedon had in mind for the Dobson character, before he appeared in the comics?
The opening interview with Whedon has some fascinating background information to some of the episodes and the show in general.
Getting back to the photos, for anyone looking to recreate almost any part of the show, the detailed shots of the props and costumes are invaluable.
The features don't end there! There's one particular fun section titled "Firefly That Wasn't," which talks about some of the unused story ideas that were floating around the writers' room. Like the one about Kaylee having to pose as a Companion! There's also a section that just goes into Jayne's weaponry, and the story behind the "Monkey Shines" on-set joke. And, of course, interviews upon interviews, photos galore … just a whole lot of awesome.
The last thing to note about the book is it's really wonderfully bound. The cover is leather-like and simple, and it really feels substantial and solid; something that will last a long time.
My only regret in receiving this book for review now is that I didn't have it for this year's SDCC, as it just begs one to have the entire cast sign it. A signed copy of this book is likely the only Firefly companion book that could beat it.
The book is published by Titan Books and goes on sale October 2, and appears to be currently on pre-sale on Amazon for a great discounted price.
Photo Credit: Titan Books