Get On Up proves you can't stop the funk & mad genius of James Brown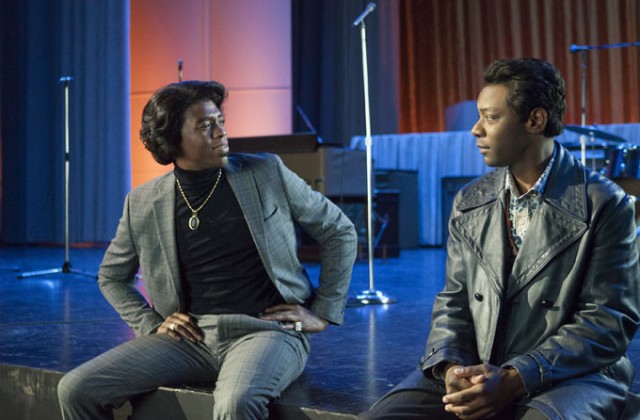 'The Godfather of Soul' James Brown finally gets the big-screen biopic treatment in Universal Pictures' 'Get On Up.' Are you ready to feel good?
I feel good. I knew that I would. I feel good, so good, so good, I got you. I feel nice, like sugar and spice. I feel nice, like sugar and spice. So nice, so nice, I got you.
I always wondered why James Brown was referred to as "the hardest working man in show business." After watching Get On Up, his biopic from Universal Pictures and Imagine Entertainment, I'm beginning to understand that moniker a little better. Prior to now, most of my knowledge about James Brown was based upon his cameo in The Blues Brothers (one of my all-time favorite movies) and the old SNL skits with Eddie Murphy impersonating him doing ridiculous things like singing about his hot tub or doing an over-the-top rendition of Annie. I always enjoyed his music casually from afar, but never really delved into the heart and soul of it. After watching this movie, I'm exploring more songs from Brown's vast catalogue of hits and discovering that maybe, just maybe, I have a little bit of the funk in me after all. (Well as much funk as a white girl in her thirties from the Midwest is capable of anyway.)
Go inside James Brown's befuddled mind on an unforgettable journey through one of music's most enigmatic, charismatic personalities.
Directed by The Help's Tate Taylor, Get On Up follows along the lines of other past heartfelt musical biopics such as The Buddy Holly Story, La Bamba, Walk the Line and Ray. It tells the story of Brown's rise to the super stardom stratosphere after a pretty dismal childhood speckled with bouts of domestic violence, poverty, fear, racism and abandonment. It is at times just as poignant, artsy and transcendental as other biopics, while at other times, it is difficult to follow because the story of Brown's life is told out of sequential order. It's as if the director wanted you to feel like you were in Brown's befuddled mind, mixing up the order of personal and career milestones, while taking the audience on an unforgettable journey through one of the music industry's most enigmatic, charismatic personalities.
Chadwick Boseman gives an amazing performance as James Brown. I must confess I had to look up the IMDb credits for him because I didn't recognize him from anywhere else. Aside from doing a lot of television work for shows including All My Children, Fringe, Castle, Persons Unknown and Lie to Me, Boseman was also Jackie Robinson in the movie 42, which I missed. While I can't vouch for his performance in 42, everything about him in Get On Up is on-point, from the groovy pompadour hairstyles and elaborate '70s stage costumes to the outrageous dance moves and over-the-top persona that was James Brown. Brown is certainly not an easy act to follow, but I believe he nailed it, even if he was lip-syncing the soundtrack. And his co-star Nelsan Ellis gives an equally remarkable performance as Brown's right-hand man, Bobby Byrd. I've always loved Nelsan as Lafayette in the HBO series True Blood, but seeing him in this role gave me a newfound respect for him and his acting abilities. He's so much more than just another pretty face in Hollywood. As the best friend constantly standing in a superstar's shadow, his character shows the most emotional depth and growth when compared to anybody else in the movie.
There's a reason why James Brown is one of the most sampled artists in the long and illustrious history of music.
Much of Get On Up centers around the complex relationship between James Brown and Bobby Byrd. Bobby discovered James when he was just 17 years old and in prison for petty theft. Taking him under his wing in his church's gospel group, it quickly becomes apparent to Bobby that James is meant to shine in the spotlight. Although James develops a bigger ego as the years wear on, Bobby is the one person who understands his genius and doesn't seem to take it personally when he goes off on his tirades. From watching this biopic, one can ascertain that James Brown was some kind of mad perfectionist when it came to his music. If his band members were late or held up the musical process in any way, he belittled and fined them for wasting his precious time. The man may have marched to the beat of his own drummer far more often than most, but you have to have mad respect for someone that disciplined, innovative and motivated to succeed. There's a reason why James Brown is one of the most sampled artists in the long and illustrious history of music, as this movie so clearly demonstrates.
I was not a big fan of Brown's many asides to the audience throughout the movie. While they occasionally made me laugh, they sometimes felt a bit stilted and disjointed. I don't think the movie would have suffered any without them. It felt as if they relied too heavily upon this gimmick to reveal key pieces of information that probably would have been more effectively revealed in dialogue. But even if there are minor flaws in the seemingly scattered storytelling, the casting for Get On Up is spot-on. Dan Aykroyd plays to his acting strengths as James' manager Ben Bart, while Brandon Smith puts in a memorable, colorful portrayal of Little Richard. Also look for The Office's Craig Robinson as a leading – and very vocal – member of the band, Octavia Spencer as Aunt Honey (the woman who raised Brown when he was abandoned by both of his parents as a young boy) and Jill Scott as DeeDee Brown, a woman who manages to come across as strong and fiery even if the movie hints about Brown's drug use, infidelities and spurts of unpredictable domestic violence.
I found Get On Up mesmerizing because of the music and the passion.
All in all, I found Get On Up mesmerizing because of the music and the passion that went into making that music. James Brown was one of those rare artists who was able to reinvent himself to fit every era. Whether he's Mr. Dynamite, Soul Brother Number One, the King of Funk or the Godfather of Soul to you, there's no denying the man belonged in the spotlight. It's about time Hollywood gave him his due in the theatrical limelight. Now I'm just patiently waiting for a movie about Marvin Gaye or Sam Cooke.
Photo Credit: Universal Pictures